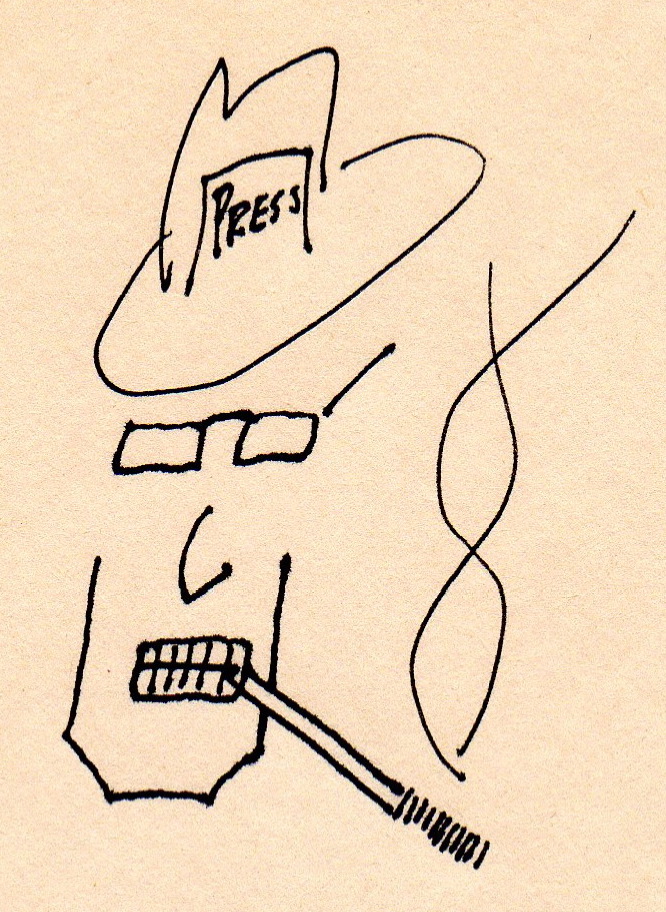 By J.D. Oxblood
I've done my best to keep quiet during the Olympics.  This blog is concerned with city life, and New Yorkers have their own events to contend with — getting through the closing subway doors, sustained drinking from 5pm till 4am, making it out of your lover's apartment building unrecognized by the doorman before her husband gets home.  Besides, hasn't everyone heard just about enough about the Oh-limp-icks?  But even an anti-sportsfan like myself had to notice the last two weeks:  every bar in town was showing that action.  It was more ubiquitous than a subway series.  What was weird watching from this side of the world was just how incredibly lop-sided the coverage was overall — more so than ever.  Ok, we know NBC will never show us ANYTHING that doesn't feature Americans, which is why we tune to USA and Telemundo.  But seriously, if you didn't spend the entire summer in P-town in a Speedo, have you ever seen so much beach volleyball?  Which means that those of us who were unable to actually travel to Beijing this summer got a rather slim view of the games.  Unless we didn't sleep, and spent a lot of time on the Internet, which is where they keep the porn, so how could you be expected to watch the Olympics?  You get my drift.
And so, for your cubicle distraction delight, I give you the post-O wrap up.  In no particular order, here are my favorite moments of the 2008 Summer Olympics:
•    Alain Bernard, from France — remember?  That place that hates Freedom? — says: "The Americans?  We're going to smash them."  In the 4×100 freestyle relay, that is.  The reality?  American Jason Lezak hit the water .82 seconds behind Alain Bernard — each the last swimmer for their teams — and beat his ass.  Leave it to the French to go out talking shit like a bunch of loud-mouthed Americans and end up sucking backwash.  This would totally be the next Stephen Spielberg movie if only Jason Lezak were Jewish.
•    An NBC anchor admitting that the rerun of the primetime broadcast — which begins at 3 a.m. — is presented by Ambien.  (Anything I might add to that would only reduce its innate hilarity.  This is Cheney-shoots-a-guy-in-the-face territory.)
•    American pole-vaulter Jenn Stuczynski being royally chewed out by her coach — on camera — minutes after winning the silver medal.  Let's keep in mind that she's been vaulting for a whopping 4 years, and was beaten by Russia's Yelena Isinbayeva — who also took the Olympic and world records with her 16 feet, 6 3/4 inches.  (Stuczynski cleared 15 feet, 9 inches.)  Yes, we all realize that Hollywood has filled our minds with countless images of the asshole-with-a-heart-of-gold coach, and that can be a lot to live up to.  It's important to be a prick if you're going to call yourself a coach.  I get that.  But you're supposed to be a prick BEFORE the third act of the movie, pal, so the team can get out there and win it.  Kind of pointless after the fat lady sings.  Way to represent, buddy.  Do NOT let the world forget what assholes Americans are, coz, for, like, two weeks there, nobody was talking about Iraq.
•    Stumbling into a bar and seeing court volleyball — Russia vs. Italy on one screen, and Poland vs. Cuba on another.  I sat there and got drunk for three hours and never saw a ball.  I actually had to ask someone — "What do they call this?"  All I saw was cute girls in short-shorts jumping up and down.  Whatever they call that sport it's fucking awesome.  This shit could turn me into a sportsfan after all.
•    Natalie Coughlin winning the bronze medal in the 100m freestyle.  It's exactly what she did four years ago and you could see it in her face — massive disappointment.  Most of us can only dream of bronze but she really wanted that gold and I think I died a little inside for her.  Or would die to be inside her.  Something like that.  Hang tough, Natalie — you are the first American female athlete to win six medals in one Olympics.  Not to mention the only athlete I know of who collected her gold medal (retaining her title for the 100m backstroke) with her lip still bleeding from BITING IT to distract her from the pain in her legs while competing.  That is some tough-ass shit.  If you ever get to feeling down about that bronze, call me, we'll go for a swim.  You'll beat my ass doing the dog-paddle.
•    American gymnast Shawn Johnson's I'm-gonna-be-on-a-box-of-Wheaties smile while waiting for her gold medal.  We called those girls "bow-heads" back in high school, and we're still pretty sure that their minds echo with the sound of rolling tumbleweeds.  Lucky for this one she can jump.  Marry rich!
•    Realizing that I can't watch women's gymnastics.  Some of them are actually, like, 19, so it's ok to have wicked what-positions-can-she-twist-herself-into fantasies—and, hey, the age of consent is 17 in the state of New York — but most of them are 14 and that's just wrong.  Wrong to make me watch them bounce around in unitards.  If you wonder why the rate of pederasty seems to be going up in this country, try looking at the fashion ads on the subway — most of those girls are 14, too.  That's called conditioning.
•    Commentator Andrea Kremer making American diver Haley Ishimatsu cry after she failed to make the finals.  Poor thing was trying to be PC — "It's just such an honor to be here" — but she'd just lost her Olympic dream and — wait for it — she's 15 years old.  Could Andrea just give the little girl a fucking hug?  AND SHE JUST WOULDN'T STOP.  You'd think some motherfucker in the producer's booth would cut to a fucking Ambien commercial.  Haley has often been misrepresented as being 16, but her birthday is in September, folks, she's 15, and one of only three female divers to do a back 3 1/2 pike.  I think we could cut her a break.  Maybe it's not wise to have a 15 year-old athlete who just blew it interviewed by some cranky bitch who cut her teeth in journalism interviewing the Philadelphia Eagles.  Crying is one thing; being made to cry on mega-multi-international television is just mean.  And if I say it's mean you know it is.
•    Realizing that speed walking is an Olympic event.  Really?  I thought I was watching scenes from the inside of a Minnesota shopping mall.  And they won't accept skate boarding?  Shit, I can walk fast — let's see any of you bastards pull off a 540 kick-flip while ollying over a quarter pipe.
•    Ditto on handball.  Does anyone, anywhere in the world, actually play this game outside of preparing for the Olympics?  It's like basketball crossed with soccer without any of the sweat or hilarious Mexican announcers.  It's enough to make you want to go out and get some sun.
•    American female court volleyball player Logan Tom.  Is that not the most bitchin' name ever?
•    London's "presentation" at the closing ceremony, which featured some girl-child singer ripping off Beyonce whilst covering "Whole Lotta Love" with Jimmy Page, of Led Zeppelin, a band that made their career ripping off American blues musicians.  Awesome!  Great Britain — what a rich cultural identity you have!  Nothing like the Chinese!  It only got better when the camera cut to David Beckham, who actually failed to hide the look on his face that said, "What the fuck am I doing here?  And how much is my wife going to rack up on my credit card while we're in Beijing?"  He held up a soccer ball and managed to kick it almost ten feet.  Wow — I hope the Mayans are right and the world DOES end in 2012 — preferably before the Olympics.
•    American beach volleyballer Misty May-Treanor's ass.  I know, I know — she's just like my granddad's old Plymouth:  nice body, busted grill.  But before I got sick of looking at the both of them celebrate every single boring win, I had to admire that smokin' ass.  And couldn't believe that no one else ever commented on it.  Guess that's why I don't get the big bucks.  "And another win for the Americans.  What do you think, J.D.?"  "I think that Misty has a sweet ass!"  But it got even better when she invited King George to smack it.
The original photo caption read: "U.S. President George W. Bush playfully pats the backside of U.S. Women's Beach Volleyball team player Misty May-Treanor (L) at her invitation," which was changed eight minutes later to "playfully pats the back of…."  I don't know why more of the international community didn't stand up and take notice at this momentous occasion in U.S. history.  Turns out that after a fixed election, a failed war, a wire-tapping scandal, a torture scandal, and a recession, President Bush is not THAT stupid.  "Should I smack her ass in front of a million cameras?  Hmmmm… what would Jesus do?"  I would like to implement a new catchphrase when making such decisions:  WWJDD?  (Coz I'd smack that ass.)
•    Realizing that I won't have to hear anymore about Michael Phelps for at least four years.  If there is any warmth in my heart — and I'm not saying there is — I hope the dude gets more ass than a toilet seat in the coming weeks.  Coz for a motherfucker with that dorky face — this is his time to shine.
Kiss kiss,
JDX