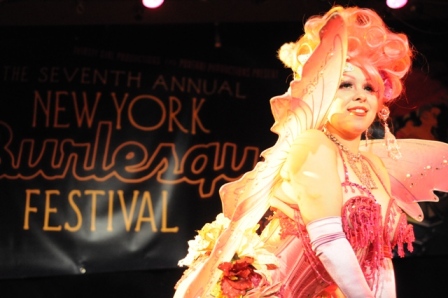 Thursday, October 1, 2009.  A chilly fall eve as we stand outside in anticipation, a heat building in our hearts and souls for the love of glamour, fanfare, and… nekkid women.  As they say in the south, naked is when you got no clothes on; nekkid is when you got no clothes on and are up to no good.  Amen.
Upon entering, we were met with the hallucinatory visage of Amber Ray, done up like a Lewis Carroll butterfly, only with larger, um… cue collapsing simile.  Anyhoo, it was Dr. Sketchy's Anti-Art School, and the foot of the stage was crowded with ink monkeys scratching out Amber's brillig visage.  The crowd was trickling in, like the sands on a soap opera commercial break, and I took the op to schmooze.
First, to the table selling copies of "Scarlett Takes Manhattan," the graphic novel by Molly Crabapple, the founder of Dr. Sketchy's.  See, I was hoping Molly would be around—I missed her book launch months back, and I think she's gorgeous.  Big crush.  And I still haven't read the fricking thing—holding out for a reviewer copy, or better yet, perusing the goods over Molly's shoulder one Sunday morning in bathrobes.  A bro can dream.
I checked in with Diane Naegel, from Wit's End, interrupted Angie Pontani mid-interview—I know, what's wrong with me?  And why do all journalistas have that exact same digital recorder?—Angie toasted to Monday night, jammies and Mexican food—complemented Helen Pontani on her dope new do (*schmush*) and caught up with Melody Sweets, who's pimping (glamorously, natch) for Tease salon—hey, how's that for a plug?  Free streaks for me, Tease?—and toasted badass DJ Mel Huckabee.  Man, that kid never gets a night off.
The show kicked off with the fab-nastic Two Man Gentleman Band, who take "novelty" to new levels with their undeniable CHOPS.  Funny dudes are ok, but funny dudes who can PLAY go one better.  Think 30s throwback seen through a Smothers Brothers lens.  I dug the "I get high on reefer" bit, and the tap accoutrement by the Minsky Sisters—smashing in navy outfits—who went so far as to chug-a-lug from beer steins, getting themselves all wet and having to strip down to their bathing costumes.  What?  You never heard of the Minsky Sisters?  Well, just imagine Linda Fiorentino circa "Vision Quest" and Eva Amurri (Susan Sarandon's daughter).  If that ain't an adolescent threesome fantasy, I don't know what is.  And trust me, I know what is.
Enter the World Famous *BOB*, bouncing onstage happily, effervescent in a black and silver dress by David Quinn. After a few crack-smoking jokes—cue Oxblood jonesing—*BOB* got us all salivating with an introduction to the girl who put the leche back in lecherous, Cara Milk.
She entered in a big black death-monk getup (?) but promptly ditched it for a schoolgirl look with added tutu.  Think Monica Geller on her way from Catholic school to ballet practice, with an innocent face and a demonic gleam in her eye.  She ripped off the prescribed white button-down and literally popped the buttons off—they went flying and so did my imagination.  Red gloves, blue garter, and ribbon-o-rama rhythm gymnastics mislead us until she stripped one tutu, revealing another.  Cue the posterior, cue the crowd mesmerized at the delirious shake, and all I could think was, "If she follows me home, can I keep her?"  This girl's skin is frickin' flawless.  The fun of watching a burlesque dancer struggle with her bra is the humor in the facial expressions, and Cara had "quirky puzzlement" down pat.  All I could have asked was a slightly better view of the tattoo (starfish?) hiding just below her G-string.  Man, I'm smitten, and that was only the first act.
Minnie Tonka—aka ½ of the Schelp Sisters—strutted on to the swing of ZZ Top's "Sharp Dressed Man" in a tux, red tie, hat and 'stache, truly workin' her comic timing.  Busting on a pair of "cheap sunglasses," she raised a leg and played it like a guitar, and while stretching her gold suspenders she took off the tie and Tom Cruise'd it before taking it of again and, riding it—flossing the Gaza Strip.  And dig the ZZ bling hanging off them pasties.  Mmmm… Minnie tickles my inner shagus.  Gender-bending goodness, or as *BOB* put it, "Hot but not right," and "that's what New York is good for."
Lola Van Dyke—one of the Sweden's Knicker Kittens—has what can only be called classic good looks, and in true Knicker tradition she excecuted a classic burlesque, lip-synching "They Call Me Lovely Lola" in a pink corset with feathers, black gloves, stockings and shoes, and a pink pillbox hat, her luscious brunette bob perfectly framing her exquisite face.  Losing one stocking seated, the second standing, when she finally revealed the furry pink pasties, I couldn't stop looking at the subtle track marks that the corset's whale bone had left imprinted on her alabaster skin.  I not-so-subtly bit the inside of my palm.
Runaround Sue did a (blue) fan dance to "Life Could be a Dream"—dig that wicked 70s-blue eyeshadow—and Mimi Le Meaux finished out the first act in a pink boa, split skirt, burgundy accessories and big pink fans.  Whatever was holding up the top that she stripped down to was gravity-defying—spaghetti straps?  No—capellini straps?  Did I just make that up?
Rita Star kicked off the second act with her Matador act, which I have to admit worked even better in a small venue than it did in Vegas, and Bonnie Dunn did a torchsong dedicated to the bitch that took her man (a man in drag) that deteriorated into a catfight.  Scott Rayow pimped the sponsors and the NY Burlesque School recreated their reefer act from Howl, with a pantheon of lovelies in weed leaves.
*BOB* claimed that Tatah Dujour looked like "a dream," and I would add that it was a dream of Walt Disney's, comatose on Viagra.  Gossamer gown and a bling-normous mylar star-shaped balloon, her heroine-blond hair down and brushed-out, untying her gown to execute diaphanous spins, offering glimpses of the silver geometric neo-corset lining her body.  She finished in a take-off of a balloon act, but true to Tatah's idiom of taking a standard act to new heights, her mylar balloon mirrored the audience in Brechtian seduction.  I need to get to Key West more often.
And can we give it up for the Incredible, Edible Akynos?  Schlam-a-lama-ding-dong!  She wins my vote of the night for SPECI-fuckin-ICITY, nailing those snap moves in key-bump accuracy, every twitch committed, never missing a step or a lip-synch, throwing in sexy as if it just came naturally, and goddamnit, I think it does.  The track: "Umbrella" by Rihanna.  The outfit:  yellow trenchcoat, lavender gloves and umbrella, yellow pumps with bling on the heels.  As the track wound up she jumped from a Russian squat to the splits, seamlessly riding into a backbend, losing the trench to reveal pasties made of silver body glitter.  That's how I spell climaxxx.
*BOB* mugs for the camera:  "There are so many weird pictures of me on the internet that I just don't care anymore," and in my fave quote of the evening, "I think you should live in your favorite city in the world, because you're gonna die."  I love it when anyone can remind us of death without bumming anyone out—I think that's the definition of grace.
Actually, no.  The definition of grace is:  Trixie Little doing a handstand on a deer's antlers on top of a birthday cake while wearing a Brunnhilde helmet.  You with me?  No shit, Trixie popped out of a birthday cake—inexplicitly topped with a buck's head—wearing a horned helmet and long braids, took her gloves off and slid them over the horns, her extra-netted fishnets ripping themselves off—I think she snagged them coming out of the cake—and that's the first time that anyone ever uttered that sentence—took her skirt off, grinded the cake, worked that budinkadink, and, yes, balanced herself on the deer's antlers.  Swoon.
During the second intermission, beloved and always-delectable gogo Bird of Paradise made $40 in under 90 seconds as two girls—you know them straight girls who like to make out with each other to get guys to look?  I think they were a couple of those, and make out with Bird they did.  Melody Mudd wanted to know where the hell Bird gets her lipstick—after snogging two drunk girls the shit was unsmudged.
The third act went quick and I will, too—Burgundy Brixx ate a peach in full brocade everything—you had to see those shoes; Aurora Boobrealis came out dressed as a—wait for it—yes, I like NPH too—a cockroach.  Hot, and just not right.  Ya know, Kafka never gave me a boner before.  Miss Saturn brought up a friend to undress her and did her glow-in-the-dark hula routine—Miss Saturn ALWAYS loses a pasty, god bless her.  Vicky Sin did her jailhouse routine and the Maine Attraction—OMG, how have I never seen her before?—motherfucking BROUGHT IT as the closer, showing us only her back for a full minute, shaking it to big band goodness, wearing a skirt made of clunky auditory shakers, making her own music, singing the song of her sweet hips.  The Maine Attraction positively sings like Whitman, her every move expressing the sheer joy of performance.  Miming a horn, sucking her fingers, high jumps that dizzify, witchy incantations of movement, casting a voodoo spell on the crowd, showing off her ass as a trophy, busting a headstand and falling to the splits.  Fucking Kablammo.  Totally pistol.
And that's only day one.  If you're not coming out tonight, tomorrow, or Sunday, you're a fucking idiot.
Kiss kiss,
JDX

All photos © Melody Mudd. For hi-rez images please contact her at melodymudd@gmail.com.