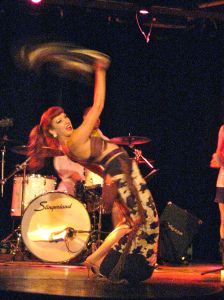 November is Pork month here at Cultural Capitol, and I am talking bacon but no cops.  As a prelude to the interview (watch for it next week), which will promote the show, which promotes the book, and is also based on the book, which is based on the show, which is the circular demented logic that is Jonny Porkpie—Dr. K and I dropped by Pubic Ass to see Jonny's latest Bad Idea, Porkhart—a fantasy in which Jonny is a rock star fronting the band Porkhart who jams up a gig by inviting burlesque performers.  Band in this case is played by the capable and flexible Rebecca Hart and the Sexy Children—and, mercifully, Jonny doesn't do much singing.
Rebecca Hart, on the other hand, has a voice as low-down and gravelly as a flat tire on a '47 Studebaker halfway between Little Rock and Texarkana.  Yes, Yankees, that's a compliment—this woman sings with prowl in her eyes and a strut in her picking hand.  If I read the chatter correctly, and she's all about the ladies, that makes Ms. Hart the soul-aching triple threat:  gorgeous, talented, and unattainable.  Swoon.
Faced with labeling the band's sound, she punted.  Alt-folk-funk-something something something… I'm gonna go with alt-country blues-based slow rock.  But as I keep screaming, we just never see burlesque with live music often enough, so amen. 
Nasty Canasta was angelic with her white fans; Gal Friday downright sinful in a red- and black-striped leather—pleather?  Actually, I think it was vinyl, but SMOKING, you dig—mini dress that zipped down the front.  The mooks behind me were def burlesque virgins; the whooping was deserved, but they were genuinely surprised by the glimpses they were getting, and all I could say was, sheesh, it's only Monday.  But savor the delicious cognitive dissonance of Friday twirling pasties to music at 78 bpms. 
Bird of Paradise, who I seem to always see gogo-ing, was on the mainstage peeling out of a red dress to rolling alt-rock, and Bird's delectable posterior is the kind of huggable rounded delicacy I always imagine being served to me in a Bedouin tent.  Meet me in Zagora.  For her second act, I had to order a double scotch on the rocks and throw it in my own face: tight dress with sparkles as polka dots, white thigh highs with garters; the reveal shows all turquoise with white trim my my… (insert lame joke about not flying home for the winter.)  Cue Gal Friday in cow-patterened chaps, Rebecca Hart calling Jonny a "No-talent lip-synching Kid-Rock Looking cock sucker"—no points for guessing which part of that tirade he found insulting—and the crowd is brought to a group climax as the the protean Nasty Canasta—all but unrecognizable in a Louise Brooks wig—shimmies to an affably soulful cover of "Whipping Post."  If you don't know this classic, fucking look it up.  Hart BELTS it, and Nasty gets down to Wendy O. Williams black electrical tape.  Hot for a Saturday; STEAMING for a Monday.
Says Jonny, "I call the show bad ideas for a reason: so I can do whatever the fuck I want."  Now that's a philosophy I can buy into.  
Kiss kiss,
JDX
PS Plugs:  Postshow is all about the schmooze, so dig that Lil Miss Lixx has a dope show coming up this Friday at Galapagos with Trixie & Monkey, and Albert Cadabra's birthday bash at the Slip (Dec. 12) sounds like in AIN'T to be missed.