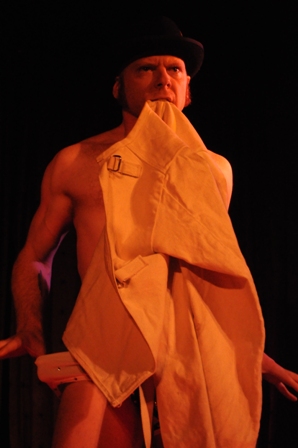 Like I keep on saying, it's the busiest time of the year and everyone should be excused for acting like straight-up maniacs.  But no one's excused.  The complaint barometer is measuring tropical levels of homicidality, and even an average ride on the subway will send the most mild-mannered librarian's blood pressure through the proverbial roof.  Wait—is there actually a proverb about a roof?  Must be, that book is like a hundred pages long.  I digress.  So the busiest night of the busiest season was Saturday, December 12th.  I was triple-booked and sending regrets that I actually regretted.  Top of the list was the Schlep Sisters' Menorah Horah, which I totally  missed, and was totally bummed.  I heard that it was killer diller, but unfortunately the source of my news was none too forthcoming.  Something something something about a Darlinda Just Darlinda act set on a musical medley ranging well over 12 minutes.  Which Minnie Tonka corrected by saying it was a little over 6.  Or something.  I may have been drunkles by the time I heard that part.  Oh, and I missed the Winter Ball, but Dr. K made the scene, so… I'm still bummed about missing it but you're not.  I DID have tickets to "Streetcar Names Desire," about which I will keep my mouth shut.  Not because I don't have anything to say—come on, kids, this is your Unkle J.D. talkin', and I got somethin' to say 'bout EVERYthing—but because what I think you really want to hear about is Albert Cadabra's Birthday Party at the Slip.  What?  It's—what day?—and you're just now telling us about what you did last Saturday???
Busiest night, busiest time of year.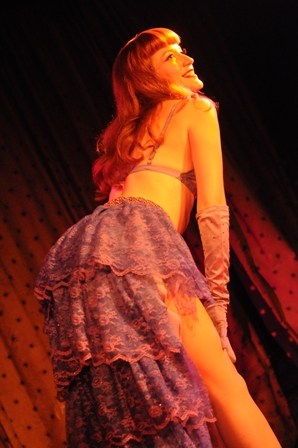 Have I ever told you how absolutely bangin' smokin' ragin' motherfuckin' hot Gal Friday is?  No?  Gal motherfucking Friday is so motherfucking bangin' smokin' ragin' shitfire fuck-all white-hot SCORCHING hot that I'd straight-up like to eviscerate any dude who might be bangin' her.  Not that I'm mentioning any names.  All I know is that it does a body proud to walk into a crowded night club (snap, did he just call the Slip a night club?) packed to the haunches and have the (aforementioned) hotty BECKON you up to the stage to give her a peck on the cheek while she go-gos.  Doesn't hurt that I was lookin' like a hundred dollars myself, kids, so take note—slackerista-ism will only get you so far.
Low and behold, I turn my head and in the audience is the other redhead, the one who lit the stars aflame, the one who told Prometheus what to steal, the one who INVENTED hot—Jo Boobs.  And Jo has become so near and dear to me that I thought she could not be more so until this evening.  She told me that we are living in the most fantastic era EVER, that we are so lucky to be alive now and experiencing all of this, that this is the most fun, the most fantastic time to ever be alive.  And she said it with such conviction that I totally believed her.  And this is the crusty, cranky cynic who hates Christmas.  I was almost speechless by the lift—holiday season or otherwise—that this woman gave me.  And all I know is that I need to see her more often.  I need more of that in my life.  I need to see her more often.  And I need to see her take her clothes off.  Isn't that what all of us were doing at the Slip?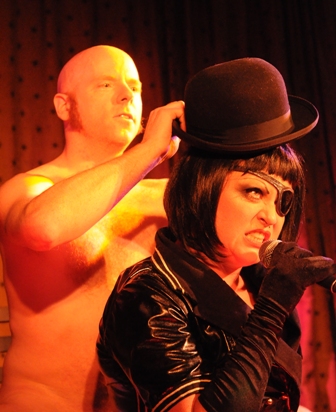 It's Albert's big day, so let's start with him.  Homeboy crawls out onto the stage to—can someone help me with the name of that song?  The artist?  Shit, where's my editor—ok.  It's bom bom bom bom, ba-bom, ba-bom.  Bom bom bom bom-my shoes.  Or something.  Super 70s.  And dude's in a bowler hat and a fucking straight jacket.  He starts to shake himself out of it and pulls the jacket OVER his head WITHOUT molesting the hat.  Tre genteel.  Dig the hand reaching out to the aud from between his legs, like his cock sayin' howdy (that's later).  He gets his pants off.  The girls go ape shit.  He bends his arm up behind him at an impossible angle, and leans up against a chair to chicken-wing that motherfucker far enough to get the back strap loose.  He takes it OFF.  The whole crowd goes fucking bananas.  He holds the jacket in his teeth.  He lets it go—and holds his bowler over it.
But don't be shy, Albert, it's your birthday, and Miss Astrid is coming out to sing "Albert Cadabra" to the tune of "Abracadabra."  And yes, that's some funny shit.
Peekaboo Pointe—how long has it been since I've seen her?—busted some blistering action in a sparkly black teddy, some seriously sultry chairwork, gloves in her teeth, and POPin' that ass to some walking blues.  I'm thinking, this is what Albert gets for his birthday?  Who do I have to kill to be that cool?  I especially relish how you can see the tattoos on the back of her legs through the thigh-highs—vivisected by the line running up the back.  And you know a line up the back of your hose is the definition of class.  She may be the fastest tassel twirler, but the finishing touch is TUGging on it at the finale.  Hot, Peek.  And I aim to find out what the fuck happened with This Is Burlesque.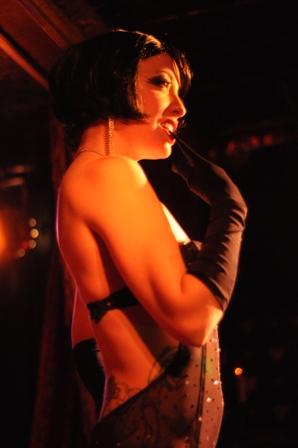 Jellyboy the Clown came out to sing Albert happy birthday, with Betty Bloomerz blowing a phat ball of fire in lieu of 'Bert blowing out the candle.  I approve.  The whole blowing out the candles schtick is so played.  But then Jellyboy comes out to collect tips.  Not in the usual pass-the-bucket fashion.  No, kid has a fucking staple gun and invites people to staple money to them.  Ok, ok, this is New York, you've probably seen people staple shit to themselves—but have YOU done it?  No?  Would you?  Are you sure?  I couldn't help it.  I had to know what it felt to staple a 20 to a motherfucker's chest.  So I did.  And I got the righteous Cyclone stomach bump.  It's a thrill in a bad way.  And I wasn't the only one who wanted it.  Way to make a buck, Jellyboy, way to make a buck.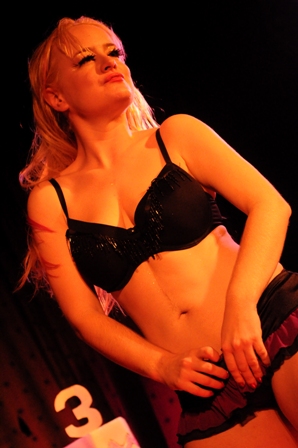 Clams Casino, who just gets hotter everytime you see her, was working it to a cover of Alphaville's "Forever Young" and strutting in a brown wig and a plaid dress with an "A" on the chest—"Scarlet Letter" ref? Unsure—and stripped down and pulled a chocolate chip cookie out of her panties.  Never did "I want to eat her cookies" seem so apt.  Cut to Clams pouring wine down the front of her body and into a glass—for Anita Cookie to drink.  Yes, it's her birthday too—ten years younger than Albert and do we get to see them get it on?  Dunno—Tigger's in the audience so you never fucking know.
We were blessed to see Gal Friday perform a classic act in periwinkle… but there was something missing.  And lo, all were gladdened by its missing, as the human race is glad of the missing of saber-toothed tigers.
I should tell you about Miss Astrid teaching cute little Ashley how to fist her own face just like Peekaboo Pointe.  And about how Betty Bloomerz, who actually HAS the rack that every twelve year-old dreams of—pulled off a scandalizing topless fire-eating act.  I would elaborate but I have a holiday party to get to.  Speaking of, there was also that thing about a pie fight, but you'll have to ply me with some eggnog and mistletoe to get that story out of me.
Kiss kiss,
JDX
All photos ©2009 Melody Mudd. Performers who would like high rez images, please contact her at melodymudd@gmail.com.