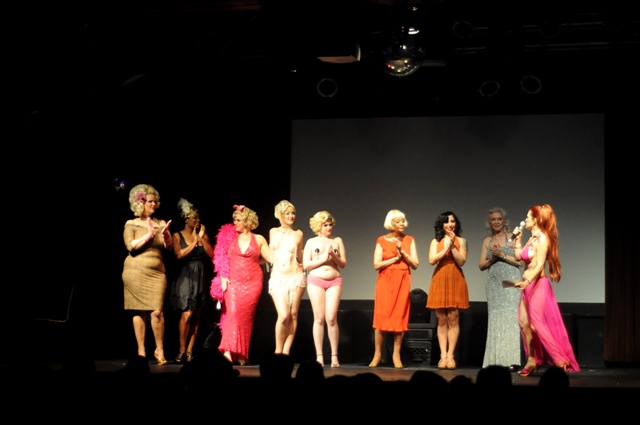 My mother lives in another state, which got me off the hook for the whole super-crowded, over-priced, awful-service brunch madness.  Don't get me wrong—Mother's Day is by far the best of the Hallmark-invented holidays.  Rather than make everyone feel awful about themselves and the sad state of their relationships (or lack thereof) like Valentine's Day, this day encourages everyone in the land to—if nothing else—call their mothers.  Which is a good thing.  I sent flowers, but that's because I'm still basically apologizing for everything I put my poor, long-suffering mother through in the 9 months I lived in her belly, the 18 years I lived in her house, and all the ensuing years that I've lived by the seat of my pants, worrying her that the cops will find me dead in a ditch.
Melody's mom works on Sunday, so I had a photog.  All of this was good for me—and good for you, dear reader, dear pervy pix collector, dear narcissistic burlesque performer—because we were able to attend the latest fantabulous Jen Gapay production, "A Salute to the Mothers of Burlesque" at the Highline Ballroom.  (Sunday, May 9, 2010)  Mad props to Jen—and to my fairy glam-mother, Jo "Boobs" Weldon—for putting this one together.
The genius of this show is to allow you to bring your mom to a cocktail brunch and be entertained by beautiful young women taking their clothes off in tribute to the Mothers of Burlesque, those glorious women who pioneered the American art of the striptease.  The cherry on top was the presence of two of these women:  Dee Milo and Toni Elling.  Dixie Evans was planned, but sadly was unable to travel, but we did get to see a short video intro by her in which she proved that she's still a pistol.  In the rambling style of a born raconteur, she expressed her long-standing sympathy for working mothers juggling babies, especially when you've got "two Johns out in the car."  She regretted being unable to visit New York, and expressed that living in New York got you a better education than going to Harvard or Yale.  I love this woman.  And so, clearly, does our hostess, the World Famous B*O*B, who took the stage—cloaked in heavy smoke and shaft lighting—like she was born to it, in a pink sparkly dress, and told her story of the first time she met Dixie, driving out to the goat ranch in the middle of the Mojave desert in the dead of night, and calling Dixie to make sure she was expected.  Dixie just said, "I just put on a pot of coffee and the band's here, come on over."  What a glorious battle axe.
The Highline is a large, elegant hall, and overall I felt that we were seeing a preview of Vegas.  To be sure, much of the audience was made up of performers—some of whom did bring their mothers—and everyone was excited to see the legends perform.  I was excited to see some familiar acts from close-up and personal—like Perle Noir's savage African romp, framed here as a tribute to legendary badass Josephine Baker, and to prove it, sported what I can only call a banana belt.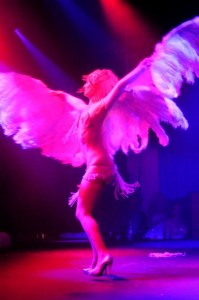 I'm still holding out for Perle to come onstage with a cheetah.  I've seen this act a couple times now and am still awestruck by Perle's aggression mixed with a firm delicacy—beating the stage with her feet while moving about on her toes.  The slow drop to the splits is sheer tantalization made tantamount, and Perle holds her tits like they are the almighty Goddess's precious gift to humankind.  Which they fucking-a are.  Congrats are in order to Ms. Noire, who will be competing for the title of Miss Burlesque Hall of Fame in Las Vegas in just a couple short weeks.  I hope this is the act that we'll see on the big stage.
And I hope we see it, because we could barely fucking see Noire on Sunday. Y'know, my years working the party circuit have acquainted me with many peoples, and one of these "types" is the moving lights operator, who work a machine called a "whole hog"—compensation, you dig, the same way a Harley makes a small-dicked hoodlum look like an extra from one of Clint Eastwood's orangutan movies. These are guys who got tired of climbing ladders and slinging wrenches, took a couple of classes in how to push buttons, and pull in a thousand bucks a day to sit on their ever-fattening asses and dictate what the moving lights do during a show. Good for them, except that hey tend to be assholes—the anesthesiologists of the lighting world. Why do I care? Because the fantastic, dazzling lighting arsenal Sunday totally obscured the reason all of us were in the room: the performers. Perle Noire was so completely deluged in lighting effects that it was impossible to see her DANCE. Worse yet, when legend Toni Elling took the stage in the second act, it was so dark we couldn't see her at all.  To lighting designers everywhere:  please remember that no matter how dope your skill set, it's only cool if it ADDS to what's happening onstage.
Moving on.
Congrats also to Ms. Tickle, who will be competing in the Debut category in Vegas, and let's hope she'll be doing the angel wing act to the music from "Requiem for a Dream" that we've been seeing.  One, it's a great act, and two, the moving light programmers in Vegas REALLY know their shit.  And besides, Tickle totally tickles my libido.
Dr. Lukki—who we truly don't see often enough—did a reading tribute to Gypsy Rose Lee, and Angie Pontani banged her bongos in tribute to Blaze Starr.  You know, they made a movie about her relationship with legendary Lousiana governor Earl Long, played by Paul Newman, and Blaze even had a cameo.  One of my favorite acts of the afternoon was a simple double tease with B*O*B and Ruby Valentine, a tribute to Liz Renay and her daughter Brenda.  B*O*B has oft spoken of Liz Renay as a major influence, and she was a fascinating figure—dated mobster Mickey Cohen, appeared in a John Waters flick—and it was awe-inspiring to see B*O*B embody her, mirrored in every move by Ruby.  B*O*B in all black, Ruby pretty in pink, the two did everything in tandem, removing gloves, boas, and gowns, and then did a simple downstage cross with a light 60s shimmy; back upstage to remove the bras, and back downstage to to shake it, blowing kisses.  I'm beginning to love mother's day.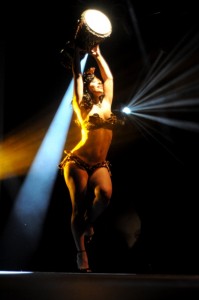 And then there's Jo.  Sigh.  May maple syrup never be sweeter than my love for Jo.  Legend Sherry Britton actually helped Jo create this tribute act before she passed, which gives Jo the kind of street cred a young gangsta could only make up.  Devastating in pink, doused in body glitter, all accolades to Sherry as Jo perfectly matches the formalized, erotic arm gestures that made her famous.  Opening out, embracing the audience.  Think "I Dream of Genie," only hot.  Flaming hot.  Retina-burning, summertime in Riyadh, welcome to hell hot.  The simple act of letting her hair down is sheer magic.  And as if it weren't obvious that Jo Boobs is the queen bee coolest chick in school, when she took over hosting duties for the second act, she called her mom on her phone and had the entire audience wish her a happy mother's day.  Aw.
But the true joy of the night was the legends themselves.  Dee Milo did her signature "Sentimental Journey," striding onstage with her suitcase and teasing us for a good 6 minutes, which is nothing considering—as she divulged later in the show—that back in the day the girls' acts were 15-20 minutes.  Coat, black skirt, jacket—disrobing to frantic howls from the peanut gallery—and as the music shifts to "I'm in the Mood for Love," she sits to ceremoniously remove her shoes and stockings and then put the shoes back on.  I don't know whay that particular move—putting the shoes back on—always gets me so aroused, but it does, and I don't even have a foot fetish.  Dee puts on a dressing gown from her case, and just when you think she's going to leave the stage fully dressed, they bring a boy onstage and she opens up her gown, revealing pasties, and straddles the boy, riding him and bending back towards the audience.  Who was that lucky bastard?
Toni Elling took the stage in an overwhelming fur coat, and with style, grace, and a surprising litheness.  When the lights finally rose to greet her, she handed the coat to Lil Miss Lixx and strutted in her white brocade dress, nixed the kid gloves, and reached behind her to unzip her dress—all the way down.  When she held on to Lixx to steady herself as she stepped out of the dress—man, you could feel the entire room pull a sharp inhale.  This woman was positively TAUNTING the photographers.  I'd never ask a woman her age, and in certain cases I don't even want to hazard a guess, but if you're bored at work, reading this when you should be kissing your boss's ass, do a little googling and ask yourself how awesome it is that Toni Elling is STILL taking her clothes off for a room full of strangers.  And then meet me in Vegas and we'll see some serious shit.  –and charming?  Hilarious?  In the post-show Q&A, when asked how she got into burlesque, Toni simply stated, as matter-of-fact and deadpan as you can imagine, "Well, I got fed up working for the telephone company."
Amen.
Kiss kiss,
JDX
All photos ©2010 Melody Mudd. Contact me at melodymudd@gmail.com and find me on flickr, twitter, & facebook.