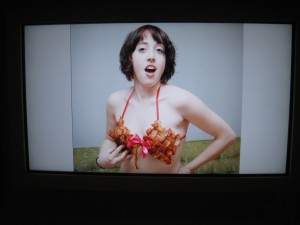 Friday, October 15, 2010
I might have been able to resist an event called Baconpalooza—maybe—but I was invited by Minnie Tonka.  Something about a hot Jewish girl stripping at a bacon event tickled some of my best perversions, so I dropped by.
Early, which was good for the bacon-eater in me.  As promised, the SoHo Gallery for Digital Art was scattered with platters of bacon-oriented appetizers.  Bacon-wrapped shrimp and bacon-wrapped scallops—doubly non kosher goonesses—were delightful if… well, cold.  Yep, prepared, sitting out a bit.  I noshed anyway, and moved on to the tempura bacon—disgusting, and the tempura largely blotted out any enjoyment of the bacon—and the mini BLTs—awesome.  There was also bacon dipped in chocolate, which I couldn't wrap my mind around, so instead settled in to a different kind of BLT—a bloody mary made with "Bakon" vodka, a bacon-infused vodka, and garnished with a piece of lettuce.  Actually rather delicious.
So I had bacon, but no palooza.  It wasn't even 7 pm on a Friday, the gallery was empty, and apart from the bacon-themed cartoons displayed on the digital frames hung on the wall, not much to look at.  I wandered downstairs and to dig the bacon products.  Baconaisse on a Ritz reminded me wonderfully—and woefully—of Hickory Farms bacon-flavored cheez spreads, from Xmases looong past.  I couldn't go for the bacon-flavored jelly beans, either—I don't like sweet with my salty, which is why I go for cruel, bitter women.
And I couldn't handle another BLT, and wanted nothing to do with the bacon-vodka white Russian, so considering we were in SoHo, I went shoe shopping and ducked back around…
In time to find palooza, and no bacon.  The joint was hopping, the drinks were flowing—I went for one more bakon bloody—but the bacon snacks were long gone.  A D-bag was demanding his money back for the lack of bacon.  Did I mention that the entire event was to raise money for kids with autism?  That's the part where you let the lack of bacon—or the presence of cold bacon—go.  The girls I started talking to worked with autistic kids, and grabbed the event's lead organizer to find out where the money was going.  Turns out there are several different sides to the autism debate, so this was "non-denominational," which old dude spun as a good thing and seemed to convince the young workers.  But I still had a nagging question—when I came in, they were selling raffle tickets.  The winning raffle would win HALF the money that the door had brought in that day (this was the first of a 3-day event).  If all money over expenses is donated, and you give half of it away…?  Am I the only one wondering what's left over fot the "good cause"?  Fortunately, on Friday, at least, the raffle winner didn't step forward and the money went—we assume—to the kids.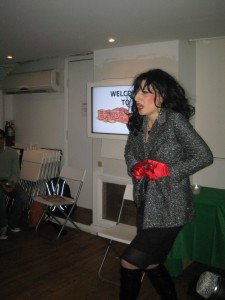 But the palooza was on, with the "Sugar Cured Singers" singing Gregorian-inspired versions of bacon recipes.  And then the burlesque.  It's always a hoot to see burlesque performed in an unusual locale, and this was no exception.  Random mix of autism advocates and young kids digging on a cheap open bar, all hopped up on bacon—or all amped up on the lack of bacon—are suddenly hit by the stylings of Minnie Tonka, rocking out to "I Hate Myself for Loving You" and directing the song to, of course, bacon.  Since we were in a small gallery her clothes landed in the audience, who seemed to warm up to the act immediately—it wasn't as square a house as I'd assumed.  Didn't hurt that Minnie threw a pound of bacon into the audience, and it certainly helped that she spun bacon-strip tassels.  And bit into them.  (Word on the street is they were strawberry-flavored gummy bacons, but the crowd was convinced she was biting raw bacon strips.  Nice stagecraft.)
I chatted up a few kids who had literally come for the open bar.  They switched to Bakon vodka on the rocks, which was described to me as "Y'know how when you're really wasted and you've been sick and everything you drink kind of tastes like puke?  It kinda tastes like that."  I never believed there could be too much bacon, but, free booze or no free booze, I decided to move on.
Here's hoping the 3-day event made some coin for schools that badly need it.  And here's keeping my ear to the ground for the next unlikely burlesque venue.
Kiss kiss,
JDX