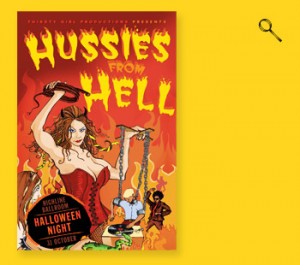 Sweets so sweet you could seriously overdose—New York is truly packing it in this year.
Tonight (Thursday, Oct. 27) it's Monsters a Go-go at the Producers Club, with legends Jo Boobs and Tigger! joining newbies Jezebel Express and Go-Go Harder.
Thursday AND Friday you can check out the Horror Show in some skanky space in Billburg, brought to you by the—clearly—certifiably insane Anya Sapozhnikova, and hosted by Albert Cadabra.  I'm gonna try to make that one.
Friday is also the Rhinestone Follies at the R Bar—
And Saturday, well, part of being an animal is you must make choices.  Graze on many delicacies, or choose one and make a meal of it:
Wit's End Presents the 2nd Annual Black Cat Masquerade at the Flute Bar in Midtown.
Or if you'd rather slum it at the Delancey, F-Bomb features Calamity Chang and Darlinda Just Darlinda.
Or you can class it up at the Player's Club to see some fab art by Skye Ferrante, followed by…
…more burlesque at the Player's, featuring personal crush Gal Friday, at some show by somebody… I'm trying to remember the name of that bar on the Lower East Side that shut down—
But if there's one show this Howliday season that you do NOT want to miss, it's the Hussies from Hell show at the Highline Ballroom.  And it's NOT because its hosted by Miss Astrid, who, legend has it, will be putting in more regular appearances here in NYC, and it's not because the DJ is Momotaro, who sorely needs the gig, and it's not because Jo Boobs and Tigger! will be there… and it's not because I'm lonely, and it's not because it's All Hallows Eve.  You're coming tonight because when you realize you want to spend the rest of your life watching two butch dames lift each other on a stripper pole, you want the rest of your to start… as soon as possible.
That's right, kids—the only thing cool about St. Louis, Gravity Plays Favorites.  Just go.
I'm pissed coz I think I'll have to miss it.  Gotta go to another frickin' wedding.  Yeah.  A wedding on Halloween.  Yeah, I know people that weird.
Boo!
JDX