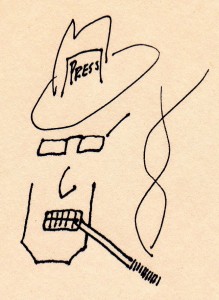 As legend has it, a regular guy wanting to make it as an illustrator got a random call from a drunken buddy, saying, "I just got you a gallery show."  Minutes later, the same drunken buddy called to say, "I just booked you a burlesque show."
You know, to promote the gallery show.  These kinds of things make sense when you're drunk, which is why I always take the redeye flight to Reykjavik to score rijsttafel when I'm hammered on rye Manhattans.  (And why my credit card company won't buy the "identity theft" excuse any more.)  ANDYheidl, Doc Wasabassco was born, and six years later he's selling out the Bell House with a wide-reaching, eclectic mix of nude-o-rama that pleased the sci-fi geeks and the lesbians alike.
(Wasabassco Burlesque's 6th Anniversary Extravaganza, The Bell House, November 6, 2010.)
First observation:  I haven't been watching Doc Wasabassco onstage for six years—maybe two and a half—but the kid's onstage presence has grown in leaps and bounds.  Dude is starting to look comfortable up there, and mad props for that. And while I'm on it, the more I actually hear Nasty Canasta SPEAK, the more I want to.  44D brain, indeed.  And speaking of Nasty, did you ever notice that you never see Nasty and Kobayashi Maru in the same room at the same time?  Hmmm… really makes you wonder.  Nasty hosted the second act, and Kobayashi busted a new steampunk geisha act in the third… but you didn't see them at the same time.  I'm beginning to get suspicious.
I'm also like a week late with this coverage so let's cut to the highlights:
* I didn't have a photographer sticking her elbows in my ribs all night, which was awesome.  Kidding.  Melody Mudd couldn't make it—and apparently, neither could anyone else.  Where you usually have an army of equipment-wielding assholes at the front of the stage—some of whom are actually photographers, some just assholes with money to blow—the usual suspects were missing this evening.  Notably present was badass shutterbug (and super cool kid) Syd London, so I recommend reading this drivel with one eye while perusing Syd's pix with the other.
*Bold programming.   We got a range of acts wide enough to need a Ritalin prescription, from Jenny C'est Quoi's aerial stripping to Marlowe Marquis blending fan dance with fire-eating to a giant set piece of pageantry about Dr. Who.  Um, I never watched Dr. Who, so, I, like, totally didn't get it.  Something about a phone booth, only it's called a target, or a tar-hiss, or a torah-diss, or something, and people keep coming out of it.  It was ok though—the geeks in the audience got off, and I still got to ogle Legs Malone and Gal Friday in Union Jack two-piece swimsuits, PLUS Dixie Dynamite stumbling around wide-eyed like a damsel in distress.  SO cute.  I'll save you, Dixie—ANYhoosie, a wide range of programming such as this one usually doesn't see outside of a festival, so I says amen.
*Legs Malone busted a new Alladin act, which I wrote about the other night.  (What?  I didn't write that piece yet either? Crap—)  So Legs Malone, in a checked A-line dress, finds a lamp, makes a wish, and rubs it.  Bing!  Money, in the form of a cash petticoat that was giving her dress such fluff.  Second wish, diamond earrings from her cleavage.  But it gets hot on the third, when she's clearly turned off by the genie's request, but after some consideration, strips down and rubs the lamp… between her breasts.  What makes it so delightful is the look on her face—pure disgust, simply enduring the act. (Men, you've seen this face before, but here you can actually enjoy it.)  And Bing!—a pearl necklace.  You don't have to be into ZZ Top to get that joke.
*Gal Friday also busted a new act, to Glenn Miller's "Moonlight Serenade"—in a lovely pink gown and white boa.  I especially liked the opening move of dangling her hand over her head, elbow out, to gently bite each finger of the glove to remove it.  Later, turning upstage—perfect three-beat timing on the unzip of the dress.  A little fan work, and some seriously silver bra and pasties.  Even doing classic, Gal is just… a bad… girl.  It's written all over her face.
*Melissa-Anne Ainley, the Hula Hoop Harlot and two-time world record holder, did a hula hoop act, which was, technically, a juggernaut.  The fact that Melissa-Anne is a tiny little hotbox doesn't hurt either.  And yet… something seemed to be missing.  I'll reserve judgment (and total and complete bitchiness) until I see her again, but variety acts at a burlesque show still need that special something, some kind of thrill above and beyond technical prowess.  Otherwise it's just circus, and I don't see anyone selling me cotton candy.
*Stormy Leather, the last person I would have suspected of being a Bob Dylan fan, flipped cards sporting key lyrics to "Subterranean Homesick Blues," a cute gimmick, littering the floor with words which are, ultimately, the strip—leaving her with black "censored" cards hiding the good stuff from us as she left the stage.
*The two lesbians standing behind me, who got into a discussion about "broccoli and vagina."  I admitted that vagina wasn't generally my go-to dipping sauce for broccoli, but they insisted that I give it a shot.  "Brazilian vagina," one girl added, "not that wolverine vagina."  Check.
*Ruby Valentine's nunchuk act. Again, holy shit.
*Hats off to Nikki LaVillain, for giving us some hot wax treatment.  It's been way too long.  And the lesbians LOVED it. Sapphire Jones—ok, what's with the food obsession?  Never mind—we're all obsessed with food, and who am I to judge?  You had me at lunch lady, but put together an act featuring fried chicken, and I'll be yours forever.  Tonight, it was about stripping for sandwiches.  I've always believed creation and destruction to be paired acts, but Sapphire proved it—the more she UNdressed, the more she DRESSED her sandwich.  She began in Western garb—complete with cowboy boots—and found cheese in her vest, tomatoes on her belt, and her holster held a mustard bottle.  Don't even get me started on the lettuce bra.  And the song?  "I Need a Hero," natch.
But my favorite performer of the night is neither boobalicious nor striptastic—it's Chris McDaniels.  Yes, it's a variety act, with personality to spare.  McDaniels is a real cowboy, so for those of you who don't know Texas, just imagine Sam Elliot and you're not far off.  He started by saying, "I need a woman"—who doesn't?—and pulled Scarlett Sinclair (Wasabassco patron saint) on stage and proceeded to rope her like a calf.  Dude threw a lasso from the other side of the stage and got her arms, then proceeded to throw additional loops over additional appendages until she was trussed up like a turkey dinner.  Then he got her to hold a Twizzler in her mouth and whipped it—cracked a whip and chopped that sucker down inch by inch.  Fucking AWEsome.  And he's just getting warmed up.  Did a whole trick ropin' act—y'know, twirlin', Roy Rogers-type goodness—and then got into the Texas Skip.  That's where you get a big rope twilin' and jump back and forth through the loop, which this old dog did like he was just rollin' over to get his belly scratched.  Made it look easy, which it ain't.  for a finale, he got a 40-foot rope twirlin' in a lasso over his head, and then got it spinning over OUR heads—you never saw an audience duck like that when Rose Wood wasn't in the house.  Felt like a helicopter fixin' to land on top of us.  And that's takin' "twirlin'" to another level at a burlesque show.  And the crowd, as they should, went ape shit.
Kiss kiss,
JDX