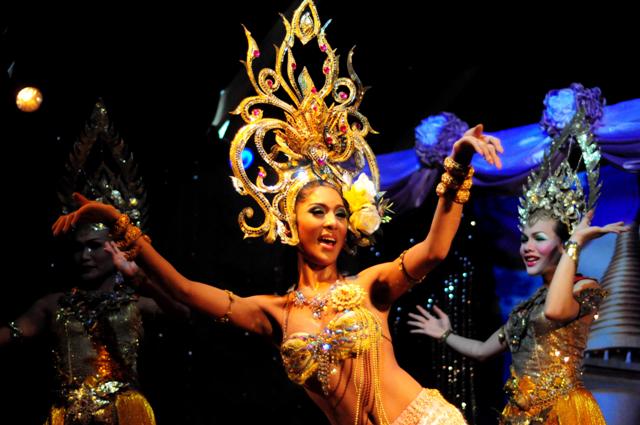 (as witnessed by JDX, mid-January, 2011)
It is hard to keep up with the ticking clock in San Dimas while blasting across Southeast Asia, which is no excuse—except to say that it's also a challenge settling into an apartment in Bangkok.  Y'know, mundanity like buying toilet paper becomes a serious errand, not to mention that you can't actually put your paper IN the toilet, so you have to think about a trash can for your bathroom and where you can empty it on a regular basis.  Makes moving to Queens sound easy.
But I've been dying to tell the burlesquers out there about the Cabaret show we saw in South Thailand last month, featuring all Kathoey—which is usually translated as "ladyboy," which can mean an effeminate or homosexual man or, as in this case, a post-op MtoF transsexual.
Quick background:  Despite my Souteast Asia habit, I couldn't find Khao Lak on a map until after the boxing day tsunami of 2004, when I went to the flattened Khao Lak and built houses.  I kept returning to see how the place fared, and it blew back up, scads of beachfront resorts supporting hordes of elderly, fat German and Scandinavian tourists.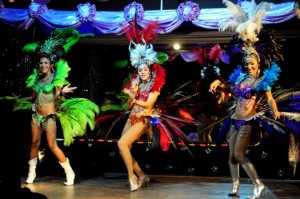 But it's still worth a visit, what with the proximity to Similan and Surin Islands' scuba diving and the chance to visit my tailor, Monty, and his brother Tony.  If you've ever seen any of my custom-made suits, here's my secret.
So after a day of riding the motorbike up and down the coast and checking out waterfalls, M. Mudd and I dropped in to Moo Moo's cabaret, which according to Moo Moo himself is "All ladyboy," as opposed to the Angel Cabaret down the street which is transvestites, or all men, pronounced disparagingly nasal by Moo Moo as "ahll meeehhn."
Curtains up.  The stage is shallow but wide, the house a couple rows of natty cushioned vinyl chairs set behind coffee tables, the bar to our side, and behind us, the street, with motorbikes and sawngthaew roaring by.  It's open air, of course.  The crowd is small, just a few younger tourists and a family up front with a small boy, and Thai staff lurking in the shadows.  We get a canned intro "Moo Moo's famous Cabaret!" and a snippet of music, "Cabaret," which will also serve as the between-act segue all friggin' night long.  And then four lovely ladies pinned to dreamcatchers step out in front of the mirror backing the upstage wall and perform unison (sort of) choreography as the fifth girl, with a lovely, round and pale face—almost Chinese— perfectly lip-synchs a Thai pop song.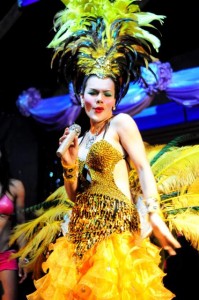 This is the formula—backup dancers doing choreo while a lead "sings"—and it veers between excellent to embarrassing depending on the quality of the dancers and the ability of the lip-syncher.  Keep in mind most of these girls can't speak English, so lip-synching well is a particular coup.  But the costumes… wow, the costumes.  Moo Moo can design, Moo Moo can sew, and Moo Moo has access to cheap Asian materials and cheaper Thai labor.
Dig the four terrible, terrible drag queens—read: unconvincing as women, no matter how much work they've had done in Bangkok—lip synching to the totally cheesy "Welcome to Thailand" travel channel music, decked out in wonderful traditional Thai garb and working their arms and hands in traditional movement.  Contrast starkly with the fifth ladyboy—so lovely and so convincing I really couldn't buy that she is—or used to be—a man until the third time she came on stage—seriously, color me fooled—pulling off the traditional Thai dance lovingly and seductively, her fingers bending back almost to her forearms.
Crash cut to a snarlingly hiccuppy version of "I Will Survive" as performed by a Kathoey in a pink Mexican ruffle dress with a big black gap in her teeth, a mole on one cheek sprouting a foot-long hair.  Actually howling into the audience, she managed to scare the living crap out of the homophobic farang in the front row, getting one guy to jump right out of his seat while his compatriots laughed their ass off.  Now this, I thought, is burlesque.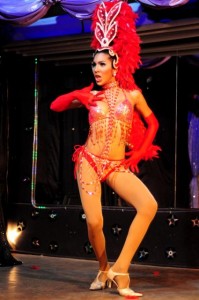 The drinks have been flowing and the front row is finally loose, a second-string crowd of farang have wandered into the club from the street adding noise, bringing the overall energy up just like a Friday night at the Slip.  I'm starting to focus on the better performers, like this girl in the green flanking the one in purple with the tiger feathers—now she can MOVE, man, and way hot:  thin, athletic even, with the classic stripper tat where her thigh meets her belly.  I'm sold.  I'm thinking of taking the plunge.  All working parts, right?  I've done weirder shit as a straight man, right?  Wish I hadn't read that "Bangkok 8" book with the squeamishly specific surgical description of how a man becomes a ladyboy.
The serious hotty (from the traditional Thai act) comes on in red opera gloves and a big headdress, works some serious meringue.  We get a great R&B act featuring one of the darker-skinned girls (likely from Isaan) well-wigged who not only does a convincing sistah bobble head but even rocks that exasperated, constipated face that we've come to expect from our R&B howlers.  Now our girl with the hairy mole comes out in front of a backdrop of the Taj Mahal to the screaming overture of Carmina Burana.  Clash of traditions?  That's nothing—now she's lip-synching to a version of "Hava Nagila" in a china girl costume, umbrella and all.  Gets a guy onstage and tries to kiss him, then pulls a complicated joke using a stuffed monkey and trying to get the guy to bite the banana.  I didn't get the joke, but I was still laughing.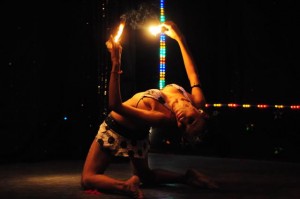 For the climax, we got a hot wax act—but the girl ran offstage to strip, coming back out in bra and panties to scald herself.  No onstage stripping at Moo Moos.  But after the show, they invited any and all drunken farang to hop on stage and shake booty with the ladyboys, and the uncomfortable-looking white girls tried their best while the Kathoey finally let their hair down and looked comfortable, giving it to us go-go style and not giving a damn about anything.  Pure hedonistic release, and lovely to behold.  If you find yourself in the neighborhood, I recommend checking it out.
Juup juup,
JDX
All photos ©Melody Mudd. Please contact melodymudd@gmail.com for permissions.