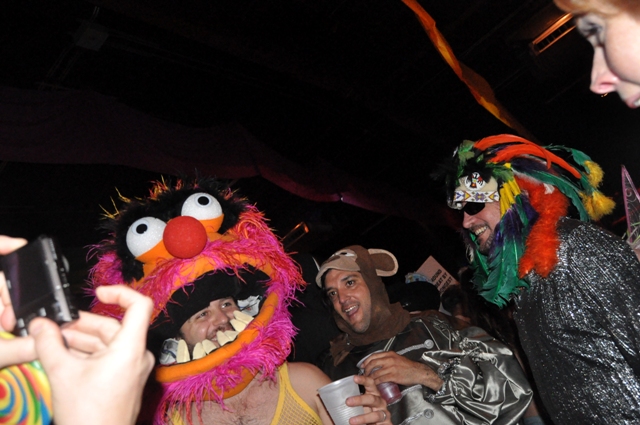 Saturday, March 5, 2011
What is the Mom's Ball?  If you lived in New Orleans, you'd know.  Which is saying a lot, because, as a New Yorker, with all the nonsense that we have going on here all the time, you can't really say that about very much.  What events are so well-known in New York that EVERYONE would know about it, but that no one outside of New York would know what we were talking about?  Nothing.  Hence the advantage of a small town—and a small town where people SHARE VALUES.  Mardi Gras is important.  Masking is important.  Having a good time is really fucking important.  You Yankee bastards do not get it.
Well, MOMs stands for the Krewe of Mystic Orphans and Misfits, and is a place for stoners dopers and fuckwads to go get their swerve on because they weren't invited to the Comus-Bacchus ball.  Of course, I'm riffing, and generalizing, but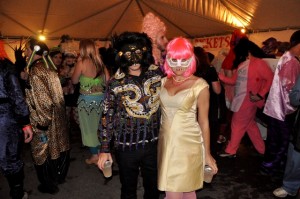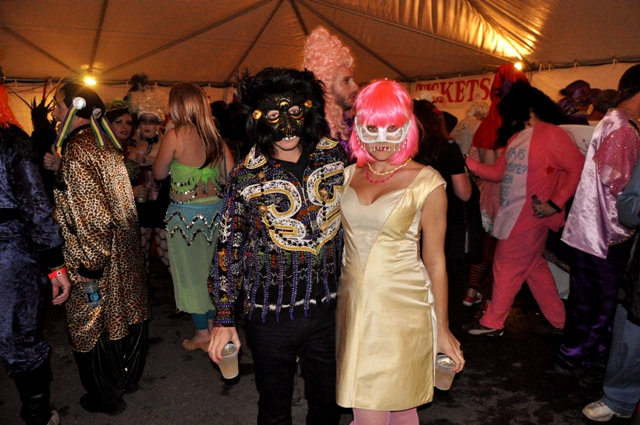 until I can get Arthur Hardy to write an essay for BurlesqueBeat explaining the philosophy of Mardi Gras and how it relates to the goals and aesthetics of the worldwide burlesque scene—apparently, I'm as good a scribe as you bastards are going to get.  Bottom line:  most of the people in the burlesque community would either LOVE the Mom's ball or HATE it, and for the exact same reason:  the Aristotelian line between "performer" and "audience" is completely erased.  EVERYONE IS IN COSTUME.  If your costume isn't good enough, they don't let you in.  So forget that you have to "know someone" in order to get an "invitation" (which still costs 40 bucks), you also have to be decked out.  And for the most part, everyone is.  Like a motherfucker.
I was invited because of a friend that I like to call the Rocket Scientist.  He likes to point out that he is, in fact, an Aerospace Engineer, because engineers actually make things, and I like to point out that "Rocket Scientist" is just more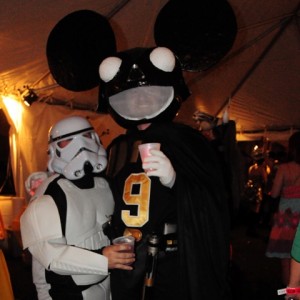 likely to get you laid.  Anyway, he was the guy in the Darth Maus costume, complete with giant head.  Which made him pretty easy to find in the giant airplane hanger—ok, Mardi Gras parade float hanger—known as Mardi Gras World, in Algiers on the West Bank.  Props to cabbie Carlo for getting us out there.  Just imagine a big, big hanger in the middle of nowhere hosting a rave of about a gazillion people, all of them in costume and most of them on drugs.  Smelled like LSD in there, if you ask me—if it'd been MDMA more people would have been touching us, if you dig.  And yes, the Radiators were playing, and they were awesome, and they say it's their last Mom's—hence the party name "Last Licks"—but not everyone believes it.
Next time you're at Mom's, bring your own booze.  Also, make sure you've had the training to enable you to resist going to the bathroom for several hours.  Or wear adult diapers.  Seriously, the port-o-johns are not fun.  But DO slowdance with your partner to the house band covering Marvin Gaye.  Dance close.  Feel the music.  Feel all the freaks staring at you.  Realize it's because you, too, are a freak.  It's all freaks.  Feel the freakiness.  Dance closer.  Lean back and realize you don't recognize the person you're dancing with.  Feel that.  Feel something else.  Feel the brownies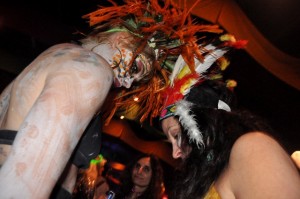 coursing through your veins.  Feel the entire West Bank folding in half.  Feel the freaks.  Feel like maybe you should get the hell out of there while you're still able.
Feel some good ol' raw, prehistoric, abject fear as you walk down a deserted road towards the looming steel truss of the Crescent City Connection overhead, holding on to your girl and hoping to Bacchus that Carlo shows up.
Carlo did show up, and he got us as far as Tchoupitoulis and Louisiana before I had to give him directions.  Which led to Melody Mudd delivering the SECOND most hilarious line of the week (for the first, you'll have to buy me a drink), as she tried to remove her wig and her mask and the series of party wristbands on her arm:  "I require so much assistance."
Bec bec,
JDX
Ps: Please enjoy these rare, rare photos of your humble servants, J.D. Oxblood and Melody Mudd.
All photos ©Melody Mudd. Please contact melodymudd@gmail.com for permissions.