Saturday, March 5, 2011
Disclaimer:  We were cold.  I know, it sounds wimpy, but after two months in 90+ degree weather, dropping back into the Northern hemisphere in the middle of winter was a shock.  (Granted, that Oscars-style gala for Tickle's wedding made our 30 hours in the NYC cold SO worth it.  Kisses!)  But in New Orleans, come Saturday night, it was just under 50 degrees Fahrenheit, the locals were loving it—winter's almost over!—but my photographer was wearing next to nothing, costumed-up for the Mom's ball, and by the time we got out of our first almost-impossible-to-catch cab she was wearing my jacket and we were both freezing.
But we were totally excited to finally get a taste of the burlesque scene in a town that is almost scientifically designed for costumes, nudity, and spectacle.  A match made in heaven:  the New Orleans Mardi Gras Burlesque Ball 2K11, brought to you by OpenHouse Music, Slow Burn Burlesque & Studio 3.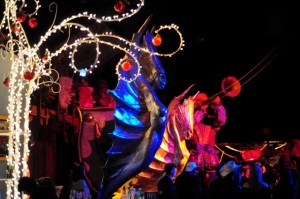 First off, you got to dig the kind of SPACES you can get in NOLA—none of these cramped, claustrophobic shitholes we New Yorkers thrill to get our hands on, no no no.  They got SPACE down there. Studio 3 is a float-making shop and is as big and cavernous as you would expect it to be—imagine your Cessna-sized airplane hanger, decorated with old float figures on a King Kong scale.
The MC, Ben Wisdom, is a big guy with a big, booming voice—a serious barker with a proud willingness to step over the line, of which I, of course, approve.  I've been out of the loop for awhile, so the specificities of the Charlie Sheen jokes went over my head, but I'm on board with calling cocaine "Charlie Sheen."  So's the crowd.  And almost all of them are decked out themselves:  Nice clothes, moderate costumes—dig the two guys in suits and simple masks; so dashing.  And the girl wearing nothing but a few Mardi Gras beads is Renee Daze, a real charmer—one of those relative newbies whose excitement reminds you what got you interested in burlesque in the first place.  She also clued me in to Bella Blue's burlesque 101—the NOLA answer to Jo Boobs and Indigo Blue.  YES!  Edumacate the masses!  We need more performers!
And that's the best part of seeing burlesque in a new town: getting turned on to hot "new to me" performers.  Like Kitty Twist, a hot redhead (cue JD biting the inside of his palm) in the compulsory red glitter lipstick, ditching her open-fronted green skirt to cavort in a tight purple bra and spanking shorts.  Kitty's got a desert-landscape flat belly and a rockin' booty, and works it with good beats and excellent pauses.  Ends with a lasso-twirl of her bra and keeps her gloves ON.
Madame Mystere, in capri pants with piping down the side and parallel-striped stockings and a bowler hat, turned in some nice 2-s-style moves complete with a clever hat flip, juicing from a corset-hidden flask.  As the joint started to fill up, one couldn't help but notice the chief difference between a Nola show and an NYC show—the crowd.  The crowd in New Orleans is straight-up raucous without having to be told.  Mystere unzips her pants from the sides, strips down to reveal a tall, pale, thin body that would get the devil himself to turn his head, and a lovely face beneath a brunette frame.  She moves into a fan dance with an escalating fast cabaret style and ends with a deft false reveal—the bowler hat sticks to her breasts and—wah wah—we don't get to see 'em.
Roulette Rose celebrated her last show in Nola before moving to Austin.  Presumably to smoke pot and take "a few classes," I guess… all the years I lived in Texas I never knew anyone in Austin to do anything else.  But maybe I'm wrong, and burlesque will explode out of Austin with all the… motivated people there… I mean, come on.  At least, in New Orleans, people take having a good time SERIOUSLY.  ANYhoo, Rose is a hot flight attendant, dare I say "stewardess," and she's passing out tickets with her jaw set around thin lips.  It's all attitude and it's all free, fishnet stockings and airplane humor, swinging her 'tude around to rap music, tossing out bags of nuts she pulled from her tits.  One of those slow-moving, heavy plot pieces that really satisfies, from the "seat occupied" sign on her ass to the flipping through of a 737 guide.  Airplane-sized Jack Daniels shots appear in her stockings, and one she gives to an audience member.  The second, she starts to offer and then steals—bending backwards in a mad pasty twirl while downing the bottle—hands-free—in her mouth.  Hot, hot, and I-wanna-join-the-mile-high-club wrong.
I wanted to see more, but we were just too cold, we knew we'd have a nightmare trying to get a cab even though Endymion had been postponed to Sunday, and we wanted to get to Mom's.  Seriously, if I can offer one free tip to the people of New Orleans:  don't ever throw a party on the night of Mom's ball.  It's just too much to compete with.
Bec bec,
JDX
All photos ©Melody Mudd and used with express permission. Performers who would like high-res images, please contact melodymudd@gmail.com.