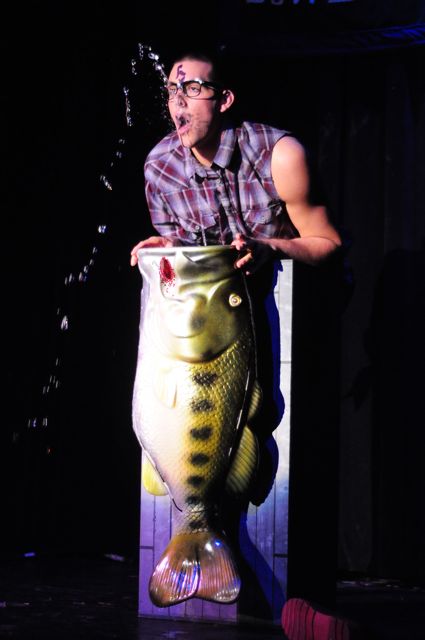 By J.D. Oxblood
Here's a riddle: What can you find hanging out on a street corner in the West Village, will make your sex life better than you ever imagined, and is turning 40 years old this summer? That's right—yours truly, J.D. Oxblood. But seriously, folks, while it's true that by the time you read this I will have passed the glorious gates into Tiggerland, I'm talking about The Pleasure Chest.
For over 40 years, this queer-ridden den of iniquity has been making the unsafe world safer for kinks and pervs and even the freaky-deaky. (A lot of people ask me, "J.D., what, exactly, does "freaky-deaky" mean?" To which I invariably respond, "I could tell ya, but it'd be more fun to show ya.)
The Pleasure Chest sponsors Go-Go Harder's series of shows at the infamous Bowery Poetry Club, bringing us intimacy, burlesque, live sex toy advertising, and unmitigated perv-a-ciousness a la beaten downtown unpretension. Ugh… what a sentence. What I'm trying to say is this—finally, a queer-friendly show downtown where the bent can get an eyeful. Hosted by some serious eye candy.
Harder Candy presents "The Great Outwhores", loosely strung together acts based on the theme of camping and related activities. Not that you need much of a plot for this crowd—it was all boys. Being a boy myself, I can tell you that if you give us something nice to look at, we'll pretend to listen. I could see the chicken meat from the street—Rock Bottom's um, rock bottom, winking at us like a one-eyed prostrate Chinaman from the back room of the Blowetry Club—and as the door opened I was blasted by Peaches. You know, "Suckin' on my titties like you wanted me," while Rock is blasted in strobe light, shaking his blue-striped banana hammock, rocking gym sneakers. I took a seat in the front row and caught 25 boys checking out my Hello Kitty belt buckle. That's right, I wear it above my dick for a reason. But fuck it—show me another goddamn burlesque show that's filled with MEN. Seriously, Go-Go, when you find a niche you… fill it. (Ed. Note: all penetration jokes are deliberate.)
What Go-Go lacks in raw hosting talent and the gregariousness that so often infects male burly-q hosts he makes up for in innocent, insouciant, unpolished charm. What I'm trying to say is he's just a babe—adorable, personality-wise, put-him-in-your-pocket cute, and even when his jokes miss the mark by a mile you're still laughing. His command of the audience is of the individual insult masked as compliment, such as calling a boy in a red-checked shirt a "lumberjack" or—wait a minute, I got it wrong. Go-Go's thing is to deal out COMPLIMENTS masquerading as insults. He's like a diamond in the buff.
The Dastardly Dr. Flux stomps out to "Helter Skelter," skulking from vest and tie to yellow pasties & jock in a five-second strip, his yellow-painted face positively leering. I really don't know what this guy's problem is, I just know that I love him. With the Beatles just getting warmed up, he flips the act into a reverse strip after slapping his own ass playfully, donning a horrendous gas mask and preening. Next he steps into a bright yellow haz-mat suit, and zips into it, freaking all the while. As the well-known song fades out and slides back in for the coda, he pulls an oversized plastic hood over his head and picks up a beaker of (unknown) with a pair of barbecue tongs. Like I said, I don't know what's wrong with this guy, I just know that he's awesome. I was looking for a big finish—like dumping the beaker over his head or something—but maybe a big buildup just to say, "That's how I get into my hazmat to do my job, howzaboutyou?" is all it really takes. More research required.
Stormy Leather borrowed Go-Go Harder's Cub Scout uniform and wore it lustfully, with black boots and short-cropped black hair with cowlick. She stripped naked quickly, blindfolded herself, and continued re-dressing in a long length of rope, an origami bondage, if you will, over the neck, knots down the torso, under the coochie, over the neck, under the shoulders, and back across to lace her entire body like a fancy off-white patent leather dress shoe that you're just dying to try on for size. And the laces are so tight the tongue is protruding just a little. Is that obscure enough for PG-13? Stormy is usually paired with the tagline "The Naked Girl of Burlesque," but Go-Go introduced her with what I consider to be a far more apt tagline; maybe Stormy should switch it up: "Stormy Leather, the Girl With the Biggest Dick in Burlesque." The girl is smokin' hot, and as terrifying as a trapeze artist.
While I'm spouting off about names—sorry, words are a bit of an obsession of mine—I can't help but refer to Go-Go Harder as Go-Go Harder, or simply Go-Go, which I love because of the obvious Beckettian ref. But his official name is Go-Go Harder, Faster, Stronger. Which I find tangles my tongue when I'm busys trying to eat ice cream while a limber young man pleasures me. "Go-Go Harder" just rolls of the tongue. "Faster, Stronger" is implied. No matter what you call him, he sure is cute—in that so-thin, bet-you're-under-30, wait-til-your-metabolism-catches-up-with-you, you-bitch kind of way. And he's changed up his "Hot for Teacher Routine" to a cover by Richard Cheese, which just makes it more awesome, while keeping the boyish backpack and propeller-head, with a new ending that has him biting into an apple. And, says Go-Go,
"Sometimes a ball pops out. And when that happens, you just smile…." Yup. The boys behind me were seriously smiling. And the two women in the audience kept smiling when McLovin—great name, love the ref—did his Davey Crockett routine—I so remember that song from my childhood—in all his Midwest beefcake goodness.
The big raffle was a true exercise in perversion, what with all the gift bags including Tenga sleeves. As each man collected his winnings, everyone else in the house imagined said man fucking his Tenga, boning the plastic blob. Or maybe it was just me. What the fuck am I talking about? See, Jovan of the Pleasure Chest gave us a demonstration of what a Tenga can do. It's a plastic pussy, basically, self-lubed and juicy, and Jo strapped on a massive dildo and fucked it for us. Which wasn't bad. But then he got Stormy Leather onstage and they showed us how to have phone sex using a pair of Tengas, which ended with Jo and Stormy both fisting each other. Virtually, I mean. They were fisting the Tengas. And talking dirty to each other. It was very… confusing. Does anyone have video of this event? Coz I'd like to watch it again. With my friend Tenga. That's not a sex toy, it's just by sheer coincidence I have this fuck buddy named Tenga. I swear.
But if fucking plastic pussy isn't your thing, maybe you'd be into Creamed Stew, who, as the Ice Cream Man, made an ice cream cone complete with whipped cream and chocolate sauce—revealed from within his clothing as he stripped it off—and then inserted tab Baskins into slot Robbins to devise a homemade ice cream cone codpiece. Handy, portable, but possibly difficult to wear for long lengths of time due to residual shrinkage.
Bringing it home was Mr. Gorgeous, a tall drink of water, with a fully-realized, well-executed high-concept conceit about fishing. He brought in a 3-foot fish and hung it on a pedestal, measured it and also his own catch for good measure, and proceeded to strip out of his fishing-lure-laden vest and shoved his arm into the fish, which took off his sleeve. He did a little legwork on the platform, kicking off his Wellingtons. He gave the fish a nice rub, busted a handstand on the pedestal, kissed the fish and got a faceful of water splashing out of the fish like an Italian fountain. At this point he had the crowd on the hook and could have reeled them in with nothing but an ass shake, but went one river farther and split the fish open with a knife, using half the fish as a fan to cover his jock while he got out of his shorts. The final reveal was—natch—a floppy fish-shaped lure dangling on the end of his rod, and he slowly fell into the splits. This angler is one to watch—and that's no tall tale.
Fish fish,
JDX
Go-Go Harder's "Hard Candy Presents" is every third Tuesday at the Bowery Poetry Club.
All photos ©2011 Melody Mudd. Contact melodymudd@gmail.com for permissions. Thrilled for performers to use shots for promotional purposes, but please credit properly with photographer's full name and a link to this piece. Performers who would like hi-rez images, please get in touch.