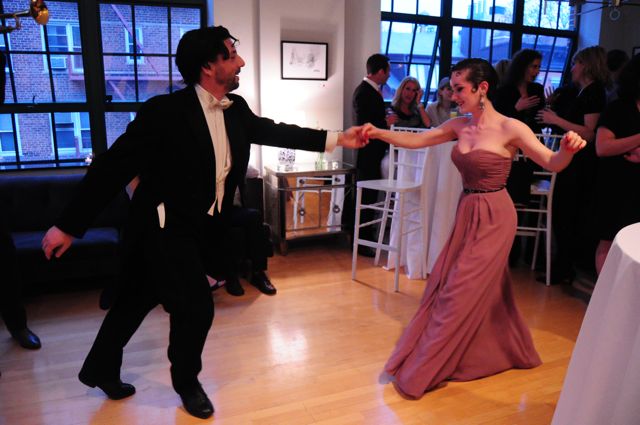 by J.D. Oxblood
On a recent overcast yet warm early evening, socialites gathered at a spacious West Village top-floor apartment, the home of the Samurai Love Sake entrepreneur Marco Liuzzo and his gracious wife Lauren.  The Broadway producer Anne Caruso caught a fellow guest at the door, and after accepting congratulations on the success of "Born Yesterday," which had just been nominated for a Drama Desk, commented that it would "definitely" be nominated for a Tony, which were to be announced the next morning.  (It was nominated for two.)  Chatting about Nina Arianda, Caruso claimed that she "has a shot at beating Edie Falco and Frances McDormand." (Falco was nominated in a different category.)
The event was "The 'Art' of Burlesque," a private salon presenting Skye Ferrante's wire sculpture depictions of burlesque performers, which one guest described as "almost Calderesque."  Ferrante quickly pointed out that each was a single length of wire—one as long as 150 feet—and that a portion of his sales would go to the "collaborator model," the performer depicted, many of whom were in attendance.  As cocktails were served, the Brian Newman Quartet struck up "Night and Day" and tuxedoed Ferrante cut the rug with a blushing brunette while celebrated burlesque photographer Don Spiro looked on, sans camera.
Upstairs on the patio, as caterers circled with delicate seafood hors d'oeuvres, a winsome blonde with an English accent introduced herself as Tennessee, gamely explaining that it was her real name.  Her friend knew the hosts through her daughter's school, which turned into a common refrain.  "Our kids go to school together" was heard time and again.  "Do you live around here?" a guest asked a woman named Lars in a floral print dress.  "You have to live here to get into that school!"
Lauren, the hostess, is originally from Long Island, but didn't want to drag her "Long Island friends" in for the event.  She shrugged.  "These are my friends."  P.S. 41, apparently, is much-admired.  Burlesque performances, however, are just catching on with the P.S. 41 mom crowd.  "This is my third foray into burlesque," she said.  After she and her husband attended an earlier "'Art' of Burlesque" salon and purchased three of Ferrante's pieces, they saw Brian Newman perform with burlesquers.  But for most attendees, the song was simply, "This is my first burlesque show."
"I've been to the Moulin Rouge," a gentleman named Mitchell said, sidestepping Nikolai Fraiture, the bass player for the Strokes, to grab another cocktail, as legendary Broadway figure Aubrey Reuben looked on.  On stage—or, in the living room—the rubenesque Jezebel Express stripped from pink gloves and purple fans to silver pasties.
"How did you get here?" a guest asked a buxom blond in a tight orange dress.  "I'm lucky," she said.  "I always attract good shit."  Laughing, she added, "When I heard it was a 'burlesque party,' I was going to dress up.  Then I got the word from one of the other moms."
Newman, a standing cigarette, sang "Just a Gigolo" as Stormy Leather disrobed from a men's suit to a garter belt with steel rings, looking like a punk fashion model, wicker thin, in slicked short hair.  Newman took a moment to ask over the mike if he could get "something with some booze in it," and launched into "St. James Infirmary Blues," his keyboardist using a vibraphone tone.  The crowded living room pulsed forward as Peekaboo Pointe enjoined a guest to help her remove a glove, and then executed her classic back-bend tassel twirl.  Meanwhile, Stacy—the woman in the orange dress—was helping Lars to lift her dress up just a bit.
As Gal Friday performed, another guest was heard retelling the story of how her grandma had told her she "should get [her] boobs done."  The conversation tilted quickly, with several moms expressing their admiration for the burlesque performers, specifically their confidence with their bodies.  "It's self-acceptance," one said.  "If you sell it, they buy it."
After the band wound down, the crowd reassembled on the balcony, where smoking was far more fashionable than one would expect.  Word was out that Ferrante had sold at least two more pieces, including the sculpture of Newman on a pedestal.  Ferrante's comment had come true: "Really cool people have pedestals in their apartment."
Victoria, the wife of producer Vincent Caruso, joined a group on the roof to chat with Jo "Boobs" Weldon and Jonny Porkpie, two of the New York Bulesquerati who have also both published books in the last two years.  "I've been hit on by two women," Victoria said, not in a dissatisfied tone.  "It's the moms," a guest was heard to mutter.  "It's their night out."
All photos ©2011 Melody Mudd. Contact melodymudd@gmail.com for permissions. Performers, please do use shots for promotional purposes, but please credit properly with photographer's full name and a link to this piece. Performers who would like hi-rez images, get in touch.