"Burlexe" at the Shadow Lounge, Soho, London
by Rubyyy Jones
[ED: BurlesqueBeat is proud to introduce the first piece by our new London cub correspondent, Rubyyy Jones. London has a thriving, vibrant burlesque scene, and it's time the world knew more about it!]
On Wednesday June 29th, I was tucked away in a glittery venue in London's Soho District; this Soho is surrounded by the West End, Oxford St, Chinatown and, like most Sohos, always heaving with tourists, locals and the fabulous. The event was to be the final show in a four week preview of BURLEXE, a new theatrical project combining theatre and spectacular with monologues and Burlesque. For the preview run, there was a company of actresses who sang and performed monologues and for each show they were joined by various Burlesque ladies who stripped, sang and performed monologues as well. The monologue pieces were written after the creative team interviewed dozens of performers from across the globe about Burlesque and their personal journey to finding the art. Hosted by the UK Burlesque Madame, Goodtime Mama Jo Jo, aka Jo King, founder of the London School of Striptease and the London Academy of Burlesque (http://www.londonschoolofstriptease.co.uk/) and hosting some of the top performers in the UK and the Burly-world: Kiki Kaboom, Dinah Might, Luna Rosa, Ginger Blush, Crimson Skye, Annette Betty to only name a few… I have a little confession: I was performing in the closing show too! So I'm going to give you a little behind the scenes peek…
17:00 I arrive early for a sound check, I do a little singin' with my strippin'. I pretty much have my face on, minus lips and eyelashes; lucky for me my flatmate just happens to be an amazing makeup artist (paints for Harpers Bazaar, Vogue ) and so I swung around to see her at Fenwick on Bond St. Show time is not till 19:30 and as we know this always means the show won't start till at least 20:00. There is lots of air kissing with the director Jayne Hardy, the producer Howard Wilmot and one of the show's stars, sassy singer Javine Hylton.
17:10 I dash out to find new elbow length gloves; mine have torn in rehearsal and as the theatre folk say 'The show must go on!' or as Tim Gunn says: 'Make it work!' Luckily Soho is a fancy dress/costume shop mecca and I find the perfect, that'll-do pair.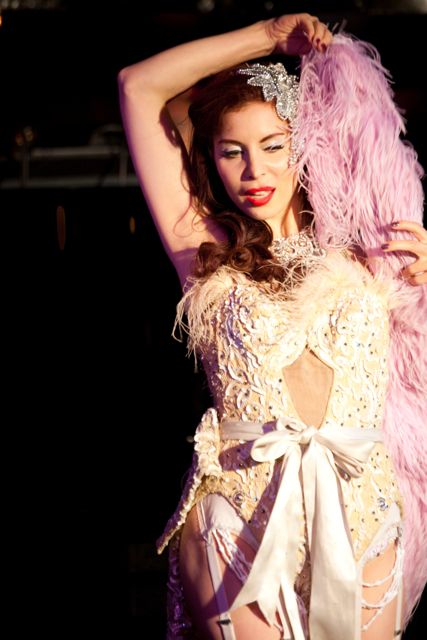 17:25 Return to the Shadow Lounge, which is across the street from one of London's top burlesque and cabaret venues, Madame Jojos. It's still quiet when I return. They haven't yet turned on the rainbow light-up floor or disco balls, the strip pole is still screwed into the stage and though I think this space has seen more Drag Queens than Burlesque Queens, I also think the gawdy and glittery harmony is perfect for this bold and brassy production. Chloe Ewart, another one of the leading actresses has since arrived and her hair is being curled and victory rolled before make up. She's gorgeousss. Our dressing room is a large round leather booth with glass tables, pink lamps and red curtains. These curtains are our entrance and exit for stage and I make a note of this after I trip over a little gap in the floor; always good to do a little check if you're performing in a new place!
17:30 Sound check! Ummm… you know what they say: Bad dress rehearsal, good show!
18:00 Here come the Burlesque queens! First to arrive is the glamazon Luna Rosa, exotic, melodic and oh so hypnotic; she has performed her classic exotica acts across Europe and the UK. Stunning and striking; in flats she's at least 5' 10'', skin embellished with tattoos and wearing a corset, cinching her tight to 22". She explains later that wearing the corset is part of her pre show routine; that she rarely wears a corset to perform but always wears one to prepare. Good tip! I've never met Luna but I've seen her dance and she is ridiculously sensual and mesmerizing. Next to arrive is the radiant actress and performer Kiki Kaboom; recently returned from Toronto, Canada where she was shooting the "Burlesque Assassins" film with Roxi Dlite and Armitage Shanks; Kiki starred in the entire Burlexe run and tonight will also be performing her acclaimed and hilarious 'Chav-a-rella' Burlesque act. She's straight into hair and makeup and I'm off to glue on my pasties and merkin…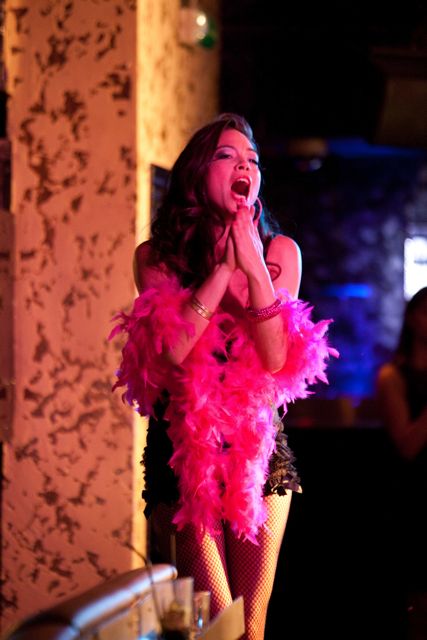 18:25 …With my decency spirit-gummed in place, I make my way back to the dressing room for our cast pep talk. I hear Fancy Chance before I see her, she's a Seattle native who has lived in London long enough to be a Londoner and is the reigning London Top Tranny and 2009's Alternative Miss World. A performer of burlesque, cabaret, theatre and circus, Fancy Chance is a petite Korean comedic kick in the teeth. She's brassy, ballsy and twirls some mean tassel. I start to get excited butterflies, to get on stage and to see all these ladies in action! Our director, Jayne, calls us together and we stand, in various states of undress, in a circle flexing our faces, loosening our shoulders and jaws. After a quick inspirational talk from the director and a few thoughts from the producer we do a quick all cast cheer and it's straight to final hair, make up and costume touches.
19:00 The audience is being let in! We are sold out, as were all shows in the preview and everyone is very excited! So… I'm not sure when she arrived but our evening's host Jo King/Goodtime Mama Jojo is getting final touch ups of hair and make up. Jo King taught many of the burlesque starlets featured in the Burlexe run and has been mentor and collaborator with some of the UK's biggest stars, including West End sweethearts, Immodesty Blaize and Polly Rae. Bawdy and bubbly, Jo King is the perfect anchor for this sensual spectacular; she's been in the business for over 30 years and tonight's performance will be one of her last in the UK for awhile. She's moving to Spain! It's an honor to share the stage with her tonight. Everyone is light, laughing and looking absolutely stunning; we're all excited to get out there and show off. I pause for a moment and feel how lucky and happy I am to be surrounded by such amazing women.
20:00 Burlexe begins! I'm not performing until Act II, so I'm happily tucked in the audience for the first half. The show begins with an introduction by Jo King where she welcomes the audience, and informs them: "We are artists. We are pioneers. We are comedians. And we are politicians. We are the most glorious women you'll ever meet…" The first act was brilliant; an opening monologue from Gypsy Rose Lee, performed by Chloe Ewart; Fancy Chance kicked off the Burlesque, in a comedic wanna-be number, tripping over her heels and swallowing marabou feathers, with a big tassel finish. More monologues, some funny, some touching. Luna Rosa performed her Perfidious Naked Fez routine; she was breathtaking and had the audience slack-jawed during her sensual homage to classic exotica Burlesque.
21:00 ish Intermission! Time for me to costume up! Very much looking forward to strutting and to my post performance gin and tonic…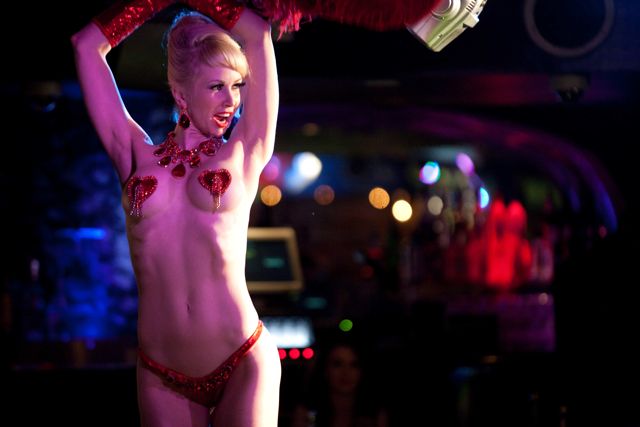 21:30 ish Act II begins! We start off strong, safe in the hands of our acting starlets…and then it's showtime! I'm performing my 'I Wanna B' number, a little sexy twist on the Marilyn classic and I'm rearing to get on that stage. My performance went off without (pretty much) a hitch and it felt wonderful to perform for such a generous and playful audience. I quickly dashed to the dressing room to slip back into my gold sequinned mini dress; I really didn't want to miss the rest of the show! I also had that G&T waiting for me… After bold acting performances by Fancy Chance and Luna Rosa, we were treated to Kiki Kaboom's 'Chav' routine; in the UK, a chav is sort of an aggressive 'white trash' character. Kiki's hilarious concept and clever performance had members of the audience crying with laughter, as she stripped down to intimidate, rather than tease, the crowd. To close the evening, a performance by Goodtime Mama Jojo; dressed in a sparkling aqua corset and skirt, with a star motif, Mama showed us how it was done. Her performance, a perfect blend of confidence, comedy and sex; she slowly sauntered, shook and shimmied down to her scanties and to the roar of the crowd. My throat was hoarse from cheering so loud! Then it was final bows, thank yous and celebration time!
It was a wonderful evening of Burlesque and theatre and the audience was buzzing and happy. After the chairs were cleared away, the strip pole was resurrected and we all had a boogie on the multicolor flashing dance floor. Most of the cast and crew stayed to celebrate, and we were joined by several ladies from the previous Burlexe shows; it felt great to be part of a cast, if only for a night. The password at the bar was sparkle and tequila was the Burlexe-ers drink of choice, as we all gathered together to toast each other and the brave and bold women of Burlesque.
Rubyyy Jones is a Performer, Writer and Muse; specializing in Love Lust and Light. See more of her work at RubyyyJones.com.
Photos ©Liat Lerner and used here with express permission for Burlesque Beat. Photos are not to be used without permission. Please contact melodymudd@gmail.com for usage.