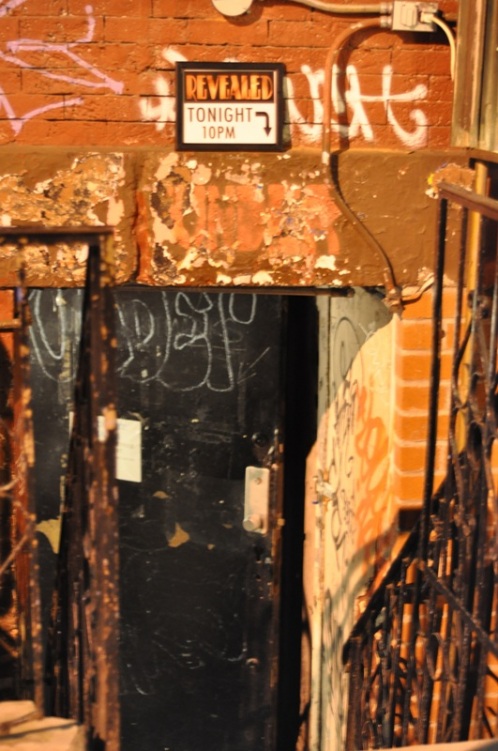 If there ever was a good time to support Horse Trade Theatre, it's now.  The building that houses the usual home of Revealed is being sold and Horse Trade Theatre is struggling to keep the space alive.
And what better way to support your favorite underground—literally—fantastically dingy home of downtown New York performing arts than watching a bunch of gorgeous girls take it off?  Come show your support as Revealed Burlesque celebrates it's 4 year anniversary, Wednesday, July 20 at the Kraine Theater.
[ED: the following was originally written for another publication as a survey of the—good gracious!—goodness seen at Revealed during the course of the summer of 2010.]
A Regular at "Revealed Burlesque"
By J.D. Oxblood
It's dark and dingy, but you've seen a lot of skin there.  The bar doesn't have a lot of options, but you end up loaded.  It doesn't look like much from outside, but once you get in you're electrified.  No, it's not your dad's basement—it's Revealed Burlesque at Under St. Mark's Theatre.
This monthly show offers something more seductive, more scandalous and more electrifying than your average New York burlesque show; something more revealing, more raw, more—well, let's just call it what it is:  naked.  Host Bastard Keith's nonsense on tap, his hot and cold running water of diluvial verbosity, is a stark raving nude example of humanity on the fritz.  Watching him work himself up into a Lewis Blackian frenzy over the—ahem—entertainers of the evening allows the rest of us to comport ourselves as gentlemen.  And arrogant hecklers are duly struck down by the wrath of Keith.
But Revealed goes even further, letting the audience get closer to performers than any other show: since the front row is on the stage, you might even get touched by a hand as a lovely lady sheds a glove.  As a regular at Revealed, you might be brushed up against by Pearle Noire, caressed by Gal Friday, or even asked to hold sexy stage kitten Madame Rosebud—or at least Bastard Keith's apple juice.  There's nothing between performer and audience at Revealed; no curtain, no Fourth Wall, no uncomfortable silence.
This summer alone has been a cornucopia of delights.  We had the pleasure of seeing Minnie Tonka perform in a plum one-shoulder dress and gloves… one glove was very naughty, obscuring my view of two of Minnie's best features.  (Her eyes.)  We were given the rare delight of seeing Lil Miss Lixx strip down to nothing—she actually took off all her makeup, all of it, and stood and looked back at us like so many peeping Toms.  Albert Cadabra—a rare male addition—put in an appearance, and you could really see his balls.  The way he slammed his shoulder up against the wall—almost dislocating it to get out of his straightjacket—really took some guts.  Darlinda Just Darlinda took it all off—all pretension, all reservation.  Her chair act was rife with abandon, making everyone in the audience wish they could change seats. And Calamity Chang recently made her Revealed debut, all stripped down; she used only fans, none of the props or multimedia accoutrements we sometimes see her employ at other shows.
And let's not forget the essential essentials, the central performers who can be found at Revealed every month.  Sapphire Jones is so lovely, elegant and charming that you'll wish Bastard Keith would stop calling her "the erotic beanpole of burlesque."  Keith claims that Sapphire Jones is Jewish, but her waist is so Waspish it lives on the Upper East Side.  By the time her act is over, you'll swear she's wearing nothing but that signature wink; it's that captivating.  The always over-the-top Kobayashi Maru will give the sci-fi geeks in the audience a chance to compete in the trivia portion of the evening.  She swings from mad sake waitress to "2001"-inspired drama to decorating herself with Christmas lights.  Always creative, always funny, and always unique, you'll be amazed when Kobayahsi Maru shows you the bare naked brilliance of her genius.
And always last on the bill, but never least in our hearts, co-producer Gigi LaFemme, who dances, dazzles, and DELIVERS.  And yes to all you basement lurkers who know what "Kobayashi Maru" means—Gigi really did dress up as Princess Leia.  The "New Hope" white AND the "Return" sexy slave.  I know; I was there.  And I'm not even telling what came next.
Fall will set in before we know it, when "sweaters hug curves like a creepy relative," as Bastard Keith puts it, so while summer is in full force, remember that there's always a dark basement in the East Village to keep cool on the third Wednesday of the month.
Kiss kiss,
JDX