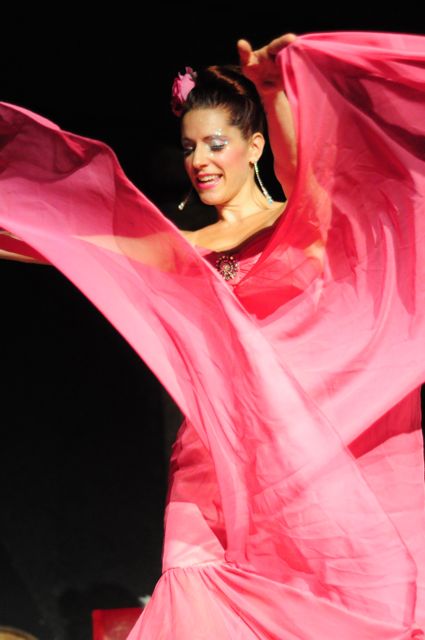 by J.D. Oxblood
Wasabassco Burlesque at City Winery, New York
July 22, 2011
That Doc Wasabassco knows how to buy cowboy boots.  And he knows how to produce a burlesque show, too, which isn't the easiest thing in the world.  Though it's probably easier when you have a decent venue—like City Winery, which is still stunning no matter how many times I go.  It's like a big wooden humidor, and we're all just happy cigars.  AND it has a real stage, AND it has—I'm told—a real dressing room.  For New Yorkers, this place is a dream.  My only beef would be it's west side location and the late-night start times, which leaves me stranded from the action when the show lets out and I'm lookin' for a place to heighten my buzz.  But that's just J.D. singing the blues.
Some highlights:
Tansy Tan Dora, or just plain Tansy, is still considered "new" on the scene but has quickly been adopted by, well, everybody.  She's a regular at Doc's shows, she's always at Nurse Bettie, and, hell, even I hired her for my 40th birthday bash.  But it's not just because she's so sweet and charming… she's also crazy bite-your-palm hot.  Tansy opened this show in a shimmery, glittery silver dress, smoking with one hand raised, a tableau wavering as her body was actually trembling.  She broke to lick her wrist and turn upstage to show us her backless dress.  Stunning.  Oh, and the caboose ain't bad, either, although I think we were supposed to be looking at the silver necklace.
Doc's formula with the City Winery shows is to have no "host," but instead to have each of the performers take turns "hosting" between acts.  Can I get a hot debate going here?  Coz I think that some people love this and some people hate it and no one wants to talk about it.  Me?  I'm on the fence.  Some folks host better than others, and some truly terrible hosts are nonetheless entertaining to watch, so it kinda depends on my mood.  Tonight, I was buying it.  I had no idea that Madame Rosebud could be so charming a host, and didn't expect to see lovely Tansy taking a turn.  Maybe I was just in a good mood.  It happens.
Speaking of Rosebud, she busted—and I do mean "busted;" she was rocking her new gear—a belly-dance-based act that combined serious arm-akimbo action and jerky moves with smooth hip-centric steps, red sashes and bangles.  A double spin was flawless, and a z-shape arm position was hypnotic.  It's fun to remember strip-tease can be a dance-based art, with the strip just a layer on top.
Bea Bea Heart—who seems to be angling to steal Nastie's tagline and growing her own double-D temporal lobe—did a complete mindfuck with her Emporor's Clothes act.  It's so simple, you almost smack yourself.  She's basically naked, in big blonde curls and a big blonde merkin, and "strips."  That's it.  A limp walk and tossing "clothes" to the crowd and we in the front row never stopped laughing.  By the time she got onto a chair and pulled her stockings off, doing that burlesque classic leg-bent-back, biting-into-the-stocking trick, I almost peed.
There was a bachelorette party in attendance—almost alarmingly quiet, if you ask me—so I was relieved for them that Mr. Abs, Albert Cadabra himself, was in attendance, and did his balloon swallow after stripping down to a Captain America jockstrap.  We know what those girls had running in their heads whilst flicking the bean latenight.  Bless you, Albert.
At the top of Act II, Doc took the stage and some asshole in the house was texting.  I almost jumped out of my seat to high-five the Doc when he told the guy to stop, and that we'd wait for him.  He commented how times had changed, manners had changed—"No, not really, manners haven't changed, people are just texting all the time," and then he literally took the guy's phone away from him.  Frickin' awesome.
Almost as awesome as the latest from Nasty Canasta, which culminated in… should I tell it?  Should I make you go see it?  Well—I think you should see it for yourself, but you'll still be amazed.  Let's just say she pours champagne down her bare back and slowly fills a champagne flute that she's holding with her, um, ass cheeks.  Fucking brilliant.
Cheekie Lane chimed in with an act I was happy to see, since I missed it a month or so back at Yellow Fever Burlesque out in Coney Island.  She was Ganesh, big blue elephant head and an extra pair of blue arms.  "Absolutely delightful," as Bastard Keith would say.  (And he probably did say—he was sitting across from me.)  The music was subcontinental, and the steps were exotic, flipping gold scarves about and, after losing the elephant head and the blue wig, moved into a big bounce step and a huge hip shake with loud, loud bangles.  Maybe the kids in the back of the house couldn't hear it, but that shit was authentic.  Newcomer Cheekie Lane is proving to be inventive and tenacious; I can't wait to see what she comes up with next.  Hell—get those arms to move while you dance and you've got something for the fences.
Rounding out our evening, we got the ever-lovely Sapphire Jones in a long charcoal skirt, with amazing beadwork and glorious feathers—I think she still builds most (all?) of her own costumes, and she's getting stupid badass—as well as the Flying Fox working it to a Prince cover.  Bringing it all to a glorious close was Wasabassco's performer of the month Nikki LeVillain.  It's clever: every month Doc calls out one of his faves, and slowly releases an interview over the course of the month, one question at a time, on http://www.wasabassco.com/.  So you can check out the words AND you get to see her perform.  Nikki laid down a gorgeous, classic number, all in red, using giant Chinese fans and a hot red corset—bringing together classic Chinese finery and classic burlesque moves.
And left me looking for an all-night lo mein joint.
Kiss kiss,
JDX
Wasabassco Burlesque returns to City Winery on August XXXXX
All photos ©2011 Melody Mudd. Please respect copyrights and contact melodymudd@gmail.com for permissions. Performers, please do use shots for promotional purposes, but credit properly with photographer's full name and a link to this piece in all instances. Performers who would like hi-rez images, get in touch.