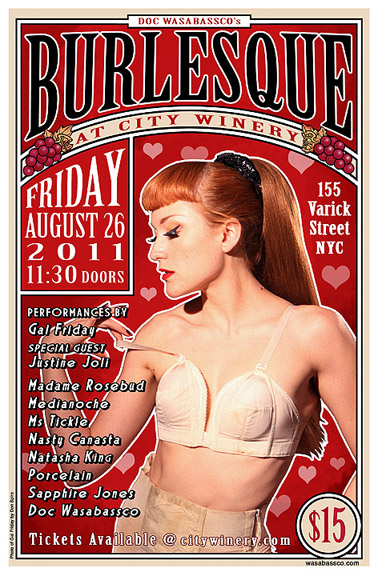 Start with what may just be the best darn burlesque venue in New York City, add who may be the most ambitious burlesque producer in NYC, and mix in one of the most bawdy, most delectable NYC performers topping the bill–and you got this weekend's edition of Wasabassco at City Winery, with August Performer of the Month Gal Friday.
We like the space, as you can see from our previous coverage. And hey, it's no secret Gal's one of our favorites around the water cooler at BqB–she inspired our logo, and even modeled for it!  (PLUS she shared her lipstick generously at my 40th bday bash, but that's another story.) But even if Gal's not your cup of tea (in which case you might want to check your pulse), Doc's bringing his stalwarts Nasty Canasta and Sapphire Jones, plus the freaky-deaky Madame Rosebud, unknown-as-of-yet-to-yours-truly Porcelain, whose name already has me intrigued.  AND the ever-stunning Ms. Tickle, PLUS special guest Justine Joli, which is making me eat my liver (Melody and I will be at the Montreal Burlesque Fest this weekend.)
BUT WAIT THERE'S MORE: For you, the burlesque addicts, you can now get in to see this amazing show for the LOW, LOW discounted price of TEN BUCKS.  I know, it's criminal.  But Doc and City Winery gave us permission to give the interweb a discount, and that's what we're doing.  Just make sure you jump over to our Facebook page and "Like" us so that you hear about this sort of thing in the future.  And then light a fire under your browser's ass and get over to City Winery's site and buy your tickets to the show.  And when Justine Joli takes the stage, scream my name.
Faithfully yours,
JDX
Friday August 26 at 11:30
@ City Winery
155 Varick Street
SoHo, NYC
CLICK HERE FOR BQB'S DISCOUNTED TICKET RATE