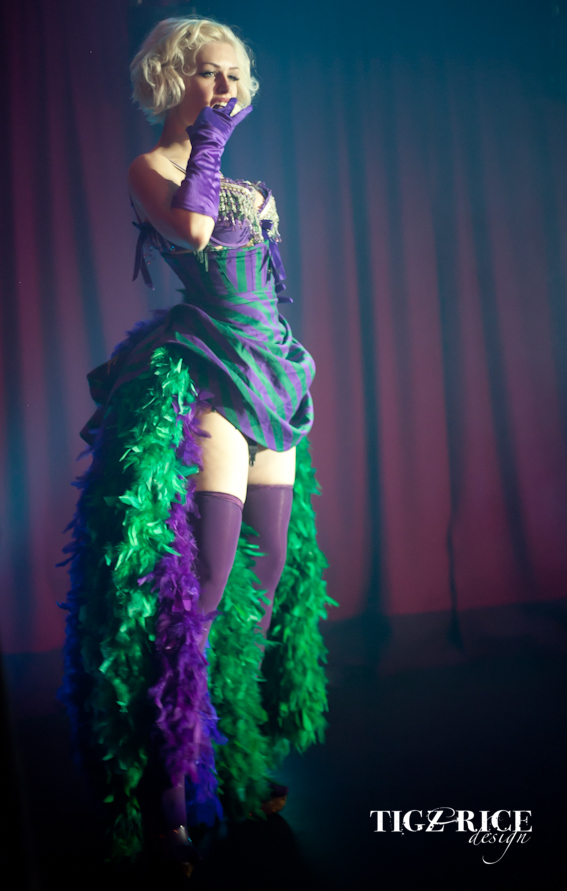 Proud Cabaret, East End, London
By Rubyyy Jones
Last week I went out to Proud Cabaret in London's East End, just inside the city centre; the East is the fashion, performance and art hub of London and lots of Burlesque and Cabaret is being built and performed in clubs and theatres. The East is home to a range of venues and events but what I think most have in common is their gritty, racy and edgy way of doing things. Proud is a bit more city, more commercial which is perfect for those new to the arts of Burlesque, Cabaret, Vaudeville and the like; they put together amazing and interesting line ups that keep people coming back again and again.
I've decided to wear a long teal 70's silk dress with one my Grandma's gold necklace sets with clip on earrings (who doesn't regret the clip on choice 3 hours in?) and some gold ballroom heels, I also decide to walk as I live close by and the weather is lovely in London. I arrive and stop several meters from the building; I have been to Proud a number of times before but for whatever reason I don't remember seeing the gigantic posters of the stunning Miss Banbury Cross outside. Banbury is an absolutely sensational performer, a regular at Proud and across Europe; inspired by classic burlesque and Marilyn Monroe, she's electric on stage. I saw her perform last time I was here in fact.
As I head inside I'm greeted by a very friendly lady, she takes my booking information and my coat and directs me down the staircase, which is decorated with large mirrors, art and stage lights. I walk into the speakeasy styled club; it's red and throbbing with activity as waitresses in corsets and short shorts and waiters in suits buzz between the many tables dotted around the room. The lighting is low, with candles flickering at a mix of cherry velvet booths and white clothed tabletops. A crowd of Cabaret loyalists, city workers and private parties buzzing after dinner, just before the show; it's quite a scene. I am guided through the space to my table and my lovely friend, Liat, arrives just after me. Our tickets come with dinner and most of the audience is tucking into dessert or digestives; we eat, but for us it's about the show.
Mademoiselle Vicious Delicious will be hosting tonight.  I saw Vicious perform a few months ago at a Brick Lane venue called Brickhouse and she was one in a Burlesque line up, so I was excited to see her hold the reins of a show as Compere. Mademoiselle Vicious is quirky and sweet and I definitely had a little dress envy, which is always a good sign. She entertained us throughout the evening with songs and jokes but she was at her most funny when really interacting with the audience, her wicked sense of humor is a perfect compliment to her animated beauty; I look forward to seeing her grow into a full Madam.
The line up tonight was exciting, Proud evenings are usually a mix of Burlesque, Circus, Cabaret, Vaudeville, Dance or Music and we had: Burlesque beauties Ruby Deshabille, Annette Bette and Beau Rocks, entertainer Matt Ricardo and Circus acrobat Jonathan Finch. Ruby Deshabille started things off fun with an audience participation strip, not my thing, but it definitely got the crowd warmed up and it takes a pro to work well with, well, civilians. She's very cute, a bit early Britney meets Rita and later in the evening she warmed things up with her Jailbird routine, again very cute and also very sassy.
I was looking forward to seeing the ever-classy Matt Ricardo in action again; you may have heard many wonderful things about him since his acclaimed show at the Edinburgh Fringe Festival last year. Matt is a comedian, juggler, conjuror, photographer, he's an artist, and this evening he performed some incredible tricks with balance and blocks that had me holding my breath. I love when a performer makes the stage their own and Matt's stage is very very cool, he's in total control and the audience knows it. A lifer in Cabaret years Matt Ricardo is an entertainer through and through, he brought class and grace to the evening.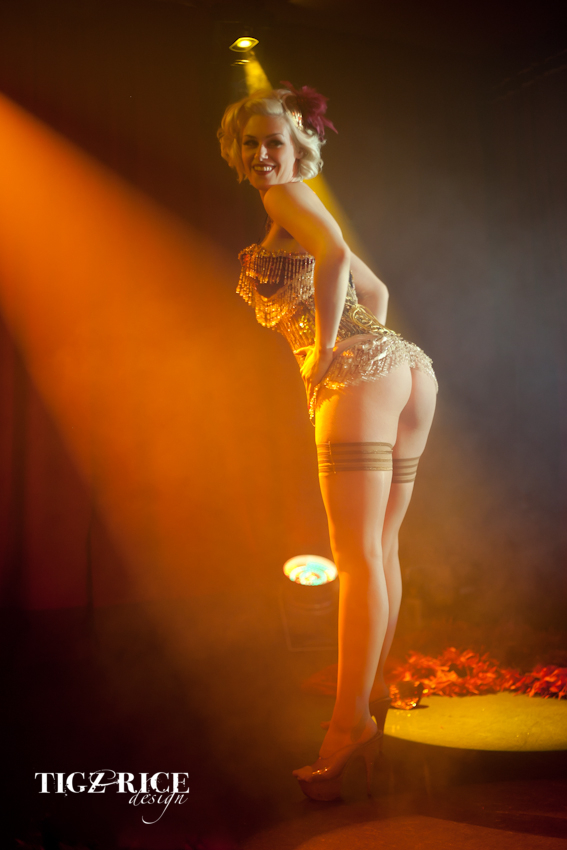 Another class act was the gorgeous Annette Bette, who performed twice to the audience's delight; first in a sweet and sexy routine with an oversize organza boa. The act made me think of Ann Miller, such poise while shimmying! Her second routine was Goldfinger, sumptuously costumed in a gold and turquoise gown with a cape and then Isis Wings, and to her professional credit, the ceiling is not lofty on their stage. Circus performer Jonathan Finch, showed the same clout, as he balanced on his hands and elbows, bending into baffling shapes around the stage lights. He also performed twice, first Wilkomen, one of my most favorite songs, his costuming a melding of Ringmaster and Cabaret's MC and his routine of acro, circus and music theatre made me nostalgic for my competitive dance days. It was pretty impressive how much tumbling he did in the space too. Again, I found myself holding my breath, delighted! His second routine was a debut, a more modern piece, a bit gothic and angsty with him doing incredible extended balances, on hand posts, little blocks on poles about a meter tall. The body positions he was bending into while balancing were, honestly, a bit baffling they were so impressive, it was a great debut.
The evening's Burlesque super starlette was Beau Rocks; think Jean Harlow meets Carol Channing meets Kitten de Ville.  With an edgy sweetness and feisty moves she was a treat. Beau Rocks is from Glasgow, Scotland and performs across the UK, known for her expertise onstage and off, as an event organizer and costume and prop maker. Beau makes all her own costumes and her first routine was a treat in gold and red, so many sequins and feathers, I was in heaven, and her very naughty strip stayed sweet with her dazzling smile. Her second piece was her Burly Bop, with a bordello, New Orleans look, in green and black stripes; this is a high energy, sexy, bouncy routine and Beau mastered it. As she tore off her bustle (several large feather boas) she flung them with wild abandon and shimmied with everything she had left, she was great.
Mademoiselle Vicious Delicious bid us all 'Adieu' and we settled our bill, they have a fabulous bar which most definitely worth indulging in. A DJ came out shortly and began playing some pop hits and suddenly my evening gown and necklace set sans clip on earrings (they lasted 2ish hours) seemed a little out of place. Everyone was bubbling as they were leaving and it looked like the birthday and hen (bachlorette) parties in attendance were just getting started. It was a fun night out with some fabulous entertainers and I love that though they have their favorites, every night, it's always a different night at Proud.
Rubyyy Jones is a Performer, Writer and Muse; specializing in Love Lust and Light.  See more of her work at RubyyyJones.com.
Photos ©Tigz Rice LSIFGP and used here with express permission for Burlesque Beat. Photos are not to be used without permission. Please contact www.tigzrice.com for usage.