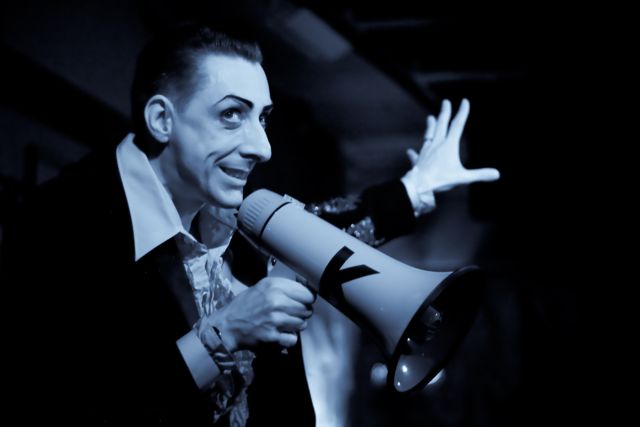 by Skye Ferrante
August 25, 2011
Royal Vauxhall Tavern, London
Forget Old Compton Street! The gayest pub in London is definitely The Royal Vauxhall Tavern, affectionately known as the RVT. I knew I was getting close when, upon exiting at Vauxhaul Station, I first asked for directions in a delightful establishment tucked within a railway arch called "Inferno", and then further down the road, I asked again, this time out of queeriosity, at another quaint joint called "The Hoist". And there I was, a minute later, at the RVT premiere of ARTWANK, the event I had been waiting for; a cabaret excursion into hardcore vintage pornography, hosted—or, pardonnez moi, 'compered', as they say here—by Ophelia Bitz, a performer, stripper, chanteuse, radio host—they say host for radio—and sex worker activist, as saucy as her name.
I had met Bitz briefly on my last hop across the pond, in the audience of The Bethnel Green Working Man's Club—the closest London equivalent to New York's 'Slipper'—for an evening of The Double R Club, a Lynch-fest featuring the retro Weimar—white face, puckered lips— musings of Benjamin Louche, who held the evening's twisted dreamscapes together; nightmares, including a pleasant, blood-drenched Caligula-inspired ass-rape scene, starring the criptacular NyLon-er Mat Fraser and Brown University Alumn, Johnny Porkpie. Jo Boobs was on hand, as the featured artist, killing 'em, as I recall, with whatever costumery that was not stuck in a baggage claim terminal in Spain, and—Oh, Ophelia! So, that's when we met, most likely introduced to me by the host of hosts, Murray Hill, who of course was over for 'Showbiz'.
This trip, I bee-lined for Miss Bitz's berth, on a permanently moored houseboat on the Thames. It was the perfect place for her to undress. The interview was naked, as are all my interviews (only this time, I planned to write about it) with the added benefit of getting a portrait out of her, to sell for big bucks back home in the Apple (see photo). She posed like a pro, and I, while spooling out the necessary wire to make her immortal, asked her the what's what.
I got bits and pieces: A small village in Devon, her first job in London as a corset and fetish model. She glossed over a substantial resume as compere and naked artist and dived into her favorite project and the show I had still yet to see. But I couldn't listen—I was diverted by the wire, suddenly caught up in my peculiar dilemma of getting the continuous line out of the crack of her ass, up through the small of her back and god-willing finish off with a final clip under her left armpit. I exhaled. The raw wire 'Ophelia' was complete, needing only to be mounted and framed. I thanked her, reminded her of her 20% cut upon sale, she made me a cup of tea sans robe, and I excused myself to catch the 139 Bus back to Clerkenwell for a cold shower.
After the houseboat sitting, and a full day of recovery, I met her again for Bette Noir, Bitz's weekly show at Madame JoJo's in Soho. A Burlesque variety show, this night featuring a corseted Bitz, in top hat, and the standouts: Luna Rosa, strip-teasing with surprisingly more grind than I had expected for London, and the superb contact juggling of Matt Hennem. Unfortunately, at 5'5" I could barely see the show. It was standing room only at the back—apparently sold out through August—where I met Mat Fraser for a drink, accompanied by his houseguests, Aussie performers Gypsy Wood and Asher Trealeven. I bid goodbye to Bitz, and it was on to a backstage tour of the London Box, formerly the Old Raymond Review Bar, a legendary establishment, with another Wood—and possibly my favorite model and conversationalist; her first name, Rose. Frankly, I would have loved to have spent the rest of the evening among the sanity of freaks, backstage and among the dressing rooms. However, I was there to see and support Rose Wood, and mildly curious about the London 'Boxers' reaction to her very personal brand of performance art. So I stayed to witness her three numbers, and of course, it was worth it. Even to be near blinded by the roving sparklers and the shear amount of cheap London cocaine in the air, or deafened by the house music pumped up to 'eleven', between the three short 20 minute sets, ending at 4 in the morning. As in New York, where Rose—it can be argued—made The Box what it is today, she delivered the goods, vomiting (pea soup) on the coked up, chinless, ascot-wearing fuckwits (a slightly different caliber to the New York-going douchebags) who piled up on the heavenly front tables at a mere £4000 a pop. Bottle service not included. Sparkler: £1000 and up. Rosewood ass-fucking a bottle of Jack Daniels and then spitting it's remaining swill on the audience: Priceless!
I love you Rose.
Admittedly, the New York and London scenes, under the all-encompassing umbrella of adult fringe theatre, are decidedly different, with The Box excepting, as usual; as the Hammerstein empire has managed to unwrap a fairly similar and debaucherous package as New York, with spectacular décor, at the necessary expense of bringing in a lot of outside talent. Next Box: Vegas.
Burlesque, in the English capital, seems more a fashion statement rather than what I perceive to be a pro-female performance art, whether classic or neo; wherein the good neo is informed by classic. One is likely to find plenty of pin-up faces but hard pressed to find any drag…and the wigs are few and far between. The London performers tend to find a look and stick with it, which is why many on the more diverse neo side of London are apt to identify with the C word (Cabaret), rather than the B word (Burlesque); while I suspect they would both find a home under one roof in New York. This would also go for the old 'Stripper' debate; almost a non-issue in New York, it is prevalent in England. But so is 'Class'. Is burlesque a middle class pursuit? Apparently it is, here. Though the argument may, I'm guessing, have it's origin to the proximity of the Redlight district of Soho, in which Burlesque houses and Strip Clubs and Sex Shops are sandwiched among one another. There are notable exceptions, of those I interviewed; Ophelia, though she is better left undefined, still embraced the term 'Stripper', and Sophia St.Villier, whose interview and portrait sitting occurred completely 'starkers', is, in the end, a Kiwi—and a knockout. Granted, this is preliminary research. I haven't sculpted everybody, and who cares, right? Stripper or Artiste! Well, they do. So I continue to ask.
Which brings us back to pornography. (P.S. I want to thank Jonny Porkpie, Burlesque Mayor of New York City, and Brown University graduate, for teaching me the art of the clever segue) For if there is one thing everyone can agree on, it is never boring, even when it's bad. "ArtWank" says Bitz from the RVT stage, no longer in her top hat, and dressed conservatively by comparison to Madame Jojo's, "is the first public porn screening since the VCR took it indoors". It is "Vintage porn for the post-modern pervert, peddling smut since 1895" (I presume the advent of the film projector. I didn't ask her if there were post-modernists in 1895. Perverts, of course, go way back). "Now are you ready to watch dead people fuck?" The audience resounds its approval, and with the pop and the confetti spray of an English Christmas 'Cracker', we were off, with Bitz conducting. And singing, as she opened with a song, followed by a boylesque strip-tease by Mister Mistress, a beautiful, tall and slender man who would have made an absolutely gorgeously attractive woman. I've caught a few boylesque acts in London, all of which employ the bra-stuffing reveal (I'm sure there's a proper boylesque term for it). Always a surprise to see what they've used for packing; in this case, what looked like tennis balls on bungees (I'm sure there's a proper juggler's term for it), which he spun adeptly, before finishing with 'another package' reveal, but shlonger, and again, the Christmas cracker for the pop. Full marks! Good show! By Jove! And on to the Paris brothels of the 20's and 30's and the cellulite treasures we all paid £7 to see.
Until you see it, and perhaps aided by Bitz's own modern soundtrack, with the help of technical director Leporn Ferret, you wouldn't believe just how entertaining these films are. It was pure staged comedy. The actors may have been giggling, which was cute, but they had timing! And like good comedy, subversion. French domestics fooling around behind the boss's back. French clowns, straight out of 'Les Enfants du Paradis', caught in the act by a harlequin who joins in, set touchingly to Debussy's Claire de Lune. I looked around to gauge the crowd to see if they could possibly have the same reaction as I had. Forgive the analogy, but they were like children at a circus, wide-eyed and dare I say, innocent? They were moved, entranced as if having never seen a silent film, with an underlying collective 'Yes!…It's about fucking time!"
I was fortunate to share a stool with burlesque photographer Tigz Rice, who saw me scribbling notes instead of watching porn and introduced herself. I managed to say, "Twigz?" before she was whisked up to the stage by Bitz, along with another innocent pubgoer for a naughty interval with vegetables. I held onto her camera and managed to snap one in-focus shot of her fellow contestant deep-throating a courgette—that's uh… a zucchini to the rest of us. Sadly my photo of Tigz on her courgette was out of focus. But she was good. And so was Bitz, who all the while sang 'Diving in Muff Again' to a familiar Deitrich tune.
The filthiest short was a cartoon, set to the William Tell Overture. This was followed by a musketeer adventure at a French country inn, offering 'All the ale, food and sex you can want'. After a brief intermission, the screenings jumped ahead to the 1960's, and a beautiful black woman writhing on a couch whilst fondling her oh so perfect breasts. I checked the audience, for this was erotic of a sudden, eliciting a different kind of 'hush'… until a few minutes in, and the camera pans down below the waist to reveal a penis, and the punchline.
Bitz ended the evening on her all-time favorite porn, befitting the venue with a hardcore 60's locker room scene. She knows how to please the house.
"I want it to be accessible and friendly and enjoyable for people". Speaking in all sincerity of her vintage porn cabaret, as if it were a family night out. And yet it's not far off from her ambition. As creative director, producer and founder of ArtWank, she has fostered the show from its premiere, one year ago, in Brighton; she took it to the Horse Hospital (an art venue in Russell Square), and to her largest audience yet, in July, at the Old Vic Tunnels; an invitation she received upon winning a prestigious Young Creative Director's Award, and to date, she held four shows in August at The RVT. She plans to workshop ArtWank over the winter to build a touring show for the fringe festivals next year, where she aims to win "loads of awards and become terribly famous".
It's more than a show. Says Bitz, with cheek,"It's an empire! You should listen to ArtWank Radio…" "What? You have a radio show?" Indeed, which she hosts weekly on London Fields Radio. "It's a slightly more thorough examination of intellectual smut than a comedy show would allow", on which she invites guest sex-worker activists, hookers, 'people that put on cool events' and erotic writers to promote a generally sex positive message, I can only presume, having yet to hear the program. But she shouldn't be hard to miss in this town, for Bitz is ubiquitous. In September, she gives a lecture on the history of pornography to the Coterie of Arms, a women's collective, and in October, how can you not drop everything to see her Halloween Horror Porn Special at the Horse Hospital. That, I believe too, is under the banner of the empire.
Clearly, ArtWank has legs—touring legs—and Ophelia's got the whole package. Mm-hmm. Quite quite! I look forward to next year's Fringe and so should you. And now three cheers and a 'Huzzah!' to Miss Ophelia Bitz, who has accomplished no small feat in her time. She managed to make hardcore acts of dead people, just like you and me, if only for an hour and a half in the gayest pub in london, delightfully fun, sex positive, and yes, innocent. Or am I the only one…
S.F.
London
—Skye Ferrante is a sculptor, writer, former professional ballet dancer, curator of the very private 'Art of Burlesque' salons, and friend to all who carry the banner of freakdom.  He divides his time between subway grates and penthouses, the world over. For more information, google Skye Ferrante.
Photos ©Tigz Rice LSIFGP and used here with express permission for Burlesque Beat. Photos are not to be used without permission. Please contact www.tigzrice.com for usage.