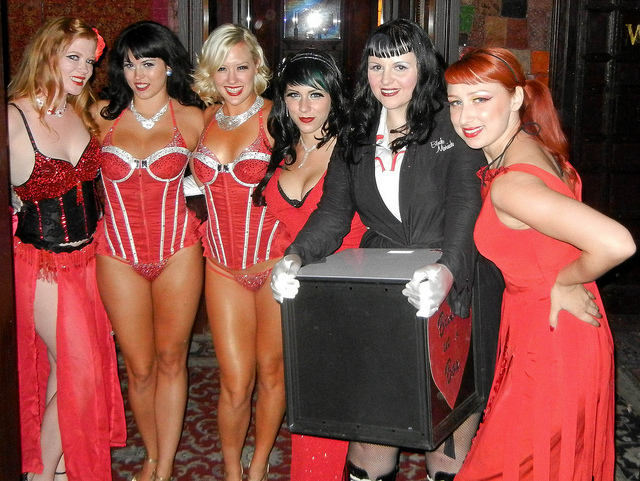 Thursday, July 28, 2011
House of Blues, Dallas, Texas
by SchmidtySays
(BqB is proud to produce the first–of many!– syndications from SchmidtySays, a reviewer and promoter covering the Dallas/Fort Worth area. Her boisterous style reminds us of a certain bitchy NYC writer! –Eds.)
This piece originally appeared at SchmidtySays.com
Strip Strip Hooray was one of the most magical burlesque experiences of my life. The cast and crew created a burlesque utopia worthy of the gods. There is no other word I can use to describe Dita than simply, perfect. She is beautiful, glamorous and dignified; a real class act. It's no wonder she wrote the book, 'Burlesque and the Art of the Tease'. Every simple gesture, facial expression and pose was elegant, refined and damn right mouthwatering! My jaw hung open in astonishment throughout each routine. Her subtle attention to detail was precisely on point while the spectacular props left the audience aghast. This was definitely a night to remember.
Half the fun of these shows is dressing up and gossiping with the Burly gals. Everyone was loopy with anticipation; the energy inside the House of Blues was completely electrifying. The crowd packed in tightly against the stage as everyone waited patiently for the show to begin. Finally the lights dimmed down and Murray Hill strolled on stage. Without hesitation he started harassing the audience members, big boobs MgGee and wanna be Justin Bieber felt the embarrassment right away. He then called on all the virgins to confess their burlesque-less sins. He reminded us (because the signs and fliers weren't enough) that no photography of the show was permitted, but we could photograph him all night if we wanted.
When the curtain slid open an oversized Swarovski martini glass beckoned our gaze as a tuxedo stud with a top hat emerged from the shadows. Two pin-up blonde bunnies flanked the edges of the stage eagerly awaiting their call to duty. The decked out dude continued towards the light and the audience erupted when the top hat was lifted to reveal a stunning raven haired vixen with a devilish grin on her face. Dita Von Teese slowly marched out onto the runway platform, to the song A Guy What Takes His Time, while lighting a cigarette encased within an elongated vintage holder.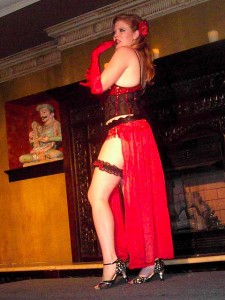 The mood was set and the time was right, she arched back and dramatically tugged at her shirt buttons to uncover a heaving bosom. The buttons popped open one by one, gradually uncovering a posh pleasure chest. The bunnies scampered up to retrieve her discarded shirt as she tossed it to the side. Her exposed black corset gleamed with pride waiting for the moment to break free from its manly cage. Dita did us a favor and bent clear over to remove her slacks, my smile grew wide by the sight of her apple bottom behind. Her fingers sifted through the tight knit ties of her bustier as she unlaced the bindings with ease. She took her time unfastening the hooks and shedding the last layers of clothing. Dita stood tall and confident as the audience drank in her intoxicating figure.
The martini glass waited patiently for acknowledgement as Dita toyed with the notion of a bath; everyone knew it was time for this sex kitten to wash her sins away. Dita dove in and splashed about in her wish wash wonderland as the audience hollered for more. Suddenly she rose from her water, grabbed the oversized olive and crushed its juices over her body. Dita repeated the process several times for the cheap seats in the back. The whole performance felt like a premature orgasm; if this was just the beginning what the hell was cumming next?
Medianoche is a delectable midnight Spanish snack meant to satisfy the raging hunger within. She's also Dita's adorable dish of desire made to order melting hot majesty.  The midnight mistress slinked on stage and with a wink of the eye and slip of the lip she captured her target's gaze. She peeled off the first glove with erotic ease but the other glove stayed firmly in place. As she jettisoned the rest of her dress we soon found why the left glove clung on so securely. She turned back to her fans with a coy pout and a camouflaged frilly drape. With that she launched a passive aggressive plan to screen her best kept secrets until the final reveal. Her enticing eyes held the ogling stares in place as she casually undressed behind the curtain. Soon a flashing flurry commenced worthy of a bare back grandeur. Medianoche sizzling Spanish style caused the crowd to erupt with exultation.
Lada from the Crazy Horse Paris stomped out with authority in a skin tight dress doused with dazzling black dew brilliance.  Dominatrix be damned, this dark angel's dreams were about to become our fascination. She withdrew a scrawny switch and terrorized the audience by spinning the swift whip overhead. After the initial scare, this long legged temptress tamed her wicked ways and succumbed to a softer approach. She slithered onto the surface of three lined up chairs and stretched out for a sexy horizontal strip. Every angle of her lengthy body was exposed as she flipped back and forth, mesmerizing the masses with each move. Long, dark, straight hair and black lingerie created sharp lines that carved into her milky white skin. This naughty Russian dancer had her way with the crowd and when she was finished we all craved more!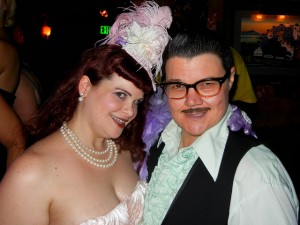 Murray Hill introduced the next performer as one of the ballsiest chicks in the burlesque scene. Murray went on, "she drinks, she smokes" she's a dirty girl. Dirty Martini swaggered onto the stage covered in pink balloons. Her short blonde hair held a crisp wave as she bobbed her head from side to side. Without a break in her stride, she lit a cigarette and started singeing holes in her inflatable friends. The audience was aghast as I saw a girl turn around and exclaim, "That's a real cigarette!" The lingering smell traveled my way as I watched this larger than life lady strike a chord with this crowd. She shuffled from side to side toying with the balloons before she destroyed them. Everyone erupted with laughter while her straight-faced dark humor shone through. 'Want more you bitch ass balloon, oh yeah? You want another? Take that!!' her body language screamed. With only two balloons left she gave those suckers a run for the money. Call it what you will; boobie prop or sexual innuendo 101, but she worked that phony rack so hard the air and the audience could hardly contain itself any longer. Then without a second thought she popped the last two and strolled off stage with her head held high.
Murray wiped the sweat from his brow as he stumbled out clamoring about Dirty's painstakingly raw performance. After a quick recovery he informed us of a special treat Dita had in store for her Texas sweethearts. As the curtain opened the spectators awed with delight at the sight of a pink cushioned mechanical bull, fully equipped with glowing glitter trim. As Dita moseyed up to the front of the stage, her rhinestone cowboy costume nearly blinded my eyes with pink bling. From head to toe, nothing but pink glistening goodness covered this cowgirl goddess. With a single strand of hay hanging from her mouth she seized the pistols from their holsters and gave us some bang for our buck. Then she turned around and ripped off her panties to unveil a voluptuous bottom perfectly framed by her captivating chaps. I hardly blinked my eye before the chaps, holster and bra dropped to the ground. She strutted towards the edge of the runway holding the radiant pink hat over her breasts tormenting us with anticipation. Finally the hat was removed and she paraded her jewels of perfection for everyone's pleasure.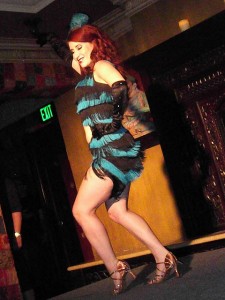 The show wasn't over yet; Dita skipped down the stage, arrived at the mechanical bull and half turned to reveal a naughty grin. She mounted the frilly pink beast and rode it like a cowgirl in heat. The bull teeter tottered in place and then spun around to provide a 360 view of her body. To make sure we didn't get weary of the same ole moves, she lay down on her stomach and posed a couple more times to demonstrate her ease with this feat.
When the curtain was drawn the mob gushed with glee, it felt like we'd all awoken from a fantasy. Murray Hill rushed out to explain, how he'd figured a new twist to this stripping game. First he'd need volunteers to display the goods. Spectators all shouted and showed their boobs.  In the end only three would have the chance; to get on stage and shake their ass. The contestants graced the stage; busty redhead, Rasta guy and Justin Bieber lookalike. Braced with courage, they proved their worth and stole the spotlight. Rasta was missing the moves he just floundered about; at least big red worked that tight outfit, showing us her stout. But then an 18 year old Justin Beiber boy jumped out of the closet and onto the stage. Boylesque I screamed while everyone just looked at me strange. 'Born this way' filled the hall as that skinny boy began to dance. Uncontrollably he loosened his buttons and ripped at his pants. The mob erupted louder than ever before. They cried, laughed and screamed for more.  When the voting commenced Beiber stood tall as the clear choice, Murray Hill's picture was his prize and with that he rejoiced.
Monsieur Romeo followed up this male dominated moment with a lackluster routine. Had I know a train wreck was approaching I would have excused myself to the restroom. Let this be a lesson to all male performers.  In a female dominated field you better be ready to drop and give me twenty. I want to see you sweat! But Monsieur Romeo was too good to dance or even strip. He didn't even take off his shirt!! I've said it before and I will say it again, "look buddy, put out or get out!"
After the intermission, Selena Luna rolled onto the stage like a bat out of hell. A ferocious sound filled the hall as she burned rubber on a mini motorized Harley tricycle. The crowd stood on their tippy toes just trying to get a glimpse at this tiny dynamite dame. She growled, flailed her arms and cried out as she stomped about. This was no ordinary strip tease; it was more like a 'who let the dogs out' moment. A carnal, animalistic force was driving her libido and we were lucky enough to witness the revelation. After a rock and roll tassel twirl she pulled her leather jacket over one shoulder, revved her tricycle and sped off as the curtain closed shut.
Pretty in pink doesn't even begin to describe Dita and her carrousel pony. Yet again Dita was decked out in pink sparkles, but this time she came to play with a feathery bushel flaunting a rose colored rump. At this point you may start to think, ok Dita went a little overboard with an adolescent obsession for pink glitter and frilly ponies. But remarkably she pulled the whole thing off flawlessly.
The snug corset clasped against Dita's petit yet curvaceous figure, forming a sharp arch stemming from the torso down through her hips. It reminded me of the corsets from the 19th century combined with a futuristic effervescent edge. She hopped off the porcelain pony and swayed down the runway while slowly removing one feather from each hip. Dita revealed her feather fan wielding skills as the audience cooed in a lustful trance. When her fan dance finished, Dita fulfilled her schoolgirl fantasy and rode that pony like a naughty jockey should.
After that pink glistening roller coaster ride, I was awoken from my juvenile dreams to find an exotic Dirty Martini spicing up the stage. In a classically chic style, she donned a green and tan shift that fell into a perfect princess Leia cut. Her sassy cat attitude and humungous hip rolls left the audience a little dazed. The belly dancing gods bequeathed their brilliance to this belligerently busty lady and with that touch of grace she sashayed her majestic heiny off.
Her vibrant finale commenced with leaps and bounds of titty twirling. When she tried to leave Murray Hill reeled her back in for a second glimpse of her award winning tits. He tested her talents by tasking her tassels with spinning tricks of the trade. With Murray's careful instruction, and flick of the tit (for inspiration), Dirty Martini dared to show us her devilishly dynamic whirling duo. On command this exceptionally gifted gal can spin her breasts in any which direction, even in opposite directions. The mob erupted into fits of elation at the sight of these stupendous boobies.
Medianoche's second act can only be described as devastatingly blissful and enchanting. Her black and white ensemble was almost a relief after all the dazzling color from earlier. Medianoche's short curly hair, beaded bra and white feather fan revived a 1920's elegance that fit well with her ultra-feminine disposition. This lovely lady transformed into a swan as she created a sense of longing and breathlessness. All this combined with perfectly refined features escalates her to a pinnacle of burlesque stardom.
When the curtain opened for the final act, the massive props left the spectators aghast. Sheer fabric covered the oriental canopy bed in the middle of the stage as two hand maids fanned Geisha Dita. An elongated figure reached for the curtain but instead of emerging, a hand just stroked the bed post. Once the curtain peeled back, Geisha Dita stood before us with an elaborate headdress of interwoven braids and a tight oriental dress. The hand maidens caught Dita's formfitting dress as she disrobed and they casually unveiled a collection of garnished curtain ropes hanging from the canopy bed. In her oriental undies and peekaboo bra Dita swung from those ropes while balancing on her tippy toes. For her last Who-rah, pink gloved hands appeared from small holes cut it the bed's head board and fondled Dita as she continued to grip the ropes. It was reminiscent of a molesting bondage façade.
When the show was over little Texas paper confetti fell from the ceiling to wrap up this exquisite adventure of fantasy and foreplay. I awoke from my dream just to realize there was still an after party to rock. So I gathered my things, paid my respects to all the alluring ladies, and headed upstairs for even MORE burlesque!
The Dita after party was the highlight of my evening. I met Dirty Martini, danced with the burly girls and witnessed another round of tassle twirling decadence by the Ruby Revue. These exceptionally gifted ladies were dancing on cloud nine for the chance to perform for Dita. I'd never seen them light up like they had that night.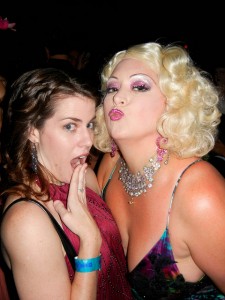 All of Dita's performers sat back in their closed off VIP area while the party goers inched closer just to get a glimpse of the stars. Dirty Martini and Murray Hill were the only ones who joined their adoring fans outside of VIP for some one on one time. I was lucky enough to snap a photo of myself with the one and only Dirty Martini.
Violet O'Hara, the devastatingly gorgeous and hilarious mistress of ceremonies, brought her bouncing bubbly personality on stage to introduce the femme fatales of the Ruby Revue.  The first lady introduces an edge and sophistication to her act like none other. Stormy Blue proved on stage that tattoo gals can have style and grace. The next act showcased the Ruby Revue instructors, Ginger Valentine and Missy Lisa in this perfectly timed act only worthy of the dynamic duo. Black Mariah brought her Bettie Page box chock full of fantastic surprises. This Black Bettie really knows how to show the audience a good time. Marilyn Monrouge kept her cool while sizzling up the stage for Dita's viewing pleasure. Melissa Meaow melted our hearts after she lit the burning fire within our loins.  Angi B Lovely wiggled and jiggled her way to a new glorious height. She beaconed to the eastern gods of Constantinople, and they bestowed this decadent dame with an all new claim to fame; goddess thy name is Angi!
After the show all the girls gathered around VIP and began to dance, just for the heck of it. We all giggled in fits of glee as the lady of the night, Miss Dita, sat back enjoying her drink sitting quietly serene.
SchmidtySays is an uncensored sexy bitch who covers underground events in the Dallas/Fort Worth area. Check her out at SchmidtySays.com.
All photos published in this post are of the after-party  and are ©SchmidtySays and used here with express permission for Burlesque Beat. Photos are not to be used without permission. For photos of the show, check out these shots by Groovehouse over at the Houston Press, and these by Kaylin Idora and Josh Brasted on Dita's site.