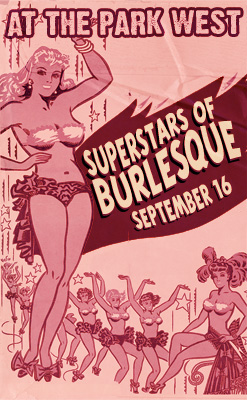 What a week!  Cranking out footage from the Montreal Burlesque Festival, wrestling with scheduling a reading, a moneyed day gig, diamond shopping, and a social life with the NYBF around the corner and Quentin Tarantino keeps blowing up my phone begging me to write him some dick jokes.  Ok, the last part is pure fantasy, but a boy can dream.  Bottom line, while I love New York City in the fall, this weekend, I'm in the wrong dang city.  Not only does the New Orleans Burlesque Fest kick off tonight, but if I had my druthers (what exactly IS a druther, anyway?) I'd be in the Windy City tomorrow night.  The Midwest has been killing it this month—the Playful Peacock's Burlesque Extravaganza? Miss Astrid AND Gravity Plays Favorites?  Why wasn't I in Minneapolis?
The lineup of the Chicago throwdown is just ridiculous: The Reigning Queen of Burlesque Indigo Blue, Dirty Martini, Roxi D'Lite, Julie Atlas Muz, Kalani Kokonuts, The Stage Door Johnnies,  Hot Toddy, Trixie Little and Evil Hate Monkey, and the boy without whom no such show would be complete, Tigger!  Oh, and producer Michelle L'amour.
If you're in spitting distance of Chicago, get your tailfeather to it.  It's gonna be legendary.
Oh, and of course I'm hoping someone sends me some words and pix.
—JDX