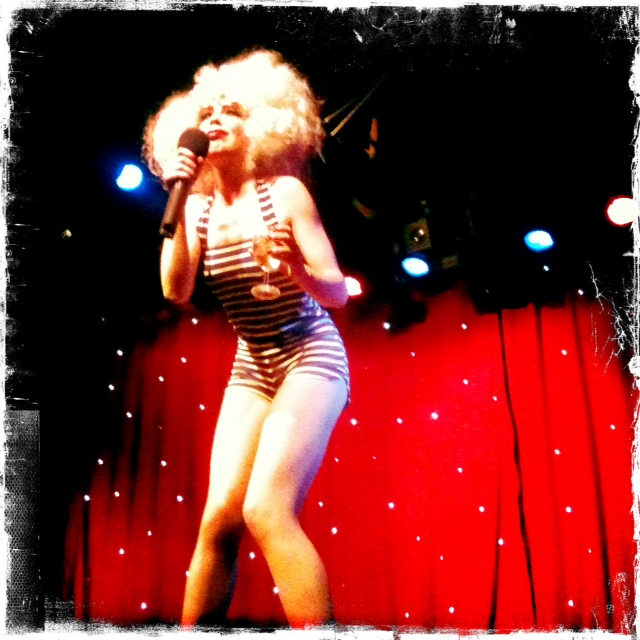 Around Londontown w Rubyyy Jones
31 August 2011
Madame Jojo's, London
To begin celebrating the end of summer, I headed into Soho for The Folly Mixture's Summer Revue at Madame Jojo's. In the heart of London, Madame Jojo's has a scattered history; a nightclub since who knows when, it was named 'sometime' in the 1960's and has since been a source for some of the top Queens (Drag and Burlesque) in London. Owned by the pornography publisher and real estate developer, Paul Raymond, it was refurbished in the 60's with fixtures from the 1930's-built Whitehall Theatre. The venue is a mix of red velvet showbiz, London's unavoidable grime and classic art deco and hosts some of the city's sexiest Cabaret and Burlesque performers.
The Folly Mixtures are a saucy troupe, made up of five Burly beauties: Bettsie Bon Bon, Felixy Splits, Ooh La Lou, Liberty Sweet and Angie Sylvia. I had seen several of the ladies perform solo but never had the delight of seeing them all in action; I settled in with a G&T and my guests to enjoy. The evening was to be hosted by the glorious Laurie Hagen, a lady whom I can now confidently report I am in love with. Originally from Belgium, Ms Hagen moved to London to pursue the stage and after appearing in productions on the West End she dived head first into the scene when she was cast as one of Polly Rae's Hurly Burly Girls. Miss Polly Rae is one of the UK's top Burlesque performers, cementing her status after a very successful West End run of her 'Hurly Burly Show' this year at the Garrick Theatre. Hagen and The Follies (minus Angie Sylvia) all performed with Miss Rae so I was looking forward to some classs. Hagen did not disappoint, she is a kooky sexy singer, quick as a whip and fucking funny; her unbridled energy and zany audience antics kept me in stitches all night.
The Folly Mixtures started us off with a troupe dance 'Tits Teeth n Nails' in classic, though glitterfied, Hefner bunny costumes; a dance, not a strip, I could tell we were in for a treat. The Mixtures' are all trained dancers, which is obvious from the get go, and I so appreciated their polished lines, pushed relevés and showgirl bevels; I felt safe in their capable and cute hands. Like most troupes they are a something-for-everybody kinda mix and each girlie would be performing solo to show off her special stuff. Out came Ms Hagen to sing 'I Want To Be Bad' and a cheeky rendition it was indeed; with her impish expressions and lithe body, she's the most graceful clown I've seen.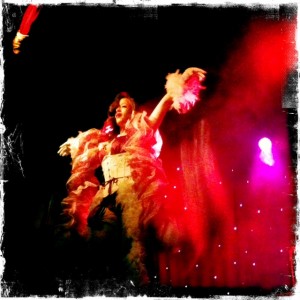 Felixy Splits is the Mixtures' triple threat, an all-singing, all-stripping showgirl and she started us off with her dressing gown strip 'Traditional Sauce', a fusion of commercial dance and classic tease. I loved her no nonsense stage presence as she stripped off her short black robe to reveal a gorgeous powerful curvy body. Felixy had on her air pumps as she sauntered barefoot across the mini stage, a kind of popping strut, full of moxie and confidence. Stripping to 'The Best Is Yet To Come,' Miss Splits made sure that was so when she gave a bouncy, tassel twirling finish.
Angie Sylvia was making her solo debut this evening with a sweet and saucy cupcake routine, complete with toy kitchenette and pasties crafted by Bettsie Bon Bon. I loved watching Angie being so cute and wide-eyed cause I could tell she was going to turn on the vixen later and that was going to be so (hot) fun to see. Bopping to Christina's 'Candyman', Angie fed the audience love, sex and muffins as she baked and shimmied her way into our hearts; with her Fosse body, kitten pout and splendid dance moves she had a very scrumptious debut.
Time for a little fun with the audience! For all you 90's lovers, you're going to love that the Follies have a Gladiator game. Felixy Splits, Ooh La Lou and Liberty Sweet came out in crop tops, shiny sport pants and sneakers, as Hagen chose some unsuspecting dudes from the audience; most likely volunteering in the hopes that they would wrestle one of these beauties! Instead they were challenged to prove their strength by hanging from bars between the stage lights (a low ceiling!) while the ladies sabotaged their best efforts; at one point either Liberty or Ooh Lah Lou was hanging off one of the gents still holding on for dear life, it was a most noble effort and some good clean fun.
The final act before the intermission was a hilarious musical duo 'Ginger and Black', an instant clue to their sharp humor as they walk onstage; a redheaded woman with a keyboard and a tall bespectacled black man: "Hi, we're Ginger and Black. Because I'm ginger and…" Eri Jackson (Ginger) and Daniel Taylor (Black) introduce themselves as musical storytellers and sing, rap and speak several songs; their deadpan delivery had me howling! Their humor and perfect timing is a bit 'float like butterfly, sting like a bee' as they sucked us in with quick lyrics and unfolding stories and then smacked us across the face with their dry twisted humor. It was a wonderful way to end a terrific first act!
Act II started with a bang, Ooh La Lou showing off her solo stuff in 'Officer Frisky'; she's very much a Police Academy dream babe with her toned limbs, almost Farrah hair and good-cop-hot-cop strip tease. I love that the Mixtures are a mix of looks, personalities but also styles of Burlesque; Ooh La Lou representing a more modern, pop style this evening as she finished us off with 'You Can Leave Your Hat On'. A bit Britney, a bit Goldie Hawn; I love Ooh La Lou's blend of fierce movement and adorable mugging.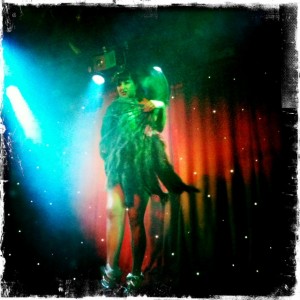 Speaking of adorable! Laurie Hagen was back to entertain us with a drinking song en Francais and to terrorize the audience while pilfering their booze. She's really so charming, no one could say 'no', as she sipped and sang her way through the crowd, before bringing on Bettsie Bon Bon. Office worker turned full time Showgirl, Bettsie is absolutely delicious with a classic MGM face, curvy soft body and naughty twinkle in her eye; draped in organza, feathers and ruffles she brought some classic stripping to the stage. A master, or perhaps mistress, of seduction, I loved her relaxed hotness, her understated scintillation; it's always thrilling to see a performer who can just be, rather than give or act, hot.
To finish off our solo Mixture fun was the lovely Liberty Sweet, a curvy and cool redhead with a sophisticated and sensual style. We were treated to an emerald fan dance, another more classic turn and Miss Sweet looked gorgeous in a high cut, cup-less bodysuit and adorned with sparkling ivy accents and pasties. I loved how easily Liberty swayed across that stage and whether she is merely batting eyelashes or bursting out from between her fans she has a grounded sensuality that keeps you under spell. Liberty Sweet wound us down but then special guest, Madame Galina Korsakova (Iestyn Edwards), a Russian ballerina clown wound us back up again; teaching (and torturing) several male audience members the ballet ropes before subjecting a single dude to a pas-de-deux. With a razor sharp tongue this comedian is relentless and hilarious and can do a pretty mean double pirouette en dedans.
To round out the evening, we were left with a mouthful of all flavors as all The Folly Mixtures returned to bid us a naked adieu. Stripping from office attire to little-to-no attire, the Mixtures showed us what it's like at the end of their '9 to 5'; trust me, you want to work in their office. A lovely balance of classic strip and flirty pop, I can't remember the last time I smiled so much during a show; they are seasoned pros, each lady a strong, stand alone stripper and together they are a bowl full of frothy, sparkly fun. Many thanks to all the performers for a totally wonderful evening!
Rubyyy Jones is a Performer, Writer and Muse; specializing in Love Lust and Light.  See more of her work at RubyyyJones.com.
Photos ©Beth Thompson and used here with express permission for Burlesque Beat. Photos are not to be used without permission. Please contact Rubyyy Jones for usage.