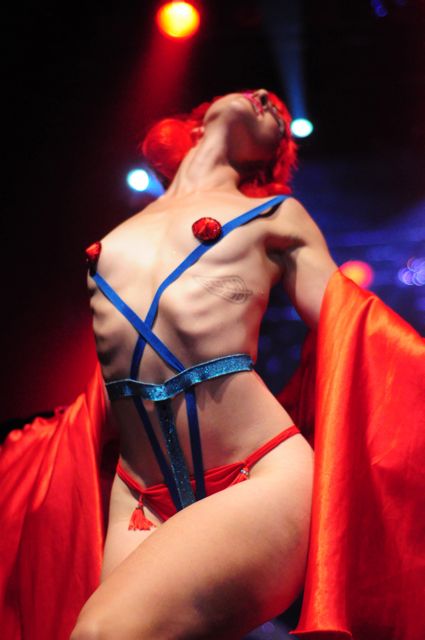 by J.D. Oxblood
Montreal Burlesque Festival
Thursday, August 25, 2011
Club Soda, Montreal
Like most Americans, I'm pretty ignorant about Canada.  We simply don't know much about our friendly Northern neighbors, and I would've been hard-pressed—up until recently—to point out Montreal on a map.  (Nothing like a hurricane to make you learn some geography—Irene turned our return trip into a city-hopping odyssey.)  But this year marked the Third Annual Montreal Burlesque Festival, and we wanted to get a look at a festival that wasn't Vegas or New York.  We were so unprepared—so uncouthly American about it all, we basically forgot that it was another country, didn't study up on our French, didn't bother to check the exchange rate—did you know that Canadian dollars (aka loonies) are worth MORE than American dollars?—and I'm rather impressed we even remembered our passports.  But I brought my sense of wonder, and we fell in love with our hotel and developed a seventh-grade crush on the city and performers of Montreal.
It begins on Thursday, at Club Soda.  Cute name, right?—Club Soda, as in a club but also a mixer for vodka?  Better than cute is the venue itself, an according to Hoyle cabaret venue, with a raised proscenium stage, a large groundling area filled with cocktail tables and No. 14 chairs, and a 270-degree balcony providing tiered viewing from the sidelines and arena-style seating from the back of the house.  New Yorkers, drool away.  This is the venue that we can only dream of.  A retinue of usherettes stood at attention, all cute as matching buttons in their uniform dresses and darling pillbox hats.
The eve was kicked off in style by a fashion show, which ranged from cute guys rocking Nevik men's wear to a stunning white dress by Glamcur; a red and white checked dress by Marina Vintage Style that I would love to see on my shutterbug, and crazy masks to go with lingerie by Lise Charmel—all of it accompanied by slammin' music provided by nimble DJ Stephen Portman.  Our MC for the weekend took over: Benjamin Marquis—an animated puppet doing Joel Gray by way of Alan Cumming.
Finally, on with the burlesque!  We open to heavy smoke and shaft lighting, and L Diablo, slinky and spooky, sidles onto the stage in a red corset and black skirt backed by red and white can-can ready petticoats.  She moves into the expected battements, flipping her skirts, and as the circus music accelerates, the movements become more frenetic, more psychotic, escalating with schizo strobe light and exploding into a drop split.  L Diablo exits.  Enter the Saucy Tarts—can-can set on four, in yellow red and black skirts—flamelike—and two blondes, a brunette and a redhead—fanning the flames of our hearts.  They start slow and accelerate, and I learn a first and important lesson about Montreal audiences: they love to clap.  The crowd pushes the beat as the dancers execute rond de jambe in loose unison, like an absinthe-fueled red windmill dream, and one of the blondes breaks out on her own, thus beginning a round robin of one-upmanship akin to a jazz performance as each girl takes her turn.  The redhead, it turns out, gives great twirls.  By the time the girls stack up in two pairs, with a head and arms working the skirt of another's legs, the crowd is going wild, and it's still early.
We get a hefty dose of nostalgia as Satan's Angel takes the stage, to chat… a nice touch on all three nights, where we get to hear a few tales and bits of wisdom and nostalgia from our fabulous legends.  Angel talked about having performed in Montreal in the 60s and 70s, playing into the legend of Montreal as "sophisticated," and, perhaps, the Vegas before Vegas was Vegas.  I didn't see casinos, but there are peep shows right next door to Club Soda and a standard strip club right across the street.  But Montreal is of a proud people, which any arrogant New Yorker can dig.  "It's not about the destination, it's about the journey," Angel reminds us, elaborating on Dan Eldon.
Lady Josephine, fresh from accolades in Boston, delivered a wonderfully bizarre Quentin Tarantino fantasy of Elle from Kill Bill, strutting to Santa Esmeralda's "Please Don't Let Me Be Misunderstood" (that clicking track that evokes Uma in full revenge mode).  She might consider going with Bernard Hermann's "Twisted Nerve"—but perhaps it would be too obvious.  In short stockings and long garters, she pulls her black cape up over her enchanting derriere—eliciting huge audience response—and slips offstage and back on carrying a huge, inflatable eye as counterpoint to her sporty eyepatch.  She bends forward and claws at her posterior and unzips her stockings, then bounces and grinds on the inflatable eye, which is crying for some sex wax.  She sits on her second glove, stripping down to tiny red pasties and network of blue stripes traversing her lithe body, and proceeds to more shaking and posing on her big eye.  Fun, ballsy, and bloodshot.
The second act opens strongly with four lovely girls dressed as Mounties—even I get this.  Remember Dudly Doright?—this is the Harlettes, a team working in black short shorts and busting simple Rockettes moves, good and tight.  The tiny Asian girl is DARLING.  When they ditch their coats they're down to pink t-shirts, and the staggered choreo gives way to a slo-mo brawl, during which they—natch—rip each others t-shirts off to reveal red bras.  Simple, charming, delightful.
Miss Sugarpuss is a fierce, mean, tiny girl, who kicks off her shoes—literally—to a quick rendition of the St. James Infirmary Blues.  Sugarpuss is fast on her feet, with a classically gorgeous face and a clearly demented streak—she's dancing on a coffin, and will manage to take poison AND stab herself before the act is over, but not without an electrifying tassel twirl paroxysm on the coffin to an extended drum solo.
The magician Sebastien Louis XVI came out with a strong music-backed set, making bottle after bottle of champagne—Veuve, mais oui—appear in a kind of big Vegas show of excess that I loved.  The second part of his act included patter, and, it's true, my French is just untenable.  What little French I know, I learned in Morocco, which means I'm completely hopeless in the face of Parisian French, and may as well be deaf when faced with Quebecois.  Which is ok.  You still know when things are disappearing onstage, you just don't get the jokes.
And while this is a burlesque festival, there is heavy use of variety, which I often feel breaks up the boobies, increasing appreciation.  This is one of those things that divides a crowd at a multiple-show weekend—more variety?  Too much variety?  It comes down to personal taste.
I personally love an act like Cherie Black Diamond, who skillfully blended variety—in this case, a classic sideshow act—with burlesque.  A pale, curvy woman with a stunningly gorgeous face and long blond locks, Cherie strutted onto the stage to "Angel" from Massive Attack, stalking in serpentine moves.  You could hear the collective intake of breath in the room when she put her hand into her hair and pulled it off—now THAT'S a reveal, her head shorn to a Sinead O'Conner buzz.  As she pulled a python out of a box and carried it down the stairs, off the stage, into the house, people actually got out of the way—whether Canadians are more snake averse, or if it was the way she presented it, I don't know, but I've never seen such a response to a snake act.  Draping the snake across her breast, then removing the snake as part of the striptease—I was eating it up.  The second snake, a jet-black creature that contrasted sharply with her pale skin, wrapped around her breasts as she held her arms up, gyrating.
Seska Lee was a joy, with her hair teased into a massive bouffant—seriously, that is not a wig—she gave us a discourse on dance to "Do You Love Me (Now That I Can Dance)" sung in French.  In a pink and white polkadotted dress, she gave us the frug before losing her dress—revealing pink stars dangling from her underthings—doing the monkey, putting a lampshade on her head, twisting, using the lamp as a fan, and shaking her tassels through the drum solo and twirling with the lamp on her head.  The 20s and the 40s are so done to death, I love it when someone tackles the 50s or the 60s.  Especially someone cute.
Legend April March also spoke, Loulou Duchess de Rière did an impressive classic striptease while completely blindfolded, and I got to hear Tiffany Carter exclaim, "Look at those legs!" as Tanya Cheeks was working it onstage.
But the big climax was, of course, our hostess, Scarlett James, in gossamer white, moving through the house, flirting, to psychobilly music.  Her back is sculpted, her demeanor sultry and lovely, her legs shapely as she climbs onto the stage—and her ass is quite simply stunning.  On stage is a raised tub, like half an hourglass, so we know where this is going—but as she pours champagne over her shoulder, splashing it across her ass, she has us in the palm of her hand.  She climbs the stairs and climbs gingerly into the tub, arches and spins, keeping a delicate balance.  Beckons to the crowd with a single finger, and squeezes a heart-shaped sponge to spill soapy water all over her body.  The blue backlights show Scarlett in silhouette as the words on the back wall spell, "Burlesque."
Kiss kiss,
JDX
All photos ©2011 Melody Mudd. Please respect copyrights and contact melodymudd@gmail.com for permissions. Performers, please do use shots for promotional purposes, but credit properly with photographer's full name and a link to this piece in all instances. Performers who would like hi-rez images, get in touch.