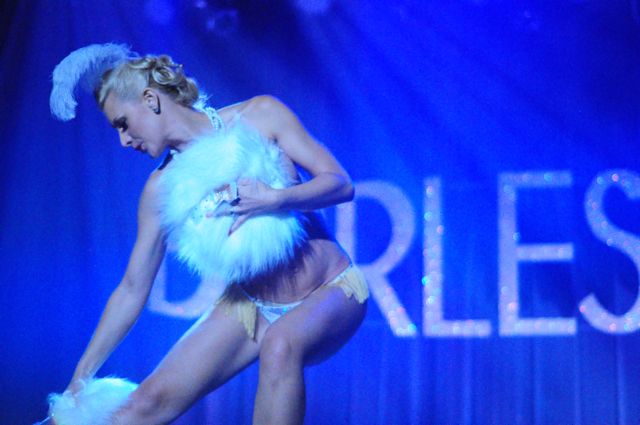 by J.D. Oxblood
Montreal Burlesque Festival
Friday, August 26, 2011
Club Soda, Montreal
When your night begins with meeting a genuine Sexologist, while flirting with a cute, crooked-smile belly dancer hostess calling herself "Leila," you can bet that your evening is going to end with the concierge of your hotel driving your drunk ass over to the Plateau for some 3 a.m. bacon poutine.  That's right—I'm not spending four days in Montreal without having poutine, and wanna be drunk when I eat it.  Verdict: that's some kick-ass drunk food, and the Plateau is totally the Williamsburg of Montreal.  Thank you, Rod, that was way beyond the call of duty.
Rita Star is in the house, Tiffany Carter got her luggage after all, and all seems right with the world.  A couple of newbies do an act that is straight out of the (unmentionable) movie, and I quietly curse the legacy of the Pussycat Dolls.  It's just one moment, and it passes.  Meanwhile, what is UP with Christelle, the stage kitten of the weekend?  She's tall, blond, curvy and gorgeous, and she's working a French Maid costume, a fetish so cliché that it's downright unnerving how well she's pulling it off.  This vixen is smiting libidos.
I know we're kicking when Cherry Typhoon, the "chubby tiny dynamo" takes the stage in a sky blue kimono.  She lives in Montreal now, and is right at home, waving her small pink fans and rocking out to what sounds like a Japanese group "doing" the B52s, and she does the bird and the wave, striking poses, punching one fist into a raised palm.  A slow show of the thigh through her slitted skirt is enchanting, and she licks her finger and smiles.  The dynamo ends in pink heart pasties and the rising crescendo of a pulverizing hip shake.  Cherry Typhoon has more charm than I know what to do with, and it's always a joy to see her perform.
The aerialist Leluna de Alma is virtually above us as she performs over the groundling area of the house.  She's a blonde bombshell, a well-endowed woman with a dark, California tan and a polished look, and she does a capable drape act with stripping—going from a white leotard to silver pasties, seen from below and upside down, in an act that culminates with a 360 degree flip to an upside down split.  Our view was breathtaking, though I was too close to get a clear sense of the moves.
New Yorker Peekaboo Pointe did her signature kitten act, electrifying the house and making me feel good about being a New Yorker.  Another Yankee—Chicago's Donna Touch—weighed in with an act half Pink Panther and half Stephen Soderbergh.  Starting in an offwhite dress with ruffled blue skirt, she quickly nixes to a skirt and black corset, then to the corset, black shorts and a classic burgler's mask.   The music shifts from old-timey to ambient with a big beat, and it's cat burglar time as she approaches a giant diamond—Great Muppet Caper as inspiration?—and contemplates robbing it.  The strip continues quickly, and facing upstage, she strips down to positively nothing and steals the diamond—which becomes minimal stringless g-string and pasties.  Donna has a lovely face, very girl next door, but with a hint of "you don't know what I did last summer" that makes me want to see more of her.
Mysterion, the mentalist who so impressed me not long ago at Nurse Bettie (NYC), continued to amaze.  It's just hard to grab an audience after they've been watching half naked women for an hour, especially if you look like Mysterion.  Just kidding!  But seriously, he's not stripping, he's, um, talking, and yet he grabs the crowd by the nuts and doesn't let go.  He whips out his "spirit calculator" and grabs a volunteer, asking him what year he was born, how much sex he's had in the last month, what year he lost his virginity, and doing calculations on the machine.  The total comes out to 5318008, which every fifth grader knows, spells "boobies" when you turn the calculator upside down.  Mysterion incorporates this into a card trick, and does some spoon bending, but I'm most blown away by the creepy simplicity of bringing a volunteer on stage, placing her where she can't see him, tapping himself on the shoulder, and asking the volunteer, "Where did I tap you just now?" and watching the volunteer point to her shoulder.  That shit is wack.  By the way, in Montreal, when you pay your tab, the waiter brings you a small hand-held credit card device, and you punch the options yourself, "ok"ing the tab and putting in the tip, and it prints out right at your table.  Yo, Mysterion, know how to Jedi Mind trick the waiter with the credit card machine so I can work my tab down a few pegs?
The leggy, Texas ginger, Ruby Joule colonized the stage in a smashing satin getup and a massive fur stole.  Classic yet clever, she peeled her dress at the slit—a nice touch—and skillfully drew the eye of the viewer.
Into her chair work, she raised a leg high and rolled the stocking up, and stretched her second stocking with her toe—always fun.  The stole was worn as a skirt to prolong the tease, and the final tassel twirl came with her arms up high.
Harvest Moon—the Shewolf of Gotham—sauntered on unprepossessing in black pants, a white corset and gloves, almost passing as a cocktail waitress, and with little fanfare goes into a seriously gravity-defying back bend—a Harvest Moon trademark—while biting her gloves.  Yep, she's going to balance a glass of champagne on her head, bend back into the plough position, catch the glass between her thighs, flatten out, and bring it all way back up to standing without spilling a drop.  I've seen this act a few times and still have the same reaction this crowd did—going completely apeshit.
That apeshit energy kept bouncing as my favorite variety performer of the evening, MC Lessard, took the stage with nothing but a pair of tapshoes.  I'm not saying she was naked—she was fully clothed and stayed that way—but unaccompanied, no music whatsoever, she made her own music with her feet, working from one end of the stage to the other, her feet clicking, clacking, snipping and snapping, punctuating with great grimaces, taking pauses and pacing while waiting for the next move—this is some serious Gregory Hines shit.  If you've seen "The Cotton Club," you know the solo I'm talking about—it was that kind of awesome.  Somebody—EVERYbody—book this girl, she's simply amazing in any language.
But in case you didn't get a chance to shed a tear, here comes Satan's Angel herself to introduce legend Tiffany Carter, and hearts were dutifully warmed before loins.  Tiffany came out and waxed her Mrs. Jones routine in a huuuuuge blue robe, royal blue sparkly dress and an over-the-top, WTF incredible blue corset.  Watch and learn, youngins'—there is more raw sex appeal in the way this blond lets her hair down than in an entire sorority car wash.  She twirls lightly, later moving into mad spins, hair flying, and always adding that signature Tiffany Carter open mouth—a haughty dare to the onlooker.  I put my fucking notes down and just watched.  She walks to the edge of the stage and griiiinds, her feet planted firmly.  The act ends almost before you expect it—the music stops, her hands are up, that's it.  Damn.
Once again, bringing up the rear—all puns intended—the caboose of the show, Scarlett James in an incredible white French outfit, huge corset and a massive bustle, a full-size cage crinoline skirtless in front.  She rises to the stage, a big white bathtub dominating.  She takes off her short lace gloves and touches her stockings, all extension and longing to be looked at.  Her stocking she stretches and plays like a bass, and applies two jumbo sized powder puffs to her body.  The bubble machine kicks on, cascading bubbles over the first couple rows of seats, and she slides into the bathtub and sprays the faucet over her body, the stage and lighting effects combining into dreamlike bliss.  She leans her elbow on the tub to wink at us.  Nighty night.
Kiss kiss,
JDX
All photos ©2011 Melody Mudd. Please respect copyrights and contact melodymudd@gmail.com for permissions. Performers, please do use shots for promotional purposes, but credit properly with photographer's full name and a link to this piece in all instances. Performers who would like hi-rez images, get in touch.