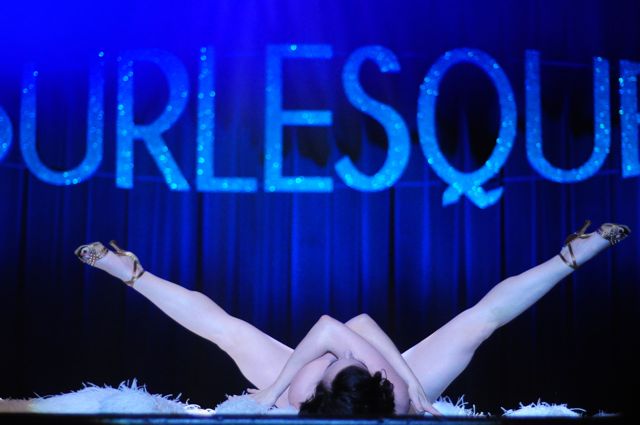 by J.D. Oxblood
Montreal Burlesque Festival
Saturday, August 27, 2011
Club Soda, Montreal
Le producteur Scarlett James mènera la soirée à un apogée en se baignant publiquement dans un bain voûté, mais pas avant que Loulou Duchesse de Rière se dévêtit d'un costume de gorille pour se retrouver en ceinture-banane de Josephine Baker. L. Diablo assombrira l'heure avec un jeu de lumière-noire. Charlie Pop fait du beatbox, et Harvest Moon se suspends sans restreints et effectue une chute émouvante de l'appareil de cirque installé au-dessus la salle. C'est samedi soir au Festival burlesque de Montréal, et la foule est plus tassée qu'une file pour poutine à 3 heures du matin, et décidément mieux habillée. Montréal à une réputation riche en histoire burlesque à soutenir, et la fin-de-semaine du festival se prouve à être un pêle-mêle gratifiant de burlesque classique et expérimental, de variété et d'attractions. En cette fin-de-semaine nous avons été envoûtes par la collection d'art éblouissante et les lits confortables de l'hôtel hôte l'Hôtel Montréal, séduits par le charme cosmopolite d'une ville chérie, et plus d'une fois surpris et émerveillés par les délices que le festival avait à offrir. Et ce n'est pas tout – la foule du Club Soda est électrique, prête à être éblouie, et à ne pas décevoir. Le spectaculaire spectacle de samedi célèbre l'éclat et le prestige des new-yorkais Amber Ray et Peekaboo Pointe, le style 'glam' à l'improviste de Rita Star de Vancouver, la Maléfique belle-mère du burlesque en provenance de Chicago – Michelle L'Amour et les contorsions-strip-tease de la riveraine Andreanne Lecrerc. Attache ta tuque!
TRANSLATION: Producer Scarlett James will bring the evening to climax bathing publicly in a vaulted tub, but not before Loulou Duchess de Rière strips from an ape costume into a Josephine Baker banana belt, L Diablo darkens the hour with a black light act, Charlie Pop beat boxes (beats box?), and Harvest Moon does a dead hang and a stirring fall from the circus apparatus hanging above the house.
It's Saturday night at the Montreal Burlesque Festival, and the crowd is packed tighter than the line-up at a poutine shop at 3 a.m., not to mention dressed decidedly better.  Montreal has a history-rich burlesque reputation to uphold, and the festival weekend proves to be a rewarding hodge-podge of classic and experimental burlesque, variety and sideshow.  This weekend, we've been wooed by the stunning art collection and comfortable beds of host hotel L'Hotel Montreal, seduced by the cosmopolitan charm of a darling city, and more than once, surprised and amazed by the delights the festival had to offer.  And it's not over yet—the crowd at Club Soda is electric, primed for bedazzlement, and not to be disappointed.  Saturday's spectacular celebrates glamour from New Yorkers Amber Ray and Peekaboo Pointe, Rita Star's Vancouver style of off-the-cuff glam, Chicago's own Michelle L'Amour—(the Evil Stepmother of Burlesque?)—and the mind-numbing contortion-cum-stripping of local Andreanne Leclerc.  Hold on to your loonies!
Rita Star is one of those rare treats—I see her when I see her, be it Vegas or New York, and I was pleased as rum punch to find her name in the program.  Even when I don't understand what she's doing—like tonight—I still love it.  Her costume was all dark, decked in LED flashing lights, from an open bell-curve shirt to a top of black glitterness.  Or something.  It was all glam and she was rocking it.  She unzipped that thing right down the front, very 70s, and put on an insouciant look that melted the footlights, prepping us for an even nastier unbuttoning of the crotch.  Rita has a lithe, athletic frame, an expressive face, and a devious mind; tonight it wasn't the gentle caress of her breasts that killed, it was taking both her hands and running them down the side of her body, dragging just the fingertips.  Hot, shameless and exotic.  And yet I had to ask, why not just use some good-ol T-Rex?  Do they know about Marc Bolan in Canada?
Peekaboo Pointe is working a new act, beginning with an all-white tableau in a fur stole—pure ice queen—to a kiddie music version of "Hazy Shade of Winter."  Peekaboo is nothing if not dramatic, and one of the most powerful tools in her drama arsenal is the slooooow button… here she turns, agonizingly slow, like a music box inside a snow globe, her mouth open to catch flakes—yep, the stage magic is onboard—and her fur stole slowly slips off of one shoulder.  As the music shifts the pace quickens—though the audience didn't quite take off with her—as she busts into twirls, from back bends to kneeling, ass jiggles and—the crowd loved this—a single tassel twirl, in quarter profile, no less.
The Montreal Festival did seem to be programmed more for the one-night casual viewer than for those attending all three nights—I mean, the MC did some of the same jokes all three nights—but I personally can't complain about the chance to see some performers more than once throughout the weekend.  It makes sense for the out-of-town talent, and I hope that the Montreal locals got a kick out of seeing more from them.  Peekaboo performed both Friday and Saturday, as did Amber Ray.  Friday night Amber Ray performed her lotus act, which must have looked incredible from the balcony—turning slowly on the raised dais of her lotus, which was hard to read where we were, below it.  Saturday Amber strode on in a glorious peacock headdress and bustle.  She put a bra strap in her mouth and dropped it, before removing it, and did a nice jiggle while waving off applause—and she got a laugh, as well as screaming applause.
Also doubling up was the stunning brunette Texan, Coco Lectric, who busted out Friday night with a long, full orange dress, doing a nice staggered glove push and letting her hair down as authoritatively as Tiffany Carter.  Tonight, Coco is boogying down to some cheezy 60s Latin music—and the Québécois do love their cheeze—and cracks a surprising, untelegraphed drop split, garnering a huge reaction.  Coco tops it, going right into a dramatic jump to a turn, flipping around and finding herself on the floor cranking a back bend tassel twirl.  Her final bend was in profile, all too seldom used, and the crowd was completely out of control.
This was a well-programmed crescendo—Coco Lectric, Amber Ray, to Michelle—I'm getting ahead of myself.
First, I'd like to tell you about the disturbingly hot circus shenanigans Andreane Leclerc brought to the table.  A gorgeous brunette looking almost like she stepped out of a Robert Palmer video, she's wearing only striped pants and pasties, and raising her arms behind her back in a way they are NOT supposed to go.  She takes off a glove, faces upstage, and puts her hands behind her back, turning her second glove inside out.  With peerless control, she bends completely over, her hands on her ankles.  What takes this nuttiness above and beyond contortionism is the combination of standard stripper fare—she's taking her pants off while bent completely in half, only then going into the classic pretzel pose.  Later, in the move that made me scream myself hoarse, she balanced her weight on her elbows, forearms flat to the floor, head looking forward at her legs, which are bent backwards over her head, while she pulled her stocking off with the toes of her other foot.  Back bent in half, completely extended, in exquisite balance, she flashes a casual smile that wouldn't have been out of place on Anne Hathaway's face as she cashed a paycheck.  In case I didn't mention it, Andreanne is also stunning, with an incredible physique, a back cut like one would expect from an aerialist, and a powerful, sturdy ass that one wouldn't expect from a girl so pale.  Word on the street is she toured with Cirque Éloize, and I'm hoping she goes back on the road to hit the burlesque circuit.  This is circus and burlesque coming together like vodka and vermouth.
Michelle L'amour is one of my personal favorites.  I always liked her Ass that Goes Pow—a gorgeous brunette with a nice booty is, of course, my kryptonite.  I propose (tongue firmly in cheek) awarding her the title of the Evil Stepmother of Burlesque; the more I see her perform the more I grow to appreciate the grace behind her moves, the consistency of her acts, and the sheer evil that clearly drives even the most fairy tale and dreamlike of her imaginings.  Fairy tales are, after all, cruel and savage, and the fierceness required to pull off a caged jaguar act is nothing compared to what it takes to appear as angelic and innocent as she does tonight, basically naked and graceful as falling snow under enormous white fans, in her tribute to Sally Rand, set to Debussy's magisterial and liquid "Claire de Lune."  It's in the specificity, as they say—or, the devil's in the details—facing upstage and subtly wiggling her shoulders, holding her fans under her ass.  Or the way the first reveal is almost an afterthought, just—ok, fans up—and the crowd barely has time
to gasp before she's hidden again.  The next reveal is more deliberate, a strut downstage, as she slowly builds to raising both fans, forming a perfect circle behind her, a halo pulling her up, as she turns toward us, leaning back slightly, like a bowing orchid.
AND THEN we get to the moment everyone's been waiting for—what we've been teased with several times, what with Angel jumping on stage and harassing the host—Satan's Angel beats the stage into submission in a big black robe with multiple fist pumps, a stolid grimace and shaking arms, and goes from delicate mound touch to fire tassels—flaming, spinning tassels—and gets a screaming Standing O.
Miss Scarlett James – thank you for a fabulous weekend.
Man, I need a drink.
Kiss kiss,
JDX
All photos ©2011 Melody Mudd. Please respect copyrights and contact melodymudd@gmail.com for permissions. Performers, please do use shots for promotional purposes, but credit properly with photographer's full name and a link to this piece in all instances. Performers who would like hi-rez images, get in touch.