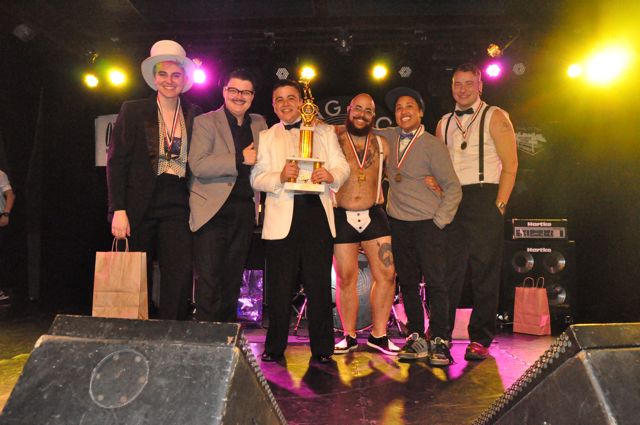 Murray Hill's Mr. Transman
Sunday, September 18, 2011
Knitting Factory Brooklyn, New York
Gender-bending entertainment legend Murray Hill,"The Hardest Working Middle-Aged Man in Show Business", recently presented and hosted the 2nd annual Mr. Transman 2011 FTM competition at the Knitting Factory Brooklyn. Last year's Transman was the first ever documented FTM competition in NY and possibly the world.  Not only was it a historic nightlife event, it was an unabashed sold-out success that created a media-storm and drew an incredibly diverse audience.
I went to shoot the second installment of this thrilling competition. I was blown away by the talent, sense of humor, and good looks displayed up on that stage. Our contestants were Sebastian "Jus" Flowers, Topher Gross, A.R. Punk, Enoch Reise and Victor Glazer.  The judges were Jennie Livingston, World Famous *BOB*, Silas Howard, Rocco Katastrophie, Susan Herr and Amos Mac, and the categories were platform, swimsuit, interview, talent and evening wear.  The event was sponsored by Original Plumbing magazine and Trannywood Pictures, and our musical guests were Schmekel, Princess Tiny & The Meats, DJ Sirlinda, and Kit Yan, Mr. Transman 2010, doing SLAM.
Check out this photo gallery from the evening.  I'll let you see for yourself who won – Enjoy!
All photos ©2011 Melody Mudd. Please respect copyrights and contact melodymudd@gmail.com for permissions. Performers, please do use shots for promotional purposes, but credit properly with photographer's full name and a link to this piece in all instances. For hi-rez images, get in touch.