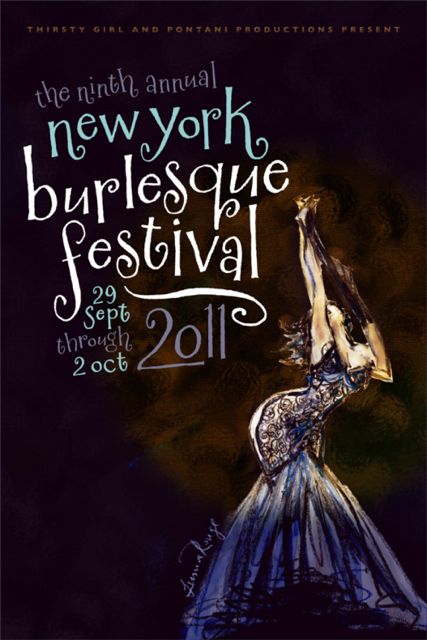 It's the 9th annual New York Burlesque Festival this week and I'm doing my hamstring stretches, hydrating my eyeballs and having a lot of quiet conversations with my liver.  (It's called proactive apologizing.)  That's right, once again the city will be smacked in the face by the 4-headed hydra from the loins of Jen Gapay and Angie Pontani—4 nights of burlesque, banter and boobage.  In an act some would call "brown-nosing" and others would deign to call "borderline professional," I reached out to some of the performers (via FB, natch) and asked them two questions:  What are you performing this year?  And who are you most looking forward to seeing perform?
"I'm performing a tribute to the 70s variety show! I'm most excited to see all the international performers. I'm thrilled to see all these performers bring their flavor to our local scene!" —Jo "Boobs" Weldon
"I'm performing a classic number. I based a lot of the hand gestures on what I've seen in old Burlesque videos. A nod to our mothers! I'm most looking forward to seeing Orchid Mei, my Colorado girlfriend! 🙂 She's such a delight!!" —Gal Friday
"I'm doing love my Hair act, it was created for the Victoria 'Big hair show' in 2006.  Victoria is the faux queen show that happens at Stonewall.  I'm super excited because I'll be doing it to live music with Viva.  Her band is incredible!! I'm excited to see what Miss Tickle has in store for us and of course there's Miss Indigo Blue!" —Darlinda Just Darlinda
"I rock out to two of my favorite songs on stage (hint: think '77 and '83)—a little bit classic and a little bit neo. Super fun. Kinda hot. I am so excited to see my dear friend, and all around hottie, Brewster perform on Thursday night! He injured himself quite badly while performing in January, had to take several months off to heal, and he's finally recovered! Watch out ladies and gents…Brewster is gonna knock your socks off!" —Minnie Tonka
"This year my act is 'Garden,' which is more performance art, neo-style versus standard burlesque. But then again, I hate being typical!  I'm basically a stripping garden. As far as fellow performers, I am most looking forward to seeing Little Brooklyn's and Harvest Moon's performances.  I think they are both truly talented performers whom I admire and respect on and off the stage." —Philly Caramel
"I'll be performing a New Orleans-inspired tap-and-strip to the music of my favorite hot jazz musician, Sidney Bechet! I'm really looking forward to seeing Betsy Bottom Dollar from Canada.  I just saw the act she's performing last week at the NOLA Burlesque Festival.  It's fun as hell and she always brings the house down! I can't wait to see her take NYC by storm!" —Gin Minsky
"This is my first year performing in the NYBF's Golden Pasties and I'm up for Hottest Freshman! My number is largely inspired by Miss America 1984, Vanessa Williams.  Unlike Miss Williams I GUARANTEE to get naked if I win the title! I always love watching Murray Hill work the crowd on Saturday night but as far as ladies go, Ms. Tickle blows me away every time. I can't wait to see what she comes up with."
—Franny Fluffer
Lot of love in the air, burlesquers love exclamation points, and—yeah, what IS Tickle gonna bring this year?  Can she top that twisted shit from last year—which made the audience squeal in New York and SQUIRM in Vegas?  Will Scotty the Blue Bunny drink Jagermeister?  Will yours truly get blackout drunk?  Probably, I wish, and I hope not are my answers.  I'm super saddened that Burlesque Beat contributor Imogen Kelly won't be able to make it, but what I am truly looking forward to seeing is all of this year's performers mixing it up at BqB's second annual NYBF afterparty at POP burger, coz come Sunday everyone's gonna need a drink and a schmooze.  Whew.  And yes, there will be some free burgers; I just haven't yet decided what you're gonna have to do to get them.  Bobbing for pasty tape?  Stiletto mumblety peg?  Pin the tail on the stripper?  I'm working on it.  See you this weekend.
xx
JDX