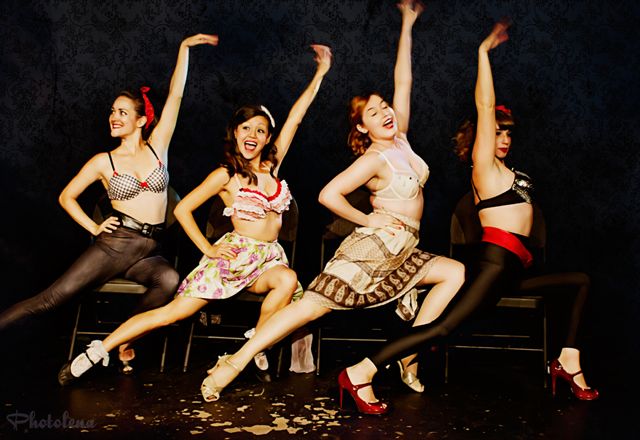 by Photolena
September 22nd 2011
The Big Apple burlesque series, presented by Great Canadian Burlesque
Comedy Bar, Toronto, Canada
On Thursday, September 22, I was thrilled to attend and photograph the second bite of The Big Apple burlesque series at Toronto's intimate Comedy Bar, presented by Great Canadian Burlesque. Produced by Canada's premier psychological entertainer, Mysterion the Mind Reader, The Big Apple series gives new and seasoned performers a chance to share the stage, learn from, and network with NY headliners the likes of Honi Harlow and Anita Cookie. An extension of a successful 7-year burlesque stint at Mitzi's Sister in the west end of the city, CGB and The Big Apple is helping transform Toronto into a premier burlesque destination for both diehard fans and a new mainstream audience.
One thing Toronto does really well is burlesque – where else can you see nine brassy burlesque babes, three gyrating belly dancers, two bodacious blues singers, two tasty troupes, a prurient pole dancer, a marvellous mentalist, lyrical Wolfman, and a NY Golden Pastie winner, all for just a $20 door charge? That's roughly $1 per act – what a deal!
On to some highlights of the (long, sexy, hot, naughty, dirty…you get the picture) evening.
What better way to start off than with the sultry and smooth tones of my favourite local blues singer/burlesque dancer, Keela Watts. Poured into a glittering silky red gown, she heated up the stage – and the audience – with a smooth bluesy rendition of Why Don't You. We all hooted and hollered as she seductively stroked the microphone, but the loudest chorus of catcalls went up when she slowly – oh so slowly – took it off to a velvety smooth rendition of Fever. Definitely a lovely way to burn!
Local favourite Dolly Berlin was absolutely adorable as a 60s harlot housewife, singing along to the Mr. Clean song. You grow up hearing these jingles over and over on TV as a kid, and don't realize just how much they influence you. Looking out at the audience, you could see people singing along – "Mr. Clean will clean your house 'til everything is shiny, Mr. Clean, Mr. Clean, Mr. Clean." Just when you thought it was going to be too squeaky clean a routine, a quick flip into Come On-A My House and the innocent housewife brought out her wild side in a sexy sassy striptease. Well, that got dirty pretty quickly!
It seems that Toronto really loves their belly dancers and we had three for the show – Chemagne, Aviva the Mirage, and Karen Gaulin. Each of them had their own unique style: Chemagne, owner of the local Chemagne Dance, started off fierce with in her gold & red outfit set to Drum Solo, accompanied by the tings of her zills; Aviva kicked things up a notch with her curvaceous rockabilly Flintstones cavegirl routine set to Goo Goo Muck; and the lovely Karen Gaulin mesmerized the audience with a hypnotic modern Arabic routine set to La Lil Khowf, full of belly rolls and twirls.
Locals The Harlettes, a kitschy vaudeville-inspired four-girl troupe, showed us what can happen when the "bad" girls rumble with the "good" girls at the local soda shop. I have to say, I associated a bit more with the spandex-wearing rock & roll bad girls in this act than the goody two-shoes poodle skirt girls, but I think they just brought out the old freak girl in me. In the end, it was the same old story – bad girls give good girls alcohol, good girls go wild, clothing comes off in girl on girl action, freakiness ensues. Who hasn't been through that, really?
If you haven't had a chance to see the sensual contortions of St. Stella, you need to get to one of her shows ASAP. Set to appear shortly in NY, she gave us a sneak peek of her new act and all I can say is "Mrowr!" This blond beauty bucks all burlesque tradition with her unique modern dance and spoken word infused performances. With the musical question Is You Is Or Is You Ain't My Baby? hanging in the air, she undulated and gyrated her serpentine body, performing splits, backflips, and backrolls stretching in the most beautiful and sensual of ways. All this and striptease too!
Kitchener's own Sassy Ray, a member of the Girlie Show Revue, provided one of the hottest numbers of the evening, belting out a saucy rendition of Who's Loving You? then doing a slow and sexy striptease to the perennial favourite Harlem Nocturne, slowly peeling off her gorgeous glam red dress and gloves to end up under a champagne shower while standing in a baby blue kiddie pool – now that's true sass and crass!
Fionna Flauntit, featured monthly at Mitzi's Sister and gogo dancer for the Von Drats, switched up the pace and blew the audience away with her beautiful staccato Spanish act. Decked out in a custom-tailored black flamenco outfit, she peppered her striptease with handclaps and foot stomps, coaxing the hoots and hollers from the audience. She kicked it up a notch when her Spanish headdress lit up with beautiful little accent lights during the final pastie reveal.
A fresh face on the Toronto burlesque scene is Natalia Rose, a former competitive dancer turned sensual pole dancer, who made her big debut at July's Toronto Burlesque Festival. If you're thinking "pole dancing – that's stripping, right?"– you're so wrong. We're talking burlesque + acrobatics + sensuality with a bit of theatricality thrown in. Natalia performed some poses on her 8-foot portable pole setup that were absolutely incredible, and hot, and sexy, and just made you want to get to a pole dancing class as soon as possible so that you could get an ass you can bounce quarters off of, too.
You know you're playing with fire when blonde bombshell Tanya Cheex, first inductee into Canada's Burlesque Hall of Fame, slinks her way out onto the stage in a bejewelled emerald green costume to perform some Old Black Magic. With the use of a fiery Satan's Bible, she bewitched the audience with her smooth striptease, occasionally snapping us out of our slack-mouthed awe with small bursts of fire from her cauldron of sinful delights. I first saw one of Tanya's performances at Pride Toronto in 2005 when she took the stage with her troupe Skin Tight Outta Sight – six years later she's still strutting her stuff on stage in her handmade sparkly costumes, showing a new generation just how it's done.
The big headliner of the evening was New York's own Minnie Tonka, who graced us with two fantastic and unique performances. A member of the Kosher ChiXXX and producer of the annual Menorah Horah Burlesque show, this Top 40 performer kicked Toronto's burlesque scene in the ass with her traditional striptease. Her first set – a robotic rendition of Planet Claire – had her decked out in a killer sparkle pink stretch gown and opera gloves. She matched her moves perfectly to the staccato tempo of the B52s' hit, performing straight-faced and devoid of emotion. The audience ate it up! During the second set, a slower, more traditional striptease, her purplish velvet gown was slowly stripped away to INXS' equally sensual Never Tear Us Apart – a big hit with the crowd judging by the amount of lip synching. Watching her, I was taken in by her dance style – one that's very different than what I'm used to seeing here in Toronto. Her pick of music allowed her to easily start and stop with the melody and beat, letting the audience drink her in.
Next up, Vaudeville Burlesque – a 12-hour, all night, 127 performance burlesque revue.
Olena Sullivan (Photolena) is a Toronto-based model and performance photographer who specializes in onstage burlesque photography. You can find her photos at www.photolena.ca.
All photos ©Olena Sullivan-Photolena and used with express permission by Burlesque Beat. Thrilled for performers to use shots for promotional purposes, but please credit properly with photographer's full name and a link to this piece. Performers who would like hi-rez images, please get in touch through the contact page.