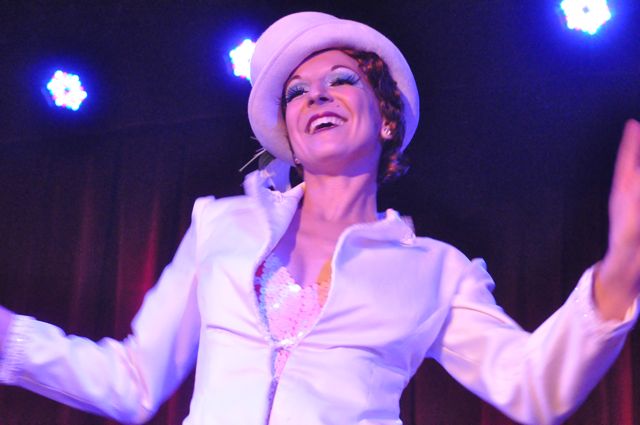 by J.D. Oxblood
Sept. 29, 2011
The Bell House, Brooklyn
I look forward to NYBF weekend, the way I look forward to birthdays, Mermaid Day, annual blowouts, Christmas—ok, not Christmas, 'coz it's stress-filled and surrounded by shitty weather—but the knock-down drag-out affairs that you anticipate, anxiete, enjoy fully and take three days to recover.  It's usually followed by the axiomatic expression: "So glad it only comes once a year!"  Yep… the cumulative hangover, finding lipstick and glitter in unusual places….  But no matter, we ARE glad it comes once a year!  Right, Mel?
You know the formula: four days of boobs, bedlam and booze, from two bent venues in Brooklyn and two Manhattan mainstays, and if you forget what day it is, just look at the host.  It's Thursday, so you know it's *BOB*, and she wouldn't be *BOB* if she didn't introduce us to Spooky and Pooky and drop David Quinn's name (he designs her dresses, so recognize).  I notice she didn't credit Vinnie (the pizza-monger) this year, so I hope they didn't have a falling out.  *BOB* tells the packed, hot-to-trot crowd that it's totally acceptable to yell, "I'm gonna give it to you hard!" but sadly, no one does.
What did happen is Velma Candy Ass took the bull by the horns and opened this 4-day Fest—an unenviable position, and one that she took full-on and rocked with nothing to ride but sheer audience anticipation.  Velma was game, shaking her headdress topped with a skull and tossing out rose petals, and shaking fringe flecked with animal teeth while stripping down to skull and bones pasties.  I gotta give it to her for her glitter glove trick, too—in an unusual variation, she poured the glitter from the glove to her hand and blew it into the crowd.
"The Bishop"—David, that is—gave his blessing, and we were off.  Bettina May, a New York fave—and with legs that go for days and flaming red hair that threatens to be natural, it's no wonder—throws big kicks that read slow, charmingly busting an "aw shucks" expression, and making sure her corset is tight enough to leave marks on her pale, coconut-sorbet skin.  Lefty Lucy digs deep into the 80s—deeper than I think her birth certificate denotes—and comes up with Styx.  Not the river, but the band that gave us "Mr. Roboto" and taught us kids how to say thank you in Japanese before we knew where Japan was or why being "big" there was important.  Lucy did her robot in a tin foil tunic and skirt, with a box head and duct arms, shoving her hand in her slot mouth to bite her glove, and giving us an ass-flash perfectly timed to "domo."  The box head is lowered in slo-mo to reveal a shockingly platinum "Legend of Billie Jean" 'do.  Ok, her stylist didn't agree with me, but you gotta dig her duct/arm removal, pushing it down and getting a natural "sproing!"
Boston's Thru the Keyhole—great name—was about as simple and wonderful as you can imagine:  chicken suit + ape suit = happiness.  That's it.  Two girls in mascot costumes stripping it down 60s gogo style, to matching red & white striped socks, to big bouffant blonde wigs and dayglo green pasties.  I'm hot for the chicken.  And if a hottie in a chicken suit doesn't do it for you, check out Austin's Ruby Joule rockin' it Rio style, or Bianca Dagga, who's just so CUTE.  Or—depending on your gender and/or your sexual preference, how 'bout Brewster?  "He's CUTE," said every girl in my earshot.  And don't miss the gorgeous Mr. Gorgeous and his catch of the day.  We saw this act at Gogo Harder's show a few months back, and it killed in a room full of gay men, so seeing it again in a room full of straight-ish women was ELECTRIC.  Dude has a killer body, old-school good looks—tall, dork and handsome—and I do declare I think that cutie was nervous!  Rugged fisherman bathes in the shower of a squirting fish and strips down to a Speedo and twirls the fishing lure tassel hanging off his junk.  Put the great in the outdoors and buy me a can of worms.
Speaking of goodies I love to see again, the Big Easy's Roulette Rose brought us her stewardess act that I hadn't seen since Mardi Gras, and since I knew what was coming I got in there for the free airline-sized Jack Daniels that she poured down my throat.  Later, Roulette told me that the Jack was actually Jameson—why she replaces shitty Tennessee whisky with decent Irish I don't pretend to understand.  But Roulette, your act is the shit, and my apologies for New Yorkers, who don't really get hip hop in the cross-cultural colorblind kinda way that y'all do down south.  If you're white and you rock out to hip hop, people up here look at you sideways.  I know, it's fucked up, but how many burlesque acts did you see using hip hop this weekend?  Fucking sad.
So give it up to Obskyura for an unusual music choice—Pink fucking Floyd, doing "The Great Gig in the Sky"—you know, that awesome (obviously) black woman having a vocal orgasm?  Obskyura butoh-d up her body and rose heavenly from a gossamer white parachute covering the stage, and mimed the music and became it, a truly cathartic act that took everyone for a ride, escalating to a savage roll around the stage that proved she's possessed by true abandon.  I particularly liked the (possibly accidental?) detail that the body paint created – a pattern on her dark skin after the lace came off.  Delicious.
And yes, I pooh-poohed the whole Pontani starsearch thingy, coz I'm a doubting Thom-ass, but sure 'nuf they found Pride and N-vy, 5 super-cute girls from Jersey licking big lollies and strutting in sailor outfits in front of a candy man booth.  I heart them.  So simple, so cute.  And a perfect combination—three brunettes, one redhead, and a smokin' hot black girl.  I mean, wow.  And not a single blonde to distract you from the good stuff.  And speaking of Angie Pontani, the word is out—she's officially coupled up with jazz crooner Brian Newman, which is such a relief.  I was so scared Angie would end up dating that douchebag Derek Jeter.  Fuck dem millionaire jockstraps—score one for the hep cats!
My absolute favorites from Thursday night, in no particular order:
Tansy.  I wasn't paying attention—was she even nominated for Best Freshman of 2011?  Coz this dame is suddenly EVERYWHERE, coz I think she's amazing and it's not just coz she almost ruined my suit at my birthday party (so many ways to misread that).  The mental finger-fuck job she did on us tonight was to show up as Snow White, lip-synch some banter from the Disney movie—bending it into dirty jokes, like "I can't sleep in the ground like YOU" (scumbags in the crowd), and then RRRRRIP off her blue top and quickly reveal her glorious self in sinfully red fringed bra and panties and twirl her tassels like the goddamn Devil herself.  Sounds simple, yet so effective in getting all those groundlings to find the dwarves in their pants.
Wrong Note Rusty, who is obviously a certified, card-carrying weirdo.  Dude comes out in a rain coat and an umbrella skeleton, gets struck by lightning and goes into convulsions, rises from near-death and strips down to rain shorts (is that a thing?), wraps an electrical cord around his body and flips out.  He climaxes by stuffing a cord in his mouth and pulling a lit-up lightbulb out of his crotch.  I love it.  I just fucking love it.
Jenny C'est Quoi, who hung herself up on a pole like a scarecrow.  You thought she was just standing on a platform until she subtly raised her legs and began a slow walk-in-place, a transformative effect that gave the whole audience an "ahh" intake of breath, a magical rise from a simple stage trick.  Lovely.  Stripped while hanging, and collapsed lifeless at the end.  Close curtain. —or, we wish there were a curtain to close.  Next time.
Gin Minsky was one of Diane Naegel's best friends, and Gin told me before the show that she had taken a flower from Diane's memorial service and placed it in her top hat, to better feel her spirit and dedicate her act to her.  Gin wasn't fucking around.  She came out in celebratory explosion to the one and only "When the Saints Come Marching In," decked out in clothes Diane would applaud, top hat and flower included, and tapped her fucking ass off, very early on gesturing to us with both raised palms, yelling over the music, "Make some noise!" which we gleefully did.  Gin built it up, stripping and stepping and staccato in spirit, turning it up with triple time steps and wings, ending with tassel twirls on top of paradiddles.  It was an emotional moment, and no less was *BOB*'s entreaty that we join together in—not a moment of silence, but a moment of noise for Diane, a moment that stretched out into minutes and riotously and joyously shook the roof of the Bell House, and let's hope, rattled the basement of the heavens.
Kiss kiss,
JDX
All photos ©2011 Melody Mudd. Please respect copyrights and contact melodymudd@gmail.com for permissions. Performers, please do use shots for promotional purposes, but credit properly with photographer's full name and a link to this piece in all instances. Performers who would like hi-rez images, get in touch.