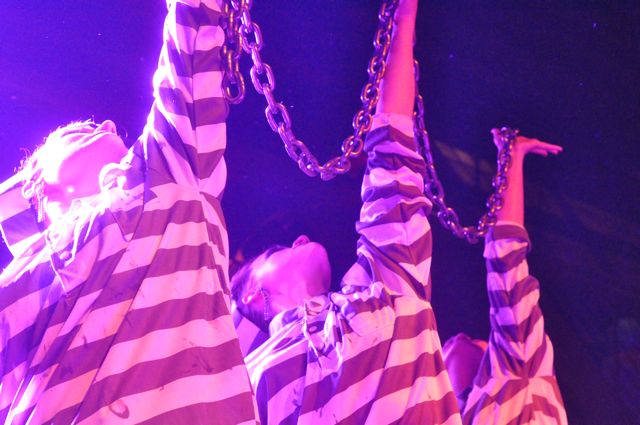 by J.D. Oxblood
Sept. 30, 2011
Brooklyn Bowl, Brooklyn
Burlesque and bowling seem like a natural combination, but I'd prefer watching the acrid Scotty the Blue Bunny pick up a spare in his stripper heels than howling over the din of twenty lanes of smashing spares.  It must be Friday, and for the second night in a row I'm nursing the hangover from the night before.  Have I mentioned lately how much I love Mel Huckabee?  Not that I blame anybody, because the first step is recognizing that you have a problem, and the thirteenth is realizing that having a problem is okay.
Happily, we start the festivities with Donna Touch from Chicago, doing her diamond heist routine that I enjoyed in Montreal. I love the sheer Steven Soderbergh-ish likability of her musical choice and the brazen fact that her eyes are so piercingly blue you can see them blazing from the mosh pit.  Donna, we love to watch you walk away.  She's quickly followed by Cheeky Lane, doing her 4-armed blue Ganesh act and incorporating a level of sheer joy that's sometimes lost with the more experienced—she is genuinely psyched to be performing on this stage, and it shows.  Dig the way she plays right up to the edge of the stage, making the photographers dodge her.  A slow wiggle while she lowers her fake arms, a firm hip shake gives way to wild spinning and bouncing.  London's Honey Wilde turned in a seriously frightening Margaret Thatcher with a blue ribbon (unmentionable), and the always-on-point Philly Caramal was simply stunning, in an act that revolved around her magisterially edenesque couture.
But let's talk about New York's Ruby Valentine, who really brought it back to old school dark and decadent with an Edward Gorey-ish umbrella, a black pvc corset and a purple latex skirt, looking every bit the temptress that crawled out of the dark.  She scintillates with the shaking of her hair, grimaces while she nixes her gloves, and brusquely rubs her quim before pulling on a negligee and swapping out tall boots for major heels.  Slow and slick, with Ruby's signature aftershock hip bumps.
The Dolls of Doom extrapolated on the mood, shuffling on as a chain gang to a dirgelike drone, 3 girls in stripes and harnesses allowing for a simple opening trick: the one in the front leans forward, the one in the back leans back, the one in the middle holds still, and the room itself seems to tilt.  They stripped down and stepped into double acrobat poses, balancing on each other and pressing into walkovers, and finally ripping off each others' fishnets off.  You gotta love a detail like pasties that are chained together.  These girls are just great.
I've lived in Williamsburg since 1999, so I think I'm allowed to say this: our neighborhood attracts D-bags.  I know—the obvious joke here is, "D-bags like YOU, JD," and I'll bite, but something about this patch of almost-Queens, not-quite-Manhattan, ugly-ass architecture has invited rampant, overblown development, and much cooler-than-you posturing.  And our B&T crowd is, like, the worst.  So it is with great shame and
humility that I confess, I needed a break from the front row, and what little I saw of the performances from Darlinda Just Darlinda, Gogo Harder, Ekaterina and Miss Saturn—NY performers whom I adore—I saw from the back, on the big screens.  NOT to mention this was the sick part, since they were all rocking to live music by Viva and Her Exquisitely Delicious Band—GREAT cover of "Cherry Bomb"—with Brian Fisherman jumping in.  Great stuff kids, and I'm sorry I don't have more patience.  But bless them for paying the ten bucks.
I gotta go off on Miss Saturn, though—we saw an earlier version of this act at Ms. Tickle's wedding reception and it was already off the chains.  She's now added more light-up hoops, and the move that entailed three hoops interlaced across her head and shoulders while she spun her body—amazing.  With one spinning at her knees and one on her raised hands—then one on each arm and a fast spin and a sudden stop and that traffic-stopping grin, going into moving hoops up and down her body, and the trick—she's mastered it—of having two hoops on each arm spinning in opposite directions is even more thrilling with light-up hoops and David Bowie blasting.  Saturn's earned her props, and could phone it in at this point, but she's still growing and getting more badass.  Fucking cheers.
I took a deep breath and waded back to the front of the crowd, trying to ignore the fact that the lighting guy at Brooklyn Bowl is allergic to front light and addicted to blinding the audience.  Hard to find good help these days.  You know, like Liza Rose, from Portland, who turned in an aces trap routine, saucily hanging her derriere over the rail, and spookily serene, sitting, very placid of face and composure.  She executed some great tricks by tangling herself in the rigging—almost as if this were a web act—and balanced skillfully in character shoes.  Rita Star—one of our faves from Vancouver—busted her sexy boom box act we saw in Montreal, and it was, well, a little under-appreciated by the kids at this house, which I just couldn't understand.  What, are we too cool to dig Kylie Minogue?  I'm not, Rita.
Rounding out the evening in much-needed whacked-out weirdness were Boo Boo darling and her assistant, who sat in a chair jerking himself off (hidden, of course) while Boo Boo sashayed to the Esquivel classic "Mucha Muchacha," an exhibition that ended exploitively when Boo Boo snapped his dick off.  OUCH!  I mean, for reals, it hurts to watch that stuff, even when it's obs a dildo.  Luckily World Famous Bob calmed me down as a pink cowgirl with banana holsters—seriously, she had holsters that held her six-gun
bananas.  I thought I'd never stop giggling.  She set a banana in her cleavage Molly Ringwald style, grabbed a condom, and showed us how the Italian method is DONE.
But just before Bob rounded out the night, we were blessed with Australia's own Lillian Star, a cute-as-a-bug, crazy-as-a-bobcat hotty who strutted lip synching to "If I Knew You Were Coming I'd've Baked a Cake," in classic 50s housewife regalia—apron and all—prepped her dough, rolled it out, and got it into the oven.  Her second act involved a high-energy strip and spanking herself with a wooden spoon—which I found both arousing and disturbing; hot because Lillian's doing it, and it sounded like she was doing it HARD, but also discomfiting… am I the only one who got his childhood's ass beat with wooden spoons?  ANYway, for the third act twist she takes her pie out of the oven, gets on top of her work table to put a hip-thrust behind her EZ Whipping of the pie, and then put on a weird belt.  ???  I couldn't figure it… then I saw her pick up her rolling pin and my mind did the math: STRAP ON!  She's gonna fuck it!  The music explodes into Warrant's ultra-cheez "She's My Cherry Pie," and Lillian got on top of that cherry pie.  And fucked it.
Kiss kiss,
JDX
All photos ©2011 Melody Mudd. Please respect copyrights and contact melodymudd@gmail.com for permissions. Performers, please do use shots for promotional purposes, but credit properly with photographer's full name and a link to this piece in all instances. Performers who would like hi-rez images, get in touch.