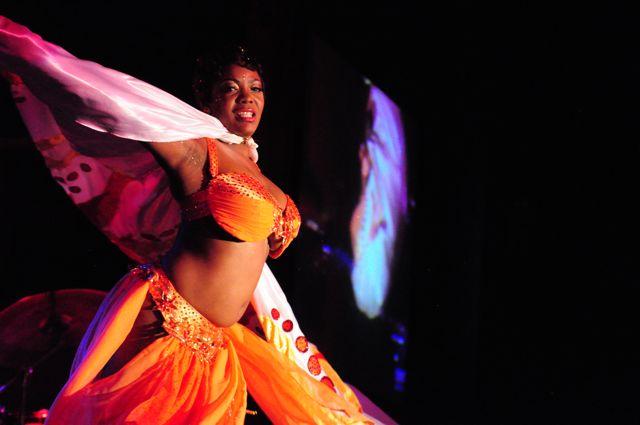 by J.D. Oxblood
Oct. 1, 2011
B.B. Kings, New York
The only thing better than hearing Brian Newman and his band swing some tunes at BB Kings would be if he added a sax.  Which he did.  The only thing better would have been some space to dance—but you can't have everything.  The band turned out a blistering version of "One Note Samba," the Antonio Carlos Jobim classic popularized by Stan Getz (my personal favorite is the version from "Getz Au Go Go" with Astrud on vox).  Newman also crooned his way through "Take Me Back to Brooklyn," sitting on his voice a little, to great effect, and conning the crowd into singing along.
That's right, tonight's the night, another year at the NYBF and another afterparty of dancing awaiting us in larval certainty.  But first, some beautiful, beautiful women, and a really weird guy in polyester.
Murray Hill was in RARE form this year, and I mean as rare as a bloody steak.  From his first step on stage and the canned "I'm so high right now" he went right off book—shaking hands with the front row he flinched and pulled back when he saw Leroi the Girl Boi, spouting "fuck that your hands are filthy."  He was over the line, out past the apron, you dig, in the kind of cracks that kill me—"We pay performers absolutely nothing" and as Newman's drummer was packing up, "We can't even afford the band."  Ah, it feels good to laugh, especially when you're sitting down.
The evening blistered on like a bourbon drunk—a beautiful, sepia-toned blur.  The forever-lovely Gal Friday blasts bursts of tassel twirls to a vaguely Spanish soundtrack, leaps in the air to land on her knees (and Murray makes her give an encore).  The scintiallating Orchid Mei appears like a vision, just stunning in a mink stole with mini-chandeliers hanging from the ends, and "Orchid Mei" quilted on the back.  She turns a promenade into a one-woman parade, slipping out her dress almost sneakily.
Record companies make a lot of money off of greatest hits albums, and it's no wonder; you like to hear your favorites, over and over.  For the New York's greatest hits, we got Jonny Porkpie's excellent competition act, which still knocks 'em dead, Angie Pontani's 60s drum-pounding, Nasty Canasta's truly twisted take on Bambi, in which she goes down on the hunter (Hard Corey) but still gets blown away, and BB Heart's ridonkulous Nosferatu doing "A Chorus Line"—my favorite is when she barks out "One!" at the wrong time, a mistake-on-purpose that for some reason sends me right back to the inimitable "Puttin' on the Riiitz!" of the Creature in "Young Frankenstein."  Oh, and speaking of howling, Broadway Brassy hit it out of the park with "Try a Little Tenderness," made famous by Otis but recorded many, many times.  Yet probably never with as much smut as Broadway's layin' down.  Seriously, her off-color off-topic rants bring hysterical new meaning to the broad concept of "tender," and include suggestions to tie your girl up and leave her there for a couple of days.  But I'll admit, sometimes that works.
Don't forget the Pontani Sisters' tribute to Carmen Miranda—it's embarrassing the way I still swoon for Helen!—Cherry Typhoon's wonderful wackiness, and the Maine Attraction freaking the fuck out and positively crawling all over Monty Leman in the front row.  Fun stuff, and I've never felt so Vegas-pampered floor-show-spoiled.
But it just keeps getting better.  Jo "Boobs" Weldon had warned us that she was bringing a new act and she did not disappoint.  As "Jo and the Titillations," our girl was backed by a boy toy and some gam candy, and Jo was blown out in hot pants with bell bottoms and a delirious purple wig.  This is K-Billy's Super Sounds of the 70s, and dig it, she's super hot and it's just a strut, a stroll, and a strip.  And THIS is what "just" a strip means when it's coming from Jo – she makes everything feel easy, fluid, and necessary, the Occam's razor of burlesque and the proof that less is more.  And all over fuchsia, which Leroi said always made her think of a "fucked-up mango world.  You're living in your brain in a mango world!"  I don't really know what that means, but I GET it, and I hope Jo really is living in her brain in a mango world, and I think most of us want to join her.
In the act that easily took the prize for crowd-pleaser of the evening, Betsy Bottom Dollar gave us a hoe-down, a six-gun trigger-finger fiddle-playin' tassel-twirlin' rig-diggity, and goddamn if she ain't from Canada.  A fleshy, energetic blonde in cowboy boots, she begins with some rope gags and escalates into hoppin' around to a hootenanny, twirling her heart out.  She's so charming—a two-note refrain on the fiddle is acted out, every time—and the final fiddle freakout is an exhaustive display of athletic prowess. And fucking Murray made her do the whole darn thing AGAIN!  The crowd went apeshit, and afterwards, Betsy gamely rolled her eyes when I asked her about her encore.  She may have been exhausted, but she didn't flinch.
Jett Adore's peacock act becomes more stunning every time I see it, if for no other reason than it's consistency—this is a true pro, and he doesn't miss a step.  His aghast, breathless face adds to the exuberance of the piece, and the end—the look off stage, the exit—is over-the-top dramatic.  More on this later.  This kid is amazing.  And not for nothing, so are the rest of the Stage Door Johnnies, who brought their Vegas-winning act to the Times Square basement, and blew it the fuck out.  Three hot guys, three hot dancers, three hot choreographers, and a shit-ton of hysterical screaming fans.
But let's hear it from our Queen, Indigo Blue herself, in a dark blue all-fringe flapper dress, pumping her hips in time to horn bleats, pulling off a glove to reveal a lighter blue glove beneath, and teasing off the second to a piano roll.  She bites the light blue glove and struggles with it comedically, revealing a royal blue glove beneath; steps on this one and reveals a short glove, and gets a lady in the crowd to bite if off for her.  We're laughing, she has us in the palm of her hand.  A big zip tease, the dress is off but she's hiding behind it; the big reveal is a blue studded bra with silver bangles shaking, a quick tassel twirl and lovely skin glazed in glitter.
In the "what the fuck?" category, we have two stand-out faves who continually cause this response.  Miss Tickle announces her pregnancy by appearing as a byzantine Mary with glorious halo, chanting a Goddess refrain and opening her chest (a sacred heart ref) and revealing breasts that are water-shooting fountains. You really just have to see this for yourself.  At the climax, she parts her legs slightly and there is a… heavenly glow.  You know, from… the blessed womb.
And in the wings we have Kristina Nekyia, who starts with a hold on a table's edge and pretzels over to get onto the table.  If you don't speak contortion, I mean that she bent her entire body over backwards to end up facing front again.  This stuff is hard to talk about—but when she bends down to unbuckle her shoes and pretzels back out of them, or does a walkover to lay her ass on the table, or just rubs her hands all over her body as if the genie within might actually come out and grant us wishes, it's over.  She's devastating.  Kristina was in town for a couple weeks performing at the Box, so I hope some of New York's upper crust douchebags enjoyed watching her.  I dream of opening my own upper crust douchebag bar so I can book badasses like Kristina to play for a couple weeks.
Bringing it back to classic, Amber Ray electrified in a peacock feather bustle and headdress, and a royal blue bra and corset.  To a jazz soundtrack she strutted; it's all tease, slow working it.  Melody Mudd whispered, "She just knows how to work a large venue.  She makes just walking from one end of the stage to the other very, very sexy."  Not only do I emphatically agree, but I also secretly suspect that there's something about being HOME.  I think Amber grew an inch being back on the New York stage, and I think she gave us something a little extra.  As a finale, Amber threw her boa up in the air, and caught it neatly across her shoulders.  Delish.
In the act that everyone will remember for a long time to come, Perle Noire dedicated her piece to the memory of Diane Naegel, an act that was apparently one of Diane's favorites.  Starting out with "This is a Man's World," ("but it wouldn't be nothin'… without a woman or a girl"), she held court and swept the stage, bringing her signature splits—when Perle does it, she's completely flat, face touching the floor—and removing her bra deliberately, with punctuation.  The kitten brought out a feather skirt and headdress, the music changes, and Perle let loose with a wild celebration, posing and preening on top of the speakers stage left and right, planting a big kiss on Don Spiro's lips, and blowing a kiss to the heavens in a gesture that made us all cry.  Cry while laughing.  You'll be missed, Diane.
And it wouldn't be the NYBF if the last act weren't Tigger!—banned in Rome, marrying my dildo act—and we didn't all drunkenly forget the lyrics to "New York, New York."  Thanks Jen and Angie—see you next year!
xx
JDX
All photos ©2011 Melody Mudd. Please respect copyrights and contact melodymudd@gmail.com for permissions. Performers, please do use shots for promotional purposes, but credit properly with photographer's full name and a link to this piece in all instances. Performers who would like hi-rez images, get in touch.