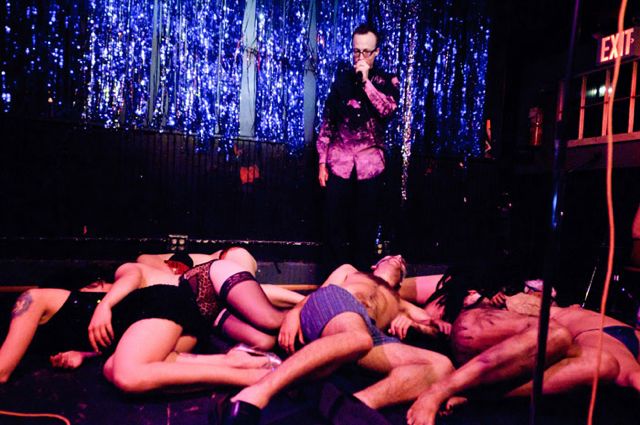 We like David Lynch.  Not that we understand half of what he's on about, but understanding is not always the point in art.  Nor is enjoyment.  From an academic standpoint, Lynch often rides the line between surrealism and dada, pogoing back and forth and slinging bits of narrative like an Interstate diner's short-order cook chopping hash.
And we like Franny Fluffer.  Her productions are cohesive—themed cocktails, decent raffles, a well-rounded cast—and best of all, her rapid pursuance of Lynch is just so… geeky.  So wonderfully dorked out.  As we speak, Fluffer is cruising the Pacific Northwest in search of Lynch-ness.  Damn, this is a weird girl.
So, one night, after far too many days beating the keys ABOUT burlesque, I decided to take some in.  The traditional way.  WITHOUT a notepad and a pen under my nose.  So I just went out and saw some crazy shit and DUG it.
No notes required, I was completely taken aback by Nasty Canasta, who did a slow-motion pas de un with bare lightbulbs, to "No Hay Banda," which is basically a smattering of nonsensical phrases that, through repetition, almost begins to mean something.  Kind of like the Republican party.  Or, better yet, like the famous Magritte painting "This is not a pipe" playing out on the inner walls of the cave of your mind.  Or call it Nasty Canasta doing a DuChamp readymade with her body and a lower east side bar.  Well, that's all after-the-fact musings.  If you'd been there, you would have turned to Monty Leman and said, "Fuck, that is fucking weird."  Which I did.  Monty just grinned and said, "It's 'David Lynch burlesque,' what did you expect?"
Natch.
–JDX
The Pink Room – David Lynch Burlesque returns to the Parkside Lounge on Tuesday, October 25 at 9:30pm [317 East Houston Street]
GO SEE IT! Tickets
All photos ©Eric Harvey Brown and used with express permission by Burlesque Beat. Photos are not to be used without permission.