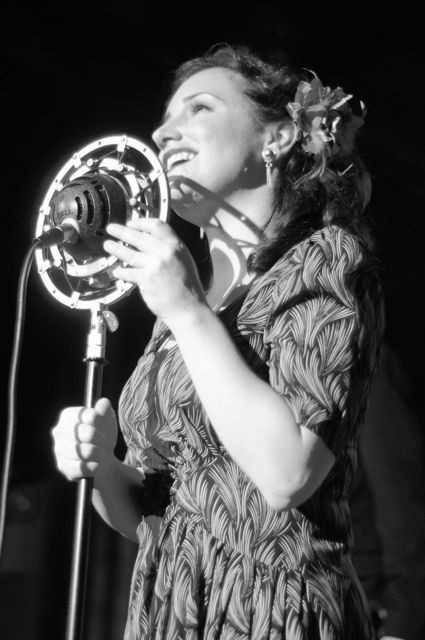 By J.D. Oxblood
Friday, August 5th 2011
The Bell House, Brooklyn
I really should start reading press releases more carefully—or maybe not.  At the multiple-conspirator event Wasablanca, I was pleasantly surprised.  It wasn't what I was expecting—and that's a rare sentence to formulate these days. Wit's End, Wasabassco Burlesque, Nasty Canasta, Gemini & Scorpio and the Bell House all ganged together to give us an evening that was three parts live music, one part burlesque, one part Casablanca revisited ala Nasty Canasta's twisted Brooklyn talent, and one part modern speakeasy culture.
The driving force of the eve was most certainly the impeccable live jazz standards of Gelber and Manning, who systematically covered every song used in the film Casablanca.  Clearly, much of the crowd had come to see G&M—not for the first time-and swayed gently to the music for the duration of the evening, a few even cutting a Lindy.  I didn't see any dance lessons on offer, but the Bell House had never been more loungy.  G&M lead a tight band—their trumpet player is a master of the tasty lick, and covers a wide range of sonic flavors by swapping out his mutes, from a straight mute to a Dixie hat to a plunger, coloring the room in different shades of smooth.  As for Manning, not only does she sing like a bird—a bird with the timbre of an early swing warbler—or like Katharine Whalen of the Squirrel Nut Zippers, if you don't follow—but she's also just so cute you kinda wanna slap her.  NOT that I'm an advocate of slapping people, it's just… well, when I said this to Melody Mudd, she said, "J.D., must you go there?  Not everyone is in touch with their dark side."  Well, my dark side is driving.  Point being, Manning is super cute, and super duper
animated—she's a dream to watch perform.  So much that the evening was a tad occluded by her tendency to stand directly behind a WPA-era saucer mike, eclipsing her face from our vantage point below her.  Profile, darling, profile—or lower the mike!  Regardless, Manning is a pint-sized stunner with nice stems, and was working a simple dress and cute shoes.  All the ladies in the house were swaying, waiting for some guy to spin them—this scene needed a designated dance floor, which, barring linoleum, could have been accomplished with some lighting in the house.
The SHOW part of the show was the latest play from Nasty Canasta, which opened hilariously with Nasty as Ric—natch—and Matt Holtzclaw in the Peter Lorre role.  Thank god he didn't try to do the voice.  After introducing Captain Friday—Gal Friday—we got a peek of burlesque, with Gal working the backwards ass-walk, a single nipple tassle twirl, a glitter glove that landed on the trumpet player, and her signature hand-slap to the thighs, and affixing a badge to her G-string.  Our next chapter featured GoGo Harder and Hazel Honeysuckle as Laszlo and Ilsa—and Hazel does a simple strip to an insanely tight nude corset.
Possibly the cleverest bit was Nasty Canasta simply drinking herself into oblivion to "As Time Goes By," sitting in a chair fighting with her sock garters in a lovely bra and panties—decorated like black filigree—and slugging off a gin bottle, getting drunk as hell and physically riffing.  She gets down to pasties that are simple black discs, yet mimes a twirl with no tassel as the band plays on.  Hilarious.
And then you have the sheer ridiculosity of the casting—not that I mean typecasting, but seriously—of Madame Rosebud, Marlo Marquise, and Stormy Leather as the Nazis, all decked out in very little black leather and Wendy O. Williams X's over O's.  Which got us a coda ending—post "Hill of Beans" speech—of Marlo spanking Gal with a leather glove.
Ah, for a classic story of sacrifice and loss… we never felt like we'd lost our evening.
Kiss kiss,
JDX
All photos ©2011 Melody Mudd. Please respect copyrights and contact melodymudd@gmail.com for permissions. Performers, please do use shots for promotional purposes, but credit properly with photographer's full name and a link to this piece in all instances. Performers who would like hi-rez images, get in touch.