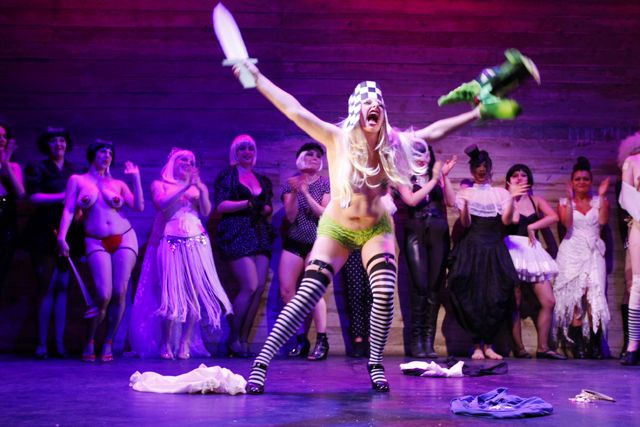 by J.D. Oxblood
October 7, 2011
Galapagos Art Space, Dumbo, Brooklyn
The  young girl in the Heidi costume looked remarkably like nimble Alice until I realized she moved a little like our friend Bastard Keith.  But such a lovely voice, as she sang "Thank Heaven for Little Girls" with a light English accent and slight Ethyl Merman vibrato.  Yes, it's Bastard Keith, who wrote the script that strings together the series of Alice-inspired vignettes that are going to blow our minds tonight.
The opening act was a terrific bit of staging, bodies strewn across the stage being told to "wake up," which erupted into a booming group sexy romp, a multiplayer choreo to "One Night in Bangkok" led by BB Heart in a (gulp) skin-tight red vinyl number.  This is the kind of superfun, superhard-to-pull off group number that we seldom see in burlesque, the last refuge of the soloist.  As Bastard Keith put it, this will give you a "rum tum tickle in the no-no place."
Bastard Alice led us through the kingdom, Rosey La Rouge's White Queen, Magdalena Fox's Humpty Dumpty, and an aerial sling-drape act by Tweedle Dee and Tweedle Dum Jenny C'est Quoi and Joie de Vivre, preluded by their Didi and Gogo routine which may have elicited my biggest guffaws of the night.  (It's an English sort of evening, so you must guffaw and titter; laughing and giggling is just so… American.)
In my biggest shock of how-much-work-went-into-a-one-night's-performance, Coney Island firebrand Lefty Lucy slayed the Jabberwock as portrayed by an animation on the back wall—a kind of virtual wayang kulit.  (If that doesn't ring any bells, ask Dame Cuchifrita, who was one of the BB Heart Dancers.)  Totally main-stage, big-tent proscenium-style stagecraft, and the kind of thing that you want to come back next weekend to see again.  Oh, AND you still get to watch her take her clothes off.
Victoria Privates brought it home in a lovely, dreamy piece as the White Night—think lithe, dreamy pale figure in white lashes works white fans with flowing silks, a lovely waterfall effect—and of course, Bastard Keith wraps it up.  "My no-no place has needs," she cries, before belting into a raucous rendition of "You Can Leave Your Hat On."  Bastard Keith was still in kindergarten when Joe Cocker made this song famous in the film "9 1/2 Weeks"—yes, Mickey Rourke was huge before he disappeared before he made a comeback—but my experience of watching in-her-prime Kim Basinger do a striptease was nothing compared to having that memory—a sweet one from my sexual awakening library—elicited, aroused, then thrown rag-doll akimbo and trampled underfoot as a large hairy Jew in drag did a striptease to that same song.  I feel… violated and yet, strangely turned on.  Is it too late in life to get a threeway with Kim Basinger and Bastard Keith in drag?  It's not that I think I would enjoy it, it's just that, as an experiential collector, I would have actually accomplished something that no other pervert ever had the opportunity to discover.  Who am I kidding—who WOULDN'T enjoy it!
Kiss kiss—
—oops, not yet.  Thank you Storybook Burlesque, for delivering an outrageous, wildly entertaining evening, and more specifically for indulging Burlesque Beat in an experiment.  I'll be brief: Craigslist is full of flakes, but every now and then, Craig comes through. We are delighted to introduce the young and talented photographer Peter Marquez, a newcomer to the scene who we hope will stick around.
Kiss kiss,
JDX
All photos ©Peter Marquez for Burlesque Beat. Performers may use shots for promotional purposes, but please credit properly with photographer's full name and a link to this piece. Those who would like hi-rez images, please get in touch through the contact page.