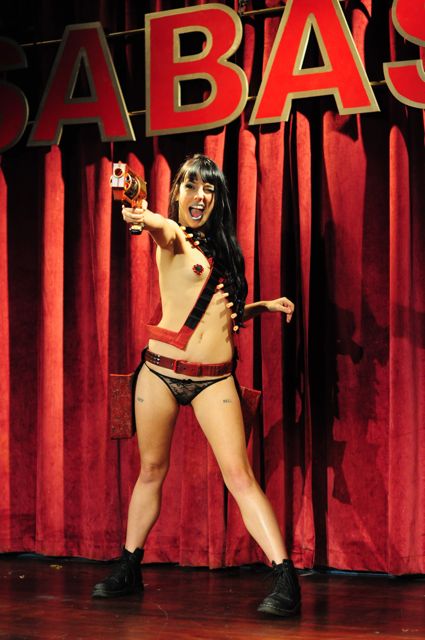 By J.D. Oxblood
Friday, November 4
The Bell House, Gowanus, Brooklyn
A stripper pole in the front room of the Bell House just HAS to be a good omen, as is the Ozzie burger guys out front (I'll be needing one of those between acts—and they're pretty good).  I'm just happy to be out of my latest soulless day gig and back in the REAL world—the world where bartenders hand me cocktails, beautiful people take their clothes off, and everyone calls me "J.D."  (I'll be calling back to this in Part II.)  And this is no minor league affair, kiddos—there's a gorgeous row of vendors along one side of the room, sprucing up the often austere Bell House, and across the back wall of the stage an enormous sign spells in big capital letters: "WASABASSCO."  Seven years of producing burlesque (insert predator BK joke) and this show is all grows up—and then some.  Six acts broken up by 5 intermissions—one of them a much-needed 20-hour break.
But what REALLY classes up MY experience is the muffin-stuffin-TABLES.  Cocktail table and bar stool, Miss Melody Mudd?  She don't mind if she do!  Coz shootin' boobies for three straight hours in THOSE boots looking THAT hot ain't frickin' EASY, people, and getting to sit in the usually SRO Bell House is a rare and delectable treat.
Let's talk about what went down Friday night.
Doc Wasabassco himself takes the stage—18th Century gentleman doing a walk-on in a film adapted from a Philip K. Dick novel—killer long coat with red brocade interior, red and black striped pants, the signature facial hair and yes, Doc Martens.  Prizes tonight are delivered by Amanda Whip—a small-framed, sneaky little minx rocking gun holsters and not much else, shooting Nerf bullets into the crowd; the prizes are written on the bullet, and you pick them up from Firefly—a buxom, randy devil herself.
Doc likes to have rotating hosts, and first on the chopping block tonight, kicking off this two-day extrava-gams-za with class and aplomb, is Bastard Keith.  It's well-known that I man-crush this kid, because he's completely insane, because there's something really, really wrong with him, and because he deeply needs many years of therapy which he's certainly too bad-ass to bother with.  Which is three of the things we have in common.  Tonight, Keith opens by singing the tin-pan-alley classic, "Try a Little Tenderness," a song made famous by Otis Redding in a blow-out horns debacle that will bring any woman-loving man to his knees.  Keith admitted that he was doing the version from "The Commitments," because of the key, which is proof that Keith doesn't want to be black, he wants to be Irish.  Kidding—this is a really fucking hard song to sing, no matter what key you're in.  Point:  Bastard Keith, you should go for broke more often.  Because this is one of the best singing performances I've seen you do, and that energy propelled you into hands-down the best hosting work—and ad-lib stand-up comedy work—I've seen you do.  Period.  Scary good, my Jwigga.
J.D., can we please get to the tits?  You know Hazel Honeysuckle?—didn't make the cut for Wikipedia's photo shoot for the "gamine" entry because she was too dag-gam gamine?  Here she is looking stunningly Jackie O in a pale blue long dress, mink stole and mink pillbox hat (ok, maybe not mink, but work with me), working with the Richard Cheese version of "Ice Ice Baby."  We may have to give ol' Cheese a call here, since he seems to be the only way to get hip-hop into NY Burlesque (more on that later).  Hazel wraps it up with a tassel twirl and a slight lean back.  Her skin is the envy of the Noxzema corporation, and her body the envy of all the women in the audience.
After 3-plus years of stuffing money in Bird of Paradise's G-string while she gogos, I FINALLY got to see her do a full-on act.  Not to mention the gogo set she did later in the evening—honestly, I don't think I should mention it.  In her fun-filled version of "Flashdance," she came on in a welding mask and used a faux acetylene torch to cut off her overalls, revealing leg warmers—natch—and giving us one helluvan ass show.  Sigh.  It's a nice one.  And for the big finish, a rig behind her chair work enables her to pull the tasseled rope and—SPLASH!—dump an entire bucket of water on her head.
Which led directly to a solid ten minutes of lovely stage kittens—Evelyn Vinyl and Mala Morrigan, and Pixie Love—mopping up the mess on their knees in ass-floss red spanking pants while Bastard Keith riffed monumentally.
The too-seldom-seen Precious Little—hey, did anyone get her time on the marathon? Precious Little's face was hidden behind two white fans, her legs wrapped in fine-print fishnets, her face the first reveal, fast-stepping to "Cobrastyle" by Teddybears, a band from Sweden that manages to sound like a gang of Williamsburg hipsters fronted by a Reggaeton music hall barker.  The slick-stepped strip is all a buildup to swinging her ass lasciviously, inches from the faces at the edge of the crowd, as wannabe Sean Paul's cousin belts, "Bomb diggy bomb di deng di deng diggy diggy," and then turns downstage to skip ever-so-cutely.  I don't have a Madonna/whore complex; I'm hot for both.
Have you heard about Peek Brooklyn?  A cute and has-her-shit-together lady named Christina Casciano-King put together what she considers to be the best hosiery on the market, and has made the results of her expert curatorial work available to you—kinda like what Doc W. has done—AND she has designs on making her own stuff.  Check her out.
In the fantabulous Peek Brooklyn fashion show:  Nasty Canasta in hook-and-eye seamed stox (zinger attributed to Don Spiro [uncomfirmed], "Steampunk is when Goths discover brown."); Hazel Honeysuckle in simple black; Bettina May in super fun playing card suits; MediaNoche looking surprisingly punked out in stox rockin' stars.  Usually MediaNoche is more "done up," as in her act tonight, in a velvet-curtain-like ensemble red as a Toledo sunset, and sporting a magnificent bustle made of, I suspect, turkey marabou with Reeves pheasant accents—thin, striped feathers almost three feet long.
The crowd visibly drew a breath as Stormy Leather took the helm as host in a backless dress.  Backless like a stool is backless.  Gulp.  Tansy—who has yet to disappoint—got Ottoman on us (Statler to Waldorf: "I'd like to get her on an Ottoman!") to varying versions of "Istanbul not Constantinople," one of which I could have sworn was Esquivel.  She entered with a large fan on a pole, and set it into the stage to begin working the stage like a Turkish carpet, letting her hair down in an incendiary move that would make Tiffany Carter proud.  She took the fan—which neatly split into two—and walked backwards upstage, deftly walking out of her dress, revealing gold underthings.  A simple shake led to a Christ hold with her fan pole.  (Waldorf to Statler: I'd like her to fan my—nevermind.)  I'm not doing it justice, but the act was deliriously, Turkish bath hot, and got rave reviews from my corner of the audience.
Stormy showed great charm and grace, and likes to show off her shoes.  "Do you know how hard I had to beat the man who bought me these shoes?"  Gogo Harder did his "Be My Little Baby" act, which has his 50s charmer put his junk in a boot (lucky boot), Gigi LaFemme proved that New York still misses her, Vikki Likkerish ended with a unique reveal—leaving one stocking on—and Nelson Lugo had the crowd eating out of his hand and managed to NOT destroy the earrings some audience member got from an ex-boyfriend (wow, that girl was drunk) with his big sledgehammer.
Now Lady Scoutington, as it turns out, is completely insane.  She was cleverly dealing with a technical snafu—this is live theatre, and managing the unexpected is a necessary skill—and was so energetic in her ad lib—"That's not the right song"—that I honestly couldn't tell for sure how much was planned and how much was a fuckup.  She did say, "We teched this show with the same people who did 'Spiderman.'"  She then launched into her first song, "The Bear Necess-titties"—you do know "Jungle Book," right?—and the "paw paw" part was her cue to take her gloves off.  This morphed into a song from "Pocahontas" and "The Lion King" as she stripped one-handed, since the wireless mike wouldn't fit into the stand she was given, which only upped the ante on the hilarity; the kids at my table were positively dying.
The former punk rock sexpot turned kewpie doll blonde, Madame Rosebud, had Deity Delgado make her a classic samba pantsuit.  Only she asked for it to look like the yellow tracksuit from Bruce Lee's "Game of Death."  Not only is this badass, but there's an extra layer of hot slathered on it after being worn by badass hottie Uma Thurman in "Kill Bill," the cultural reference that most of the crowd will actually get.  Anyway, the whole fucking suit is made of fringe, so every time she moves, even a simple shake, her entire body is a blazing blur of fast-motion sexuality.  This is just super fun stuff for an agile dancer like Rosebud, and she's enjoying every minute of it, and so are we.  A simple open mouth stare and a head nod at someone in the front row twists into a gesture of fake modesty, and she's shaking off everything she's got.
And to take it one step further, as we move to intermission, Rosebud is back on the stage to gogo, and goddamnit, she's one of the best in the biz.
For the third act, Nasty Canasta hosted as a pirate unicorn.  I don't know what's wrong with her but I love it.  Yep—pirate eyepatch, unicorn horn, lovely tail matching her mane, and not much else.  In an arch callback, "Do you know how hard I had to beat the man who bought Stormy these shoes?"  AND she read poems to introduce all of the acts, some doggerel, one haiku, and a lovely sonnet to bring out the night's closer, and a particular coup for Doc as a producer:  from Chicago, the Evil Stepmother of Burlesque, Michelle L'Amour!
I've seen this fan act many times, the Sally Rand tribute to "Clare de Lune," but this was the first time I was close enough to it to actually hear the tiny crystals on her necklace clinking together.  This act is like a wonderful lullaby, a deeply relaxing treat for the heart and soul. When the spell broke I was sharp, perky and ready for anything.
I felt like a fox in a leisure suit.
Kiss kiss,
JDX
All photos ©2011 Melody Mudd. Please respect copyrights and contact melodymudd@gmail.com for permissions. Performers may use shots for promotional purposes, but please credit properly with photographer's full name and a link to this piece in all instances. Performers who would like hi-rez images, get in touch.