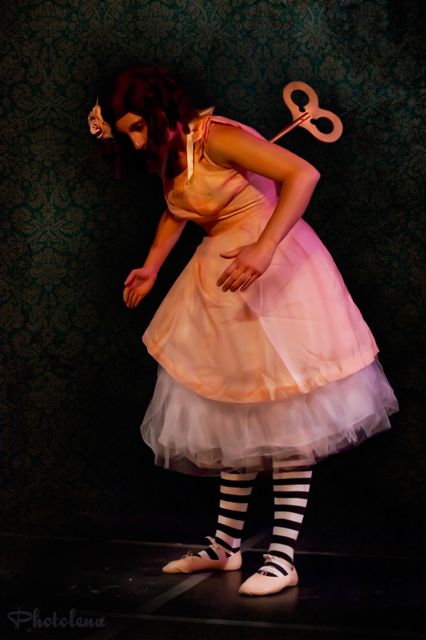 By Photolena
October 1, 2011
The Gladstone Hotel, Toronto
Since 2005, art enthusiasts have taken to the streets for the biggest and most diverse sunset-to-sunrise contemporary arts event in Toronto. With over 130 official projects—and over 40 unofficial projects—Nuit Blanche gives the ordinary citizen a great excuse to get out and walk the streets of the city at all hours of the night, roaming from art zone to zone, taking in everything from interactive towering infernos of fire to live BDSM demonstrations.
I headed smack dab into the middle of this organized chaos to the Vaudeville Hotel—a 12-hour marathon burlesque event put on by Great Canadian Burlesque and Toronto Festival of Clowns. Held for the second year in a row at the infamous Gladstone Hotel, where just the year before they set the world record for longest continuous non-repeat burlesque revue, the venue was packed with friends, supporters and art lovers, all waiting to see if the record would be beat again this year. With 120+ performers, they managed to beat last year's record by 7 minutes! Burlesque performers, clowns, magicians, bands, hula hoopsters, mentalists, bellydancers, mimes, and first lady of burlesque April March… and it was all free.
If you really just couldn't make it out the west end through all the artsy chaotic traffic, this year's event was broadcast live online through a partnership with CNON.tv—you can still check out all 12 hours of the revue here.
With a 12-hour burlesque revue, you have to plan your evening…overnight…er, morning really well, unless you plan on staying awake through the entire marathon. I picked a prime 10-pm to 2am timeslot, knowing the revue would be in full swing and the venue would be packed. I was not disappointed with either the performances or the guests—although it's a revolving door of onlookers throughout the night, this was a rowdy crowd, full-on drunk and ready to see some girlie action.
Enjoy some images from the scant ¼ of the evening that I attended…
Next up, Les Coquette's Halloween Revue.
Olena Sullivan (Photolena) is a Toronto-based model and performance photographer who specializes in onstage burlesque photography. All photos ©Olena Sullivan-Photolena and used here with permission by Burlesque Beat. Performers may use shots for promotional purposes, but please credit properly with photographer's full name and a link to this piece.