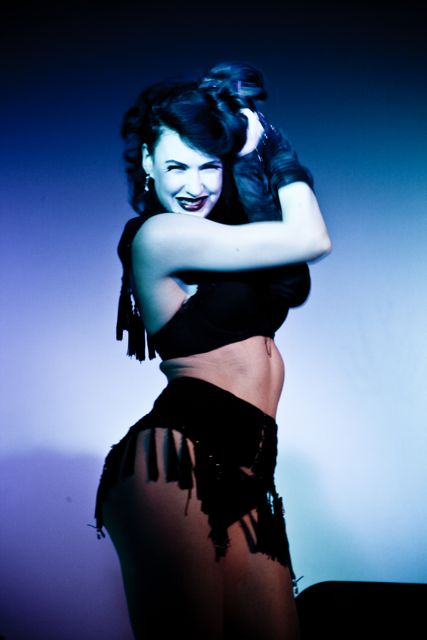 by Rubyyy Jones
Saturday October 1st, 2011
The Relentless Garage, Highbury and Islington, London
London welcomed October in with a bang with the World Burlesque Games Fundraiser, held at the concert venue, The Relentless Garage in Highbury and Islington. Boasting a line-up of some the UK's top talent and featuring the incomparable Erochica Bamboo, I was looking forward to a glittery glamour fest! The evening was compered by the fabulously twisted Benjamin Louche; in white pancake make-up and a suit jacket with shimmering flames, he is eerily beautiful and a powerful master of ceremonies. Benjamin hosts and produces one of London's most popular nights, with his partner in crime Rose Thorne, The Double R Club—a David Lynchian Burlesque/Cabaret evening, more on that soon! Showing his expertise he warmed up the shy crowd and promised us 'scandalous abandon' was in store.
First on stage was the quirky and cute Count Adriano Fettucini, dressed in a grey three piece suit, bowler, gloves and all, he very elegantly hopped on to a very tall unicycle. Remaining devastatingly dapper he weaved around the stage, showing off as he slowly began to strip; first went the jacket to many cheers, then he gave us his best burlesque bite as he tore off his white gloves, flinging glitter into the air. Then came the vest, then the crimson tie and a chance to flirt as he bit down on a white rose, switching his deadpan hound dog expression to one of raw "rawr" before tossing it to the side so he could peel off his starched button up to reveal some glittery red hot tassels. I hooted and hollered as he gave us a good old fashioned twirl, while bouncy up and down on his unicycle. I can't remember the last time tassels had me so entertained! Off came the trousers to reveal some matching frilled red panties… or perhaps boys shorts then?…and the Count strutted on his wheel, and then in his cherry brogues and red and grey striped socks to much applause.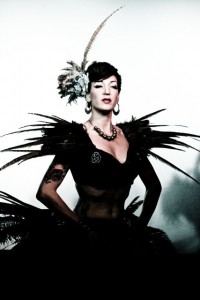 Next we were treated to the fabulousness that is Dinah Might, performing her Maid routine, I was suddenly feeling very dirty. I love watching Dinah Might perform, she is a wonderful burlesque performer, yes, but she is a fabulous actress and I love that she showed this off in this kooky comedy piece. Strutting to a medley of pop songs Dinah Might dusted, shimmied and stripped from naughty maid outfit to next to nothing, totally taking her time, telling a story and bringing us into her zany world. At one point her dusters go from her hands to pseudo tassels and I'm dying to know how she managed that one; I asked at intermission and she told me it's one of her top secrets, with many prototypes before it; beautiful and clever! Once she was down to her skivvies the dusters were back out, tracing her lean muscular curves and making us all supremely jealous.
Then came Scarlet O'Harlet, to do a cheeky and cute piece about her cat, or more accurately her pussy, followed by the glorious Betsy Rose to perform her 'Devil Is A Woman' piece. Dressed head to toe in black, Betsy Rose slinked across stage in a gown and headdress, blowing smoke and smoldering as she drew us in with her beauty and the mischievous danger in her eyes. After removing her black crystal headpiece and dress, all slinky and slow, she brought the fierce with her wild and enthusiastic striptease. Her ivory skin luminous against her noir costuming and the blue lighting, the only color coming from her classic red lips, which twitched, pouted and pulled us in. I loved watching Betsy Rose dance, she's such a pro and is so at ease on stage and in being a sex bomb show-off, totally enjoyable.
From one sex bomb to another it was time for a little Voodoo exotica with the devastating Luna Rosa. Dressed in all her feather finery and with her laser hot focus she bumped and rolled across the stage; my date for the evening spoke everyone's thoughts as she whispered to me: her body is ridiculous! Her all natural bod, decorated with vivid tattoos, she is indeed a goddess. Although Luna connects and engages with her audience, I love the powerful intimacy she creates with her eyes, choosing when she gives them to us, we're always craving them, and more, so it's as if we're all receiving a private show, and trust me, you want Luna Rosa to be your private dancer.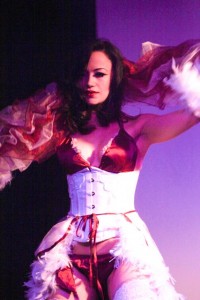 Time for a little macho moment as Hooray Henry Higgins takes the stage. I've seen this gentleman perform a couple of times and most of his routines involve fire and stripping; what more do we need, people? Tonight he was performing an ode to his British roots, in traditional safari military gear, complete with pith helmet and flaming fire staff. After a few minutes of fire fabulousness, Hooray Henry Higgins stripped to reveal his true colours with some union jack boxers, then showing off with some glittering union jack briefs, god save this queen!
And make way for Burlesque Queen: Erochica Bamboo! Head to toe in sparkling white and crystals, the tiny Tokyo Tease took to the stage; slowly she dipped and spun across the space, giving us a little Ginger Rodgers as her full skirt followed and exaggerated her graceful moves. We were lulled and seduced as she slowly peeled to reveal glittering white and toned flesh and then snap! "Wipeout" by the Ventures came blasting over the speakers and Erochica showed us what she was made of as she shimmied, swung and bounced her beads (and beading) with aplomb. It was a fabulous finish to the first act and Benjamin Louche sent us all to the bar to mop our brows and wet our whistles.
To start the second act we were shocked back into reality with the aptly named Vivid Angel; I leaned over to my date, "Just warning you, she might hammer some nails into her face," and she squirmed, ready to turn away. Draped in floaty white fabric and face covered with silver glitter mask, Vivid Angel stalked the stage and then revealed her Fairuza Balk-esque face. I squinted through the rock light show and whispered to my friend, "I'm pretty sure her costume is pinned to her body…" Layer by layer she removed her costume which was indeed held in place my little silver pins, each being placed on a metallic table at the back of the stage, presumably to be used again. Vivid Angel spun around the stage with all her might, thrashing and twirling to a souped-up class concerto before dousing herself in glitter and pricking her tummy with her costume pins. There was a pause before the applause as the audience took a moment to absorb, and then Dott Cotton, Cabaret Clown Extraordinaire, came on to clean up her glamorous mess.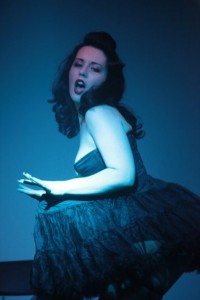 Next was the glamour puss Bettsie Bon Bon of the Folly Mixtures, doing her Showgirl Heaven routine; she was just as wonderful as the last time I saw her at Madame Jojo's but one thing I noted, that I didn't before, I love her cockiness. She's confident, yes of course but there's another level, a kind of "you're going to fucking like this whether you like it or not" that's totally sexy, and she throws that in to give us a good sucker punch of sex now and again. Then it was time for Bijou Noir, a sweet performer, sparkling in red and gold with the works: sequins, feathers, bows, you name it. Demurely she stripped out of her gown with its golden gigantic bow to reveal a powerful body encased in gold beaded fringe, I must find out who made her pasties! Bijou Noir finished us off with a fan farewell as she peeked and popped out shyly from behind her red hot feathers.
Nearing the end of the show, we were treated to our only double act of the evening, my fellow Naked Girls Reading London ladies: Sophia St Villier and Emerald Fontaine. Reacting their naughty fantasy version of Teaserama, they did their best homage to Tempest Storm and Bettie Page. They borrowed the Teaserama story line but continued it on into their filthy fantasy as Tempest and Bettie take their turns getting sexy revenge on each other. Both Sophia St Villier and Emerald Fontaine are lovely performers, quite classic and sweet in their sexiness, so it was nice to see a switch into a sultrier gear. Their pornographic frolic was fun and flirty and I'm so looking forward to seeing it all polished and perfect!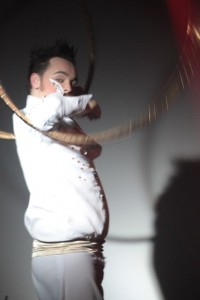 Now before I continue, I have to say, tonight would be my first time seeing Craig the Incredible Hula Boy perform and after a single performance, it's totally accurate for me to say: I am in love with Craig the Incredible Hula Boy. Dancing to an Elvis medley and dressed in Elvis's classic white jump suit, with a cute sorta Elvis in Hawaii bod, Craig took my breath away. So, yes, I was impressed by his amazing hula skills, his bag of tricks seemingly bottomless, but what was most incredible (he sooo deserves that name!) was his flawless, engaging showmanship. This guy is a performance force of nature. I could not take my eyes off him and whether it was his cheeky smiles, the cocky flick of his head or the ease at which he spun one to a dozen hoops at a time, this guy had me from the moment he walked on stage. I could have watched him all night… Did I mention I love him?
It had been an evening of highs and even highers and we were treated to a fabulous finale, the glorious Erochica Bamboo with her Geisha punk routine. Swathed in an iridescent kimono, with long feathers ornately places around the knot at the back of her head, she was a picture of pure class. Watching Erochica made me wonder about Japanese dance traditions as she told a story with her deliberate and weighted movements, smoking from a long traditional pipe. Just to be sure we were still hanging on her every move, she turned it up and lived up to her nickname 'Toyko Tornado' as she rocked out to "Anarchy in the UK." What an honor to see this legend in action! Benjamin Louche wished us a fond farewell, and if tonight was any gauge on the awesomeness that will be the World Burlesque Games of 2012, I will be seeing you there!  Click for more information.

Rubyyy Jones is a performer, writer and muse specializing in love lust and light.
All photos ©Franco Pezzino unless otherwise noted, and used with express permission by Burlesque Beat. Photos may not be used without obtaining explicit permission.