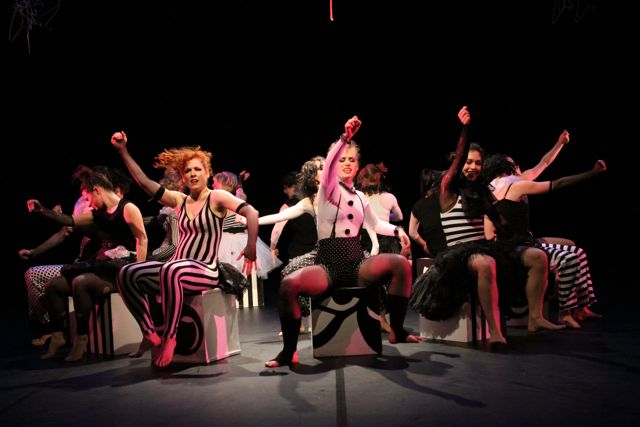 By J.D. Oxblood
November 10, 2011
Galapagos, Dumbo, Brooklyn
The brilliant choreographer and accomplished dancer Jenny Rocha is having the age-old problem that has plagued New York artists for generations: she needs a space.  Los Angelenos pine for culture, Londoners wished they could find some decent food, and New Yorkers wish there were such a thing as a decent performance space.  Rocha Dance Theater's "Mandorla" was seen this past May at La Mama, and Rocha is looking to mount it again—and that means painful research and, of course, moola.  So let's throw a fundraiser!  This one was at Galapagos, and included excerpts from the upcoming "Mandorla," as well as guest turns by Rocha's friendly accomplices from the burlesque world, appearances by her other troupe, the Painted Ladies, a silent auction, and shockingly—the kind of thing you never see at a nightlife event—a fabulous spread of free snacks.  Ah, food.  It is so easy to make us scribbler-derelicts happy.
We got a couple taste-tests, excerpts from "Mandorla," which has been described as a commentary on the "exploited artist."  In black-and-white costumes in stripes and polka dots, accented by oversized buttons and suspenders, the lithe dancers rollick to the kind of circus music that wouldn't be out of place on a Tom Waits record, an almost vaudevillian ensemble of movement that struck me as a portmanteau of Wiemar and ragdoll.  We were shown only quick snippets, but if Rocha's goal is to take something lovingly familiar to the burlesque and circus crowd and show it to the downtown dance crowd, she has a bold and noble mission in mind.  In the world of promotion, she's got one great thing going for her already—a large cast.  Almost everyone I met knew someone in the show—not unusual for a fundraiser, but having a lot of people in the show to begin with always widens your net when it comes time to find a paying audience.
Burlesque favorite Madame Rosebud took the crowd in a slightly different direction, giving me a second glance at the fantastic Bruce Lee's "Game of Death" samba outfit that so impressed me just a week before at Doc Wasbassco's anniversary show. It's always easier to digest a piece on the second viewing—the way the first time you see a movie you're distracted by the plot, the second time you can actually relax and watch the work.  And the work, when it comes to Rosebud, is exemplary.  She manages the slightest twitch to make the entire costume move for her, and the costume comes off in one sickeningly slick move—pow!  However, the venue Galapagos itself proved that, like so many other venues, it just doesn't understand burlesque, utterly failing to provide any front light whatsoever, leaving the gorgeous Rosebud to prance almost-naked downstage… in the dark.  Am I the only one who wants to see her face?  Sigh.  It's so hard to find a decent venue.  Right, Jenny?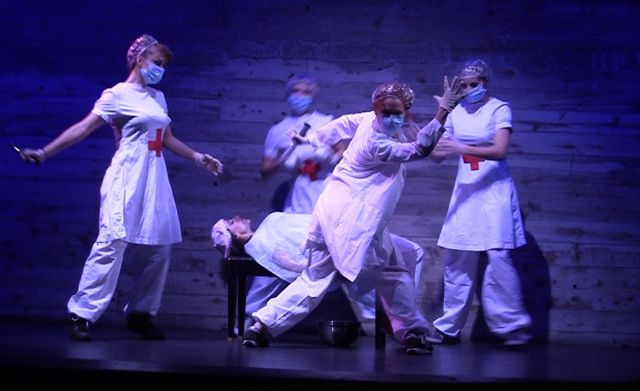 Sending us into the circus, the aerialist Rachel Salzman—new to me—turned in a barnblazing ring act, with classic poses such as the pretzel giving way to single foot-hangs and a one-armed hang with her arm wrapped behind her body.  This kind of thing is always hard to describe, but imagine that she's lying on her side, her arm wrapped behind her back and holding the ring, her body perfectly still, suspended.  Gorgeous and intimidating.  The true skill of Salzman is the frequency of her tricks—she moves from pose to pose very quickly for an aerialist, turning in more tricks-per-minute, a metronome turned up to allegro.
But perhaps the most dazzling act of the evening was the juggler Sean Blue, who performed an absolutely flawless juggling act with rings.  Describing a juggling act is as impossible as it is pointless, but suffice it to say that this kid didn't make mistakes—even landing a ring vertically on his head and balancing it as he turned beneath it, continuing to throw and catch.  The one trick that he did blow—the finale, of course—I strongly suspect he blew on purpose.  It's an old circus trick:  You deliberately miss the most difficult trick, as it allows the audience to SEE just how DIFFICULT it is in the first place.  And it gets them on your side.  You do the trick a second time, and NAIL it—and the crowd goes apeshit.  People are so easily manipulated.
Great nurses act from Jenny's Painted Ladies, which turned on hanging removable breasts—you just had to see it—and featured almost flawless unison dancing, which is just so hard to find these days.  I know I've said this before, but that awful movie "Burlesque" was so LACKING in any kind of unison that it made one pine for the days of "A Chorus Line."  Jenny and her girls prove that it can still be done.  And will someone please tell me who that redhead is?  She's just stunning.
My personal favorite of the evening has to be Jenny Rocha's solo, a breathtaking piece that could pass for burlesque or straight dance, depending on what you saw before or after.  In a red wig, white gloves and a crinoline, her movements were heavily focused on her hands, somewhere between vogueing and pop-locking, laid over heavy, moody music.  A big spin gave way to a slo-mo walk as she ferreted out of her jacket and skirt, finally extending her legs into big jumps and ending pinned to the back wall like an insect on a pin.  I don't consider myself a connoisseur of dance, but I do know that when it really works, it gives you a feeling—any kind of feeling—that escapes description in words.  That's why it had to be expressed in movement.
Kiss kiss,
JDX
Video stills ©Joseph Rivas; Mandorla photo ©Steven Schreiber; all used here with express permission by Burlesque Beat.  Photos may not be used without obtaining explicit permission.