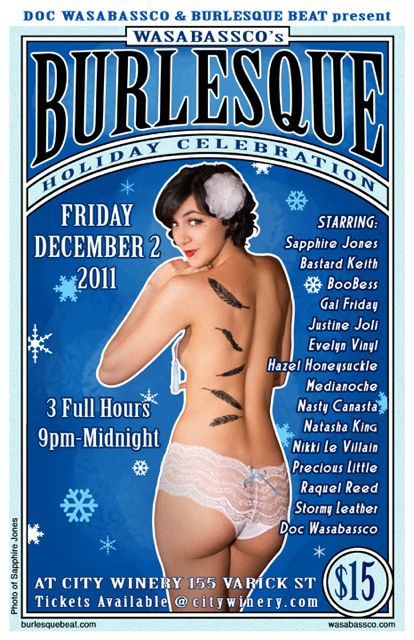 If you happen to follow the monthly performer-of-the-month Q&A over at Wasabassco.com (and I highly suggest that you do), you've probably noticed the standard question, "How did you first come to be associated with Wasabassco?"  I love this question, because it reads as much like an intervention question as an interview question—How did you first come to be associated with heroin?—or, How did you first come to be associated with Daryl, your methamphetamine dealer?  I'm a big believer in casting artistic habits as addictions; it's almost too apt.  Sane people don't sit up all night sewing sequins, any more than they sit up all night banging their fingers against a keyboard.  No, sane people get real jobs, vote Republican, and complain about illegal aliens.  I have no use for sane people.  If you can't cop to being addicted to—at least—caffeine and a good belly laugh, I don't want to hang out with you.
Sometime in 1999, I discovered a new establishment in my neighborhood.  I lived in Williamsburg, and the joint—which still didn't have a liquor license—was called Galapagos.  It wasn't nearly as cool as the islands of the Galapagos, but it was all right.  Fast forward.  Summer of 2008, I stumble into a burlesque show at Galapagos and recognize one of the performers from my past—she once gave me a ride on her bike—and think, Huh, burlesque is still happening?  I get hooked.  (The first taste is always free.)  I start going back.  There's a regular thing on Monday nights, and my friend Will Kenton, the founder of Culturalcapitol.com, introduces himself to the producer of the show, who calls himself Doc Wasabassco.  We're pretty sure it's not his real name.  We're totally sure that the girl taking tickets is crazy hot—a gamine brunette who calls herself Madame Rosebud—and we're also pretty sure that the host singing showtunes is completely insane.  He calls himself Bastard Keith, and I'm hoping it IS his real name.
Fast forward.  Here is Doc Wasabassco, one of the most influential burlesque producers in New York, with a roster of regular performers that reads like the Who's Who of a Dr. Seuss book and LOOKS like the Who's Who of a party at Hef's mansion.  He throws everything he's got into his anniversary parties and leaves his audience walking away with "WTF?" looks on their faces, trying to describe to their friends via text and twitter how Stormy Leather turned herself into a Cylon or how Nasty Canasta "grinded herself" in a metallic, not sexual, manner.  Meanwhile, due to a series of sit-com-ish coincidences, your friendly neighborhood shutterbug, Melody Mudd, becomes the brains and business acumen behind Burlesque Beat, which is suddenly dubbed by none other than Doc Wasabassco, "The Foremost Authority on International Burlesque Entertainment."
Well, here we are kiddos, and if you know what's good for you, here YOU are:
Doc Wasabassco and Burlesque Beat present: Wasabassco's Holiday Celebration.  All the fun you've come to expect from Wasabassco at the gorgeous Manhattan venue City Winery, and a chance to ring in the holiday season with the only thing that ever got anyone excited about Christmas—the unwrapping of presents that you actually want.  PLUS it's the New York burlesque world's Office Holiday Party, which has got to be more fun than your office holiday party, although I can't guarantee that you'll get to make out with Janice from Accounting on the photocopier.  (Gal Friday from Kentucky in the cellar room?  Maybe.)
Lemme sweeten the deal.  Burlesque Beat readers can tap in to this fantabulous fantasticness for the low, low price of $10 by following this link. That's a 33 percent savings, and for ten measly bones you'll get Wasabassco's December Performer Of The Month, Sapphire Jones, with Bastard Keith, BooBess, Evelyn Vinyl, Gal Friday, Hazel Honeysuckle, Medianoche, Nasty Canasta, Natasha King, Nikki Le Villain, Precious Little, Stormy Leather, and Amanda Whip, with SPECIAL GUESTS Justine Joli and Raquel Reed.
One more sweet plum:  I will personally buy TWO cocktails for the first person who can correctly answer all the questions to the J.D. Oxblood Inaugural Useless Trivia Contest.  That's right—TWO FREE COCKTAILS that are BETTER THAN FREE, being bought for you by a drunk who would rather drink them himself.  Bonus points to anyone who phrases his/her answers in the form of an insult:
J.D. Oxblood Inaugural Useless Trivia Contest, Wasabassco Edition*
1. Who was the burlesque performer that J.D. recognized from his muggle life at Galapagos back in 2008?
2. Chicago's Michelle L'Amour appeared at Wasabassco's 7th Anniversary show.  J.D. recently suggested a new tag line—sure to NEVER catch on—for her.  What was it?
3. Fill in the blanks:  According to J.D., "That Doc Wasabassco knows how to buy ________ _____."
4. Who is the "classiest broad" Doc Wasabassco has ever known?
5. How much is admission to the smoking ruins?
Send your answers in to info@burlesquebeat.com.
See you at the show!
JDX
Doc Wasabassco & Burlesque Beat Present: Wasabassco's Burlesque Holiday Celebration
Friday, December 2, 2011, 9pm – midnight
City Winery at 155 Varick Street, NY, NY
Check out wasabassco.com

*All answers can be found here on BurlesqueBeat.com, which is totally searchable.