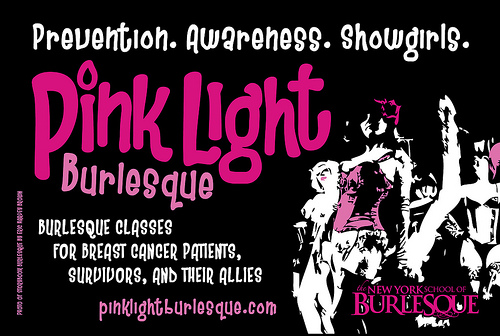 There is a special place in my heart for Jo Weldon.  And it's not just because she's fantastically gorgeous, or because she wrote the book on burlesque (literally), or because she really does appear to be at least six inches taller than she actually is when she gets on stage.  No, it's because Jo "Boobs" Weldon is a natural nurturer.  From her mouth, even a criticism sounds like encouragement, and she was one of the first people to encourage me when I first started scribbling about burlesque.  As the headmistress of the New York School of Burlesque, her nurturing instinct has sent oodles of new burlesque performers out into the world, to share the joy of nudity with the masses.  I get all Christmas-y inside just thinking about her.
If all Jo has done wasn't quite enough, her latest undertaking has all the veuve of a Michelle Obama project:  Pink Light burlesque.  This free program offers free classes for breast cancer patients and survivors.  I can't think of anything more righteous.  Come on, is there anything more insidious than breast cancer?  Who doesn't like boobies?  Straight women love boobies, gay MEN love boobies, even certified ass men love boobies.  As a home-grown infant life support system that doubles as an erogenous zone, boobies may be the greatest attribute of mammals EVER.  The existence of breast cancer is proof positive that either God doesn't exist, or that he's a cruel, heartless bastard.
In Jo's own words:  "Burlesque celebrates the human drive to amuse, provoke, charm, and seduce. The Pink Light Burlesque project invites survivors to take classes to experience the joyous and body-loving fun so many burlesque students embrace."  This may be the greatest thing to happen to burlesque since the invention of the pasties.  Well, don't take my word for it—Pink Light's first-ever student showcase is coming up, Sunday, December 4, 8-10:30 pm at The Wild Project, 195 East 3rd Street.  I can promise firsthand that Jo's student showcases are always a blast—there's just something so endearing about seeing people perform in front of an audience for the first time—and I have no doubt that this will truly be something special.  A lot of people talk about "empowerment," but this is a moment where the talk walks the walk.  And not for nothing, this evening is dedicated to our friend Diane Naegel, who lost her battle with breast cancer.  Remember that your attendance will help—the proceeds of the show will benefit You Can Thrive, Sloan Kettering, and the operation of Pink Light Burlesque.
If there were ever a better excuse for getting out of the house, having a raucous good time and watching a bunch of newbies take their clothes off, I haven't heard about it.  Stop surfing the internet and buy your tickets here.
Big pink kisses,
JDX