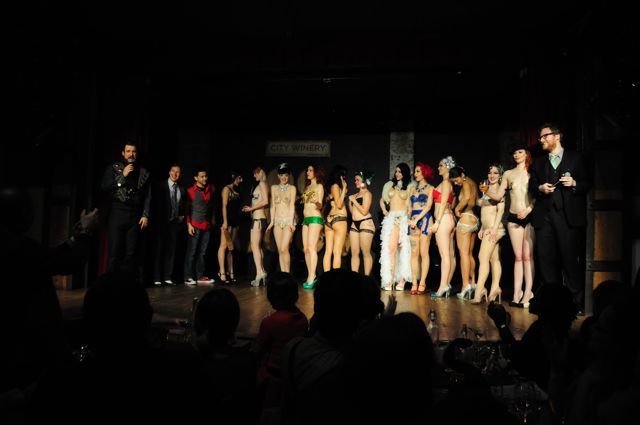 by J.D. Oxblood
December 2, 2011
City Winery, NYC
The jokes about holiday parties are so good they're canned, like sardines or devilled ham. Asses on photocopiers, drunkenly hazing the boss, doing drugs with your subordinates, making out with Susan or Bill from accounting—they're always from accounting, get it, coz accountants are boring (but seriously, for those who haven't tried, they're boring in bed, too), and sadly, most office parties just aren't. That. Good. So who wouldn't want to be at an office party where you're GUARANTEED to see nekkid ladies?
Wasabassco's Holiday Party was a packed house, and a house packed wonderfully with NOT the usual suspects—proof: NO ONE hit me up for free drinks—and gave the evening a fantastic front-of-house, back-of-house, dual party action vibe.  And before I hit the highlights, I gotta call out the ballbusting blatherlusting badass Doc Wasabassco, who has proven that if didn't quite take over the world in 2011, 2012 better watch out.  There are a lot of yardsticks by which to measure people's successes, but I personally have to salute Wasabassco as the producer with the booster for 2011 for the simplest and most pragmatic reason of them all:  Dude gives more people work more often than any other venue-hacker in the great city of New York.  So for all of you who watched his talented performers disrobe for your pleasure, drinks up.  And more importantly, to any of y'all who felt the sweet wrinkly sensation of cash in your g-string this year due to Wasabassco's producing compulsion,  get your asses over here. We're gonna make some copies.
The highlights:
Doc opened up by riffing on the first winter holiday celebrated by pagans before the Christians invaded, clever banter that softened up the crowd for his admission of intention to flirt with 78% of them.  And… Gal fucking Friday.  I've been talking about how hot she is for so long now that almost all meaning has drained out of it.  Almost.  Gal Friday is so hot, when the Iranians decided to step up their nuclear program, instead of buying plutonium, they just sent agents to break into Gal's apartment and steal hairs from her razor.  Gal busted out this holiday party proper by sashaying to a slow, quiet version of "Dance of the Sugar Plum Fairy," ditching a stunning white and gold boa, and facing upstage to bow and unzip her glamorous green dress.  Cue glitter glove—if I ever get tired of the glitter glove, smack me—and dig those black stockings with red tops.  Now, a lot of ladies can sit in a chair to take off their garters and make it look sexy—and it may take even more skill to make it NOT sexy–but only Gal kicks that garter belt up into the air and catches it.  And always finishes with a big, big smile.  >crush<
Doc's method of rotating hosts means that you get either sneak previews or quick replays of your favorite performers, and while I'm still new to Boo Bess, she's simply scrumptious in a backless blue dress.  "Boo Bess in a Backless Blue Dress" sounds like a bestseller from our boy Seuss.
The ever-bendy Natasha King was all ours in a fur coat and antlers, a reindeer who literally bends over backwards to de-fur.  Dig the foxtail boa, the sexy nude fishnets, and, of course, the head placed firmly between feet.  Starwipe to the sensational Justine Joli–a longwaisted redhead that simply scintillates with sexy—doing a classic "9 ½ Weeks" chair routine to Nina Simone's "Feeling Good," getting quickly out of everything and tossing her speckled panties… to me.  Ok, well, I was sitting DSC, so it may not have been on purpose.  But I want to believe it was.
Medianoche made every woman in the room violently jealous with her white see-through night gown, a stunner that made peekaboo thigh reveals a snap.  I like the gesture of biting her finger when she's not wearing gloves. This act moved into a big finish with a snowflake umbrella and the crowd was loving her.
Boo Bess opened up the second act as a sexy Mrs. Claus, and if I thought SHE might be coming by my place on the Christmas night, I might have tried to be a better boy this year. Simply gorgeous, and we must see more of her.
We also got a viewing of Nasty's light-up skirt cum candy cane act, with white wig and punctuated, exaggerated twitchy movements.  She spruced it up for the occasion with gold snowflake pasties, and a heart-shaped [censored] patch.  My notes read: "SICK."  Also, apparently in the Wasabassco clan, the term "idiot" has been reclaimed and is now a term of endearment.
The big crowd-pleaser of the night was Precious Little, who's been missing from the NYC burlesque stage for some time and is making a comeback like flyweight with something to prove.  I often complain about the narrow musical range in burlesque, and the two most overlooked categories (this is really the object of a much larger piece) are hip hop and metal. So I was already pumped when I heard the opening note of the tasteful Angus Young guitar cadenza that leads inevitably into the metal classic—and wedding reception favorite—"You Shook Me All Night Long."  Yep, Precious, in a black sparkle dress, gloves and fishnets is executing biiiiig hip-bumps, literally rips her dress off and clutches her clit, uses the dress like a towel and gives us a juicy ass shake, arms up for the belly shake, trying to rock right out of her teeny black bra. The gloves come off slow as we grind into the first chorus, and the second glove becomes her air guitar prop, playing that Angus, and then—natch—ass floss. Wouldn't you? As the climax builds, she grabs her tits with both hands and gives us a big tassel twirl with a grimace.  Friggin' awesome.
The third act opened with Bastard Keith's rendition of the Irving Berlin classic "I've Got My Love to Keep Me Warm"—it's true, all the best Christmas songs were written by Jews.  To wit:  "The Christmas Song" was written by Mel Tourme and Robert Wells (born Levinson). In the middle of the summer—anyhoo, BK nails it, with Precious Little and Medianoche as arm candy.
The always-stunning Hazel Honeysuckle hugged the upstage wall in a ravenous black neglilgee, rocking nude fishnets with a gold sparkle…. I had a friend at my table who hasn't seen much burlesque, and I took great joy from the absolutely maniacal grin on his face during Hazel's act.  I thought his face might just peel in half.
Wasabassco performer of the month Sapphire Jones closed out the evening with a new act, which I would title "The Somnambulist," but we'll have to ask her what she's calling it.  To the Aerosmith hold-lighter-aloft standard "Dream On," she works a cape in jammies and a sleep mask, leading to crazy spins and a great dead face.  Seriously, that's some steady deadpan from the girl we're used to seeing winking.
All right, I gotta go to the next holiday party.  This time of year is a killer.  Anyone down for a month-long abstention from booze and ditch-the-xmas-15 workout kick come January?
Kissmas kissmas,
JDX
Wasabassco introduces his brand new show tonight, December 15th, at 9pm, at White Noise Rock & Roll Lounge: Wasabassco's Indiscretion.  Details here.
All photos ©2011 Melody Mudd. Please respect copyrights and contact melodymudd@gmail.com for permissions. Performers may use shots for promotional purposes, but please credit properly with photographer's full name and a link to this piece in all instances. Performers who would like hi-rez images, get in touch.