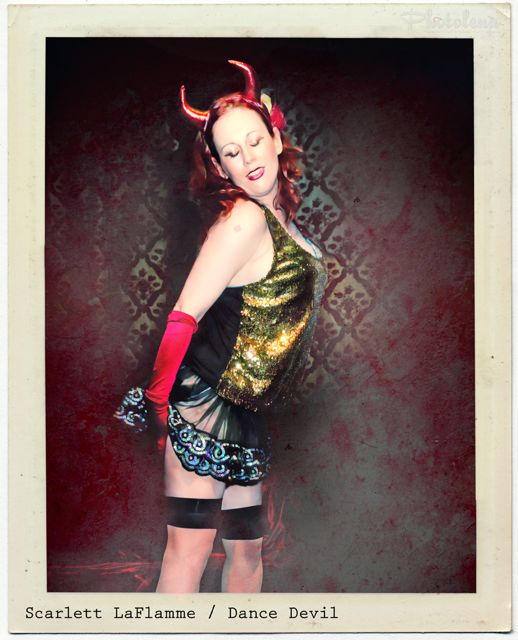 by Photolena
Sunday, December 4, 2011
Augusta House, Toronto
When David Shepherd used the Commedia Dell'Arte as his inspiration to create modern theatrical improvisation in the 50s, little did he know how far his influence would reach. Essentially a set of games designed to help with creativity and spontaneity, improv has been used most popularly in comedy skit format. But there's a change in the air – through the hard work and dedication of Keela Watts and Obskyura, the ladies behind Toots Suite! Productions, the unscripted short skit has been applied to the usually well-rehearsed world of burlesque…with some interesting results.
The lineup for Impromptease 3 was a Who's Who of the Toronto burlesque scene: Belle Jumelles, Mickey D Liscious of Boylesque TO, Kenickie Street, Lucky Minx, Miss Mitzy Cream, and other performers all ready to take the plunge into unknown territory. While the evening's entertainment – Les Petits Nouveaux – entertained us with some wonderful gypsy jazz in the background, we were given our instructions:
1.Take a ballot from the holder on the table
2. Write down a costume theme from the generous list in the catalog
3. Write down your top song choice to go with the theme – also from the catalog
4. Write down your second song choice (just in case the first one's already been played)
With costume options such as Alienized, Kosmic Kitten, Carnal Carnival, and Bunny With a Gun, it was hard to choose just one theme and I admit that I filled out several ballots. Picking songs was interesting – should I pick one that goes with the costume, or should I pick something that is completely unexpected? With a list that included everything from S&M by Rihanna, to Burlesque Queen by the Dustaphonics, to Baby Got Back by Richard Cheese you could really have some fun.
So what did our lyrical host, Great Canadian Wolfman, pick out of the hat for our performers? Just some of the amazing performances of the evening….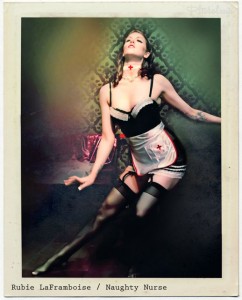 Fiery redhead Scarlet LaFlamme, founding member of local troupe The Firecrackers, improvised a sinfully good tease to the smooth stylings of Nina Simone paired with a "Dance Devil" theme. With just a few props – blinged-out devil horns, skull wand, and red cape – she did a great job of throwing together a red hot striptease that was a perfect introduction for the acts to come.
Local favourite Ab Horrence was challenged by the audience with Maroon 5's Moves Like Jagger paired with a "Just Classic" theme that included a sparkle hat and red fan. As he made his way across the stage in true Jagger-esque style, not only did he mesmerize us with his stylin' reveal, he then morphed into a (barely) kilt-clad piece of man meat. I have no idea where he was hiding that kilt as one minute he was in his little black unmentionables, and the next he was all decked out in plaid.
Tall and lean, Rubie LaFramboise of Glamour Puss burlesque troupe is a vision of grace and elegance with legs that go on for miles and miles – especially when swathed in sheer black stockings. How perfect then that her ballot pick was the "Naughty Nurse" theme paired with 80s favourite "Sweet Dreams Are Made Of This." She may have come out onto the stage looking oh-so-serious in her white lab coat, checking audience members' rapidly racing heartbeats with her stethoscope, but we knew what was lurking under that serious exterior. We weren't disappointed when Nice Nurse was discarded and the much kinkier Naughty Nurse was finally let out. Black stockings, sleek black mini, little nurse apron – get me a doctor, I feel a fever coming on!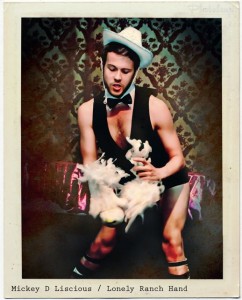 Making his debut – and in burlesque improv no less – Willy Wonder just happened to have picked one of my ballots. I'm an 80s child through and through, so Willy was challenged to work with Duran Duran's "Notorious" and the theme of "Bunny With A Gun." Oh the fun of improv – you never know if your theme will have you exploring drag or turning you in a murderous hare. The result was a sexy Playboy bunny meets suave James Bond striptease. With his boyish blue Superman underwear, Willy was still all man – just one who liked to occasionally bunny hop across the stage.
Whenever I have the chance, I check out Trixi Jones' performances. One of the sexiest burlesque dancers in Toronto, she's the only one I know that can pull off a stellar performance using a rosary, cross, communion host, nun's outfit, and a copy of Playboy as props. This lady can make any scenario into a guilty pleasure… and she did just that with her mafia-inspired theme "Knuckles." With "Hungry Like the Wolf" playing in the background – it was a big night for Duran Duran* – she took a simple fedora and toy pistol and morphed herself into a suave and dapper 20s era gangster. I doubt very much that Luciano or Capone ever undressed slowly, oh so slowly, one layer at a time, using sensual stocking pulls to reveal white creamy skin for an appreciative audience. Trixi was the cat's pyjamas.
What do you get when you throw 2 performers, 2 themes, and 2 songs into the mix? You get a great hotel scenario with Mickey D Liscious of Boylesque TO as "Tip The Bellboy" and Belle Jumelles as the "Feisty Widow." Accompanied by "Ring My Bell," the scene unfolded with our shy bellboy taking the widow's luggage up to her room. Once there, it seemed that his services were still needed to help the poor widow take off her heavy coat…and dress. But wait, what about a tip for all this great service? Oddly enough our bellboy accepts cash, credit cards, and spankings. Luckily for him, the widow just happened to have a riding crop at the ready. Nothing left to do but take your clothes off after that! I have to say I was just a teensy bit jealous of the lucky girl who was pulled out of the audience and had the chance to partake in the spanking of the bellboy.
The beautiful Red Herring created quite a buzz with her "Fairy Dust" themed scene. Set to Justin Timberlake's Sexyback, she performed her routine wearing delicate blue fairy wings that sparkled under the stage lights. Starting off with a gorgeous blue corset, matching fringe g-string accentuated with white bows, and opera gloves, she flittered like a butterfly across the stage as she slowly and sensually peeled layer after layer. The wings only came off at the end to be used for the final reveal. The whole scene came together beautifully when she blew fairy dust into the audience as she was leaving the stage. This lady knows how to think on her feet and improv seems to be a natural extension for her – she seemed comfortable and confident with her instant routine.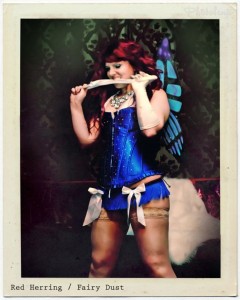 I love the classic beauty of the 40s – Hedy Lamarr, Ginger Rogers, Ann Miller, Dorothy Lamour, Lucille Ball in her early years – and Lucky Minx is a burlesque performer who also has that classic beauty. She also has curves, lots of them, and in all the right places. I was so happy to see her name on the playbill for this show. She was given the most unique pairing of the evening – "Kinky Kimono" set to Roxy Music's "Love Is the Drug." The audience was enthralled as she slowly made her way onto the stage draped in a blood red kimono, her face hidden behind a kabuki mask. Her performance was slow and sensual, the song matching beautifully to the Geisha style. She encouraged the audience during her glove peel and the whistles and hoots escalated right up until the final reveal from behind her pink feather fan.
A big shoutout to all the performers mentioned above, as well as Kenickie Street's kinky "Fetishistic" performance to David Guetta's Sexy Bitch, Fiery Skye's futuristic "Alienized" strip to Rihanna's "S&M," gorgeous El Toro's purrfect performance as a "Kitten With a Whip" set to Deee-Lite's "Groove Is In The Heart," and Miss Mitzy Cream's hot tease to David Bowie's "Fame." Let's not forget our host Great Canadian Wolfman, magician Alex Kazam, and band Les Petites Nouveaux. Congratulations to organizers Keela Watts and Obskyura for coming up with this amazing idea and celebrating it's 1 year anniversary.
*[Not surprising, considering that Duran Duran took their name from the film that gave us one of the greatest burlesque acts ever conceived: the anti-gravity strip, in Barbarella. Could someone with Jane Fonda stems and a wire rig please do a tribute? —ED.]
Olena Sullivan (Photolena) is a Toronto-based model and performance photographer who specializes in onstage burlesque photography. All photos ©Olena Sullivan-Photolena and used here with permission by Burlesque Beat. Performers may use shots for promotional purposes, but please credit properly with photographer's full name and a link to this piece.