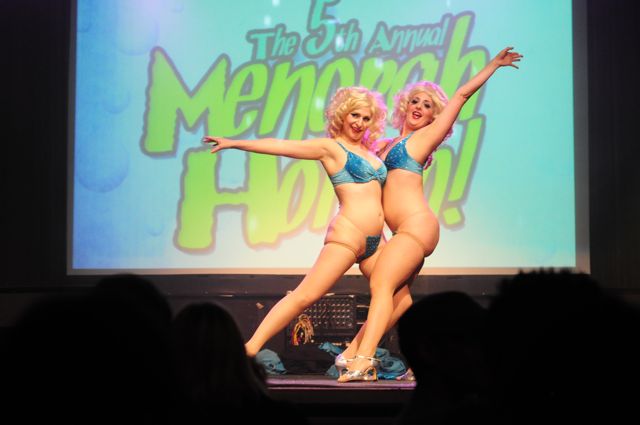 By J.D. Oxblood
December 17, 2011
Highline Ballroom, Chelsea, New York
Burlesquers love a theme.  We all know where they're going—they're taking their clothes off—which means that it must be about the journey.  And professional burlesquers are always looking for a story, theme or genre to wrap up their unwrapping and build an identity, an act, or an entire show.  Few performers have expressed such dedication to a bit as the Schlep Sisters, who as individuals—the darling Darlinda Just Darlinda and the bawdy Minnie Tonka—explore their own pet preoccupations, but who, as a duo, cling tightly to the exploration (and sexploitation) of Judaica.  Which means that a couple times a year, they're handed fabulous, ready-made show themes.  The sacrilicious Jews-versus-Christians Passover-vs-Easter "Burning Bush" show from a few years back is still one of my favorite blackout memories.  And each year, for 5 screaming years now, these shayna maidels have given us another reason to celebrate Hanukkah.
Bougie as it may be, I've come to love the Highline Ballroom.  You get a seat, you get to sit in it, and you get to order delicious—if pricey—food.  The steak is excellent, and they also have tasty sliders if you're into that whole mini-burger thing (Melody finds them adorable).  We were happy to chow down during the gogo set by Fancy Feast and Lucida Sans, and chitchat with the delightful Booboo Darling, who—great news—has relocated to New York City.
The evening kicked off with alt-girl-group Shiragirl, who played music.  Not my thing.  I think they were going for Le Tigre (which would be awesome), but had listened to too much Avril Levigne.
Anyway, on with the nudity, as hosted by Seth Herzog, who ripped off his track pants to reveal a silver pantsuit, and said, "I can barely fit in this outfit anymore."  Nice touch that he was rocking the actual yarmulke from his actual bar mitzvah.  The Schlep Sisters opened up by lighting the menorah with the help of their Shamash, Little Brooklyn, who stuck flames onto the living menorah formed by the Schleps, and were followed by Sarah Screams, an opera singer who strips—and my, oh my, what a delectable diva.  And Cherry Pitz turned in an Andy Kaufman tribute, which—as explained by the Zog—was a joke confusing the theme—Hannukah and the eating of latkes—with the Kaufman "Taxi" character, Latka.  Reconfigured, this act could have legs—I'm imagining Cherry Pitz teaming up with magician Nelson Lugo; Lugo performs psychic surgery on Kaufman's lung cancer, giving us ample opps for nudity, bloodletting, and esoteric allusion-stacking.  Go.
A standout act of the night was Minnie Tonka's classic number in a pale blue dress and fluffy white boa, all smiles and finger snapping, evoking the 40s.  Minnie dropped it all, gave us a nice tease with her boa, and a big reveal and an even bigger smile.  Little Brooklyn gave us the 70s with a striptease laced in voiceover, dropping gems, like flapping her arm fat while the speakers intone, "My grandma could cool a room just by waving."
Mel Frye took the stage, bombing like a red white and blue-flavored frozen pop on the Fourth of July, which led us into a projected video of meta-fiction.  In the movie, sleazy manager Mel Frye tries to convince the Schlep Sisters to bail on their own show to sit in with the Rockettes up at Radio City.  The film actually featured producer Jen Gapay—looking sultry and hot as all get out in a (gulp) open jacket—and shifted back into real life as Darlinda ran out of the theatre to go uptown.  She was back after intermission, having realized that Christmas is just not her holiday, and took the stage wearing a stack of gift-wrapped boxes and opened them up for us.
But the knock-em-dead act of the evening was a surprise bit of gelt from Bastard Keith, who took his habitual schtick to a ground-breaking level.  The set up: BK auditions for a Hannukah play, and is directed by a bodiless voice offstage.  A rather Chelsea-sounding bodiless voice, if you dig.  Keith reads from King Lear—ably, Lear on crystal meth—and the Vox insists he take off his jacket.  Keith sings from Les Mis, "One Day More"—fucking nailing it—and is stopped again and asked to take off his shirt.  As previously stated, you know where this is going, but the catch is that we didn't.  Keith has been slayin' them for years, but usually keeps his clothes on.  The genius of this act is incorporating his other loves—singing, dramatics—with actual according-to-Hoyle stripping.  Once the voice gets Keith going, he gets him to sing "Addicted to Love," rocking out and driving the whole house into a frenzy.  And then… taunting him with "Do you wanna be a star or do you wanna do burlesque all your life?" and calling him a "hairy goddamn man-burrito," he gets Keith out of his pants (he's wearing sparkly shorts, natch) and has him rub baby oil all over his chest.
Now that's how to celebrate… well, anything.
Kiss kiss,
JDX
All photos ©2011 Melody Mudd. Please respect copyrights and contact melodymudd@gmail.com for permissions. Performers may use shots for promotional purposes, but please credit properly with photographer's full name and a link to this piece in all instances. Performers who would like hi-rez images, get in touch.