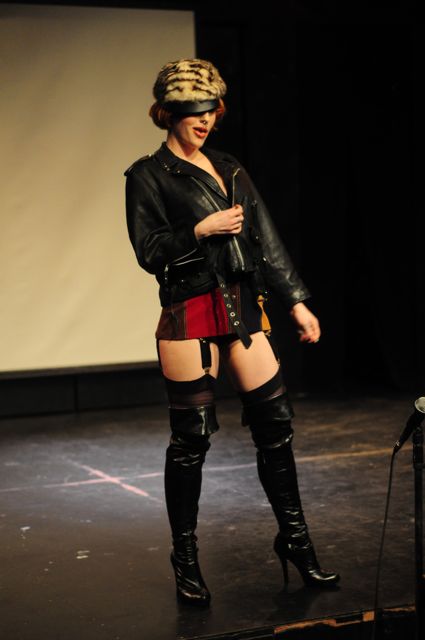 by J.D. Oxblood
December 27, 2011
The Kraine Theatre, East Village, New York
I don't know what you call it, but I call it "Dead Week"—that slow week between Christmas and New Year, where the Christian-centric masses generally just don't do much of anything.  For years I worked in an industry in which there was simply no work this week, and then I worked for another industry in which most people just have the week off—many of them, PAID.  For me, it's a chance to celebrate that the madness of the Manhattan shopping season is over, and to stay the hell away from Manhattan.  For many of you—obs—it's a chance to play like an alcoholic.  You know who you are.
Horse Trade has, for the past 3 years, given you a great way to fall off the wagon: The Burlesque Blitz, 5 killer nights of burlesque goodness at the Kraine, where you can bring in your beers and whiskey from KGB bar upstairs and get sloshed while you lookit some tits.  Or cocks.  And I think it's even legal.  This year, the Blitz programmed Hotsy Totsy Burlesque, BARE, Shocks & C*cks and Storybook Burlesque—the Bible Show, which I'm sure was sacrilicious.  While my last burlesque of 2011 (and first of 2012) involved Michelle L'Amour and a private club in Chicago… that's another story.  My penultimate burlesque experience of a seam-splitting year was the holiday version of Bastardpiece Theatre.
Not to be confused with Bastardpiecetheater.com, a gluttonness tit site (coincidence?) that is sure to offend most.  (Though I can't help but be amused—if simultaneously choking—on sexist anti-profundities like "Be nice to all of the fatties when you're young because they will grow up to be hot, and they will remember that shit.")
The premise is simple: Bastard Keith puts together a few montages of ridiculous exploitation flix—think youtube surfing with a master, or a slightly more middlebrow Tosh.0—and you watch them while Keith, Madame Rosebud, and a guest star make wisecracks.
I usually rave about the work of Bastard Keith—see my recent (or upcoming, depending on how you experience time) piece on his sick-ass, bitch-slappin' "Audition" act at the Menorah Horah—but I feel I would be doing Keith a great disservice if I were to simply kiss his ass on this one.  Of course, the kid is always entertaining, and the moments where he lost himself in (feigned? Actual?) drunkenness on stage were immensely diverting, and the acts themselves—see below—were particularly strong, speaking volumes about Keith's development as a producer, collector, and curator of ninja-trained performers and wet stone-honed acts.  But the Mystery Science Theater 3000 thing is going to need a little bit more attention in execution if it's going to be the smash cult hit that Keith is clearly trying to cultivate.  And it could be done.
Two key items need to be addressed:
1.  The sound.  This kind of set up absolutely requires a smart sound set up and a smarter sound guy who can ride the levels.  Naturally, the montage sequences have volume levels that jump up and down, and someone has to be on a mixer equalizing so that we can hear the movie and also hear the commentary.  I spent much of this evening with my fingers in my ears, being blasted by the speaker above my head blaring the video, and not hearing much of the commentary, lost as it was under the general pandemonium.
2.  The commentary.  Clearly, this is meant to be off-the-cuff, improvised shenanegins.  But Keith clearly has the advantage, having memorized the video, which is fine, but it takes skill, luck, or rehearsal to get several performers riffing without stepping on each others' lines.  Not all the jokes need to be killers—in fact, the groaners, in this environment, are welcome—but we need to hear you.
That's my two bucks.  The extra nickel—which I'm chalking up to being a holiday show, and pray to Weng Weng isn't the overriding aesthetic of BPT—is that if you're going to openly state to the audience that the show isn't for them, but you're really just having a party with your friends that they get to watch, you might reconsider charging them $25 to get in or kick them some of those beers that you're drinking.
Grinchiness aside, Keith is going for something here, and it will be interesting to see how it plays out and how it nurtures its audience, which at the moment has a lot of the long trenchcoat contingent.
Personally, I wish I had a long trenchcoat with me when I saw the gogo dancer du jour, Stella Chuu.  I could write volumes about her ass alone, but I'd prefer to lay my tiny head on her ass whilst reading volumes writ by someone else.  Truly, thine ass be poetry.  And dig this advanced gogo technique—her bosom full of bills, she shakes until all the money falls to the floor… so she can bend over and pick it up again.  I knew it, the first time I saw this girl at the Parkside, we'd be seeing more of her.  And here's looking forward to 2012.
Bastard Keith kicked it off with "I've Got My Love to Keep Me Warm," and the first burlesque act of the night was Madame Rosebud's "Game of Death" tribute, tres fitting for an exploitation evening, which I've lauded over here and here.
Even more fun to see that yellow jumpsuit twist in a small space, and she livened up the ending by pushing her panties halfway down and teasing us.
Guest Shittalker Albert Cadabra was introduced as "Santa," and it was off to the races with a trailer reel of terrible Xmas movies you're glad you never saw—mostly about Santa Claus being a killer, and I likes me some red-suited slasher fu.
Minnie Tonka extended her arc in tribute to 80s lite metal, in this case channeling Dee Snider, the lead singer from Twisted Sister, with her corkscrew blonde hair and red face makeup—although, if my notes are correct, she was rockin' to "Looks That Kill," which is Motley Crue.  Anyhoo—she was looking downright scary groupie hot in green tiger skin hot pants, leather jacket, studded belt and boots.  To a slow strut, she unzipped the jacket to reveal a vinyl and partially see-thru leotard—yum—and then got all exploitation-y by pulling a severed head out of a box.  Yep, it's that kind of show.  After licking the head's face (and not enjoying it fully) she brushed it's teeth, withdrew a bloody knife and used it to skillfully push down the zipper of her leotard, leaving her wearing absolutely [REDACTED], pushed that severed head up to her fur cat to get herself a little… head.  Knowing Tonka, that joke may have been the impetus for the whole act.
Bastard Keith: "That's what Chasidic women wear under their dresses."  And yes, many of us—forced to ride the L train for decades—nurture a kink for the Chasids; every now and then you see one who's young, strangely pretty, and of course wearing the cheapest fabric and the ugliest shoes you ever saw.  It's not just you, Keith.
Moving on.  "The Star Wars Christmas Special."  Oh, god.  Bea Arthur in the cantina.  And Carrie Fisher, singing!  And you'd think the daughter of Debbie Reynolds and Eddie Fisher could carry a fucking tune.  I always hated the kids' use of the phrase "epic fail" until I was reminded of this crap.
Luckily, BB Heart, in a blue prison shift, is pushed onstage by a military-clad Stella Chuu, and Chuu proceeds to flog BB against the wall of the stage.  Crazy hot.  The trenchcoats around me suddenly had a life of their own.  BB—in a red wig—unbuttons her shift, ripping down to a T-shirt and panties, grabs a gun and crawls creeping in to the audience, climbing over people in general hilarity, before jumping back on stage and letting loose salvos of machine gun fire as Stella, offstage, throws body parts.  Genuine schlock and awe, and the crowd was crying.
More clips—did you know David Bowie did a holiday duet with Bing Fucking Crosby?  I mean, the generation gap alone… kids, if you've never heard of either of those people, just imagine Justin Beiber doing a duet with Elvis.  Oh wait, he's dead… um, with Frank Sinatra.  Crap, he's dead too.  Well, there used to be this time in the world when only some people were famous, before God created YouTube, and there was an old guard and a new guard, and the old guard didn't know who the new kids were and the new kids… fuckit, it doesn't matter.  Turns out the duet was really, really bad.  Two rights often make a wrong.
Closing it out—with style—is Peekaboo Pointe, who strides in from backstage all bloody, wearing daisy dukes and a bikini top with one tit hanging out, looking exhausted and carrying a knife and a bucket with Travolta-paint-can-pomp.  She sets down the bucket and sticks a leg in, doing an agonizingly slow bend and pulling a sponge up out of the water to rinse off her bloody shame, her mouth hanging open, her hips a slow-motion minimalist writhe.  Yes, the blood is the strip tease, and she cleans it all off.  And if that's not exploitative, I don't know what is.
Bastard Keith's fearless experiment in bijou, badinage and burlesque continues January 12th at Under St. Marks.
JDX
All photos ©2011 Melody Mudd. Please respect copyrights and contact melodymudd@gmail.com for permissions. Performers may use shots for promotional purposes, but please credit properly with photographer's full name and a link to this piece in all instances. Performers who would like hi-rez images, get in touch.