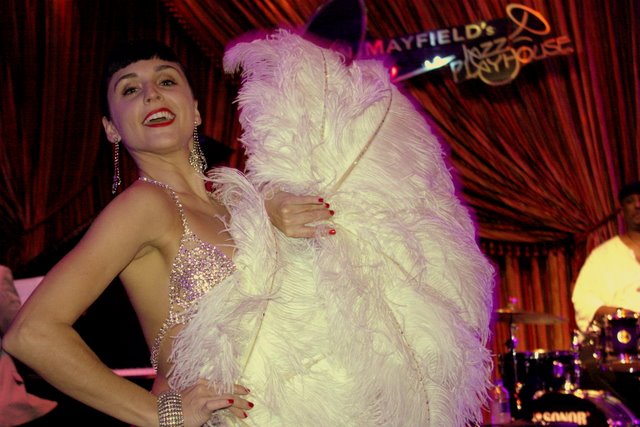 By Sean K. Young
Friday, December 30, 2011
Irvin Mayfield's Jazz Playhouse at the Royal Sonesta
On the sixth day of Christmas a true friend gave to me.… When my friend and photographer extraordinaire, Tonya Armbruster, asked if I would be interested in writing an article to accompany her photos for burlesquebeat.com, I jumped at the chance. Not just because I got to see nekkid ladies (though that was certainly a bonus) but also because I have been threatening to start writing again after a 10 year hiatus… and what would be more fun to write about than burlesque?
This was to be my first official burlesque show, but unless you have been under a rock for the past five years, you have certainly seen a performance somewhere. I have watched the New Orleans scene from the sidelines for years: go-go dancers at the long-gone Matador, the tail end of a show at the Shim Sham Club—I have even sat at the front bar of One-Eyed Jacks with a show going on in the back—but the stars had not aligned for me to actually sit and enjoy a show from start to finish.
For those of you not familiar with the New Orleans burlesque world, Trixie Minx is the producer and mastermind behind Fleur De Tease, the resident troupe at One- Eyed Jacks. Last year, Minx brought a second offering to New Orleans…The Burlesque Ballroom at Irvin Mayfield's Jazz Playhouse the Royal Sonesta Hotel.

The club is perfect for an intimate jazzy vibe, more speakeasy than typical Bourbon Street Venue. By combining classic jazz with modern burlesque, The Burlesque Ballroom is a throwback to a time when burlesque was synonymous with Bourbon Street. A time when folks got dressed up to catch a show in the French Quarter. When striptease was more than the vacant-eyed stare of today's "dancers" at most gentleman's clubs.
This was the last show of 2011 and the last holiday show for the performers, and as such the packed house was filled with plenty of good cheer. Our Mistress of Ceremonies was the incomparable Debbie Davis of the Pfister Sisters. As the band's front man, her voice and style was the perfect marriage for the Christmas-themed show.
In this club, the stage barely fits the band much less the dancers, so the whole space was used as their stage. There is a small dance floor in front of the stage, but the girls are just as likely to walk through the audience, removing any semblance of fourth wall.
The evening started off with Debbie's rendition of "Santa Baby" and a performance by Moxie Sazerac. Moxie could not have been cuter in her flannel reindeer pajamas and Santa hat. When she got down to business, slowly working her way though her lingerie until she was down to panties and pasties—she left the hat on. Man, can this girl shimmy.
Next up was Trixie, in a funny "Is That You Santa" number. I may have been a Burlesque newb, but even I could immediately tell that this was not Trixie's first rodeo. I am not sure how she does it, but Trixie seems to be both classy and filthy at the same time. When she lost the white beard (thank god) and opened her red coat, I swear I almost fainted. Trixie's second performance was a beautiful fan dance, and I really got it—got what Trixie was trying to accomplish with The Ballroom. I felt as if I were transported back in time—as if I were watching Sally Rand. Trixie's third number of the evening brought back the comedic elements that she is known for as well as incorporating audience participation. She came out in a fantastic red dress and fur stole and after teasing us for some time (playing her stocking like a stand up bass) she enlisted a gentleman to help her with her zipper. I couldn't help it; I was jealous.
Another highlight of the evening was Roxie La Rouge. Her first number started off with her gift-wrapped in white feathers, which left me wondering if I needed to be naughty or nice to get a gift like that. Like Trixie's fan dance, Roxie's performance seemed very old school burlesque to me. Classic sexy. Roxie's second act was even more stunning.  Attired in an elegant black dress, perfect for the New Year's Eve weekend that it was, this performance had me staring at Roxie like she was my new hot teacher on my first day of 6th grade. I swear I was a drooling child. Put it this way, I wrote nothing down as I watched Roxie dance the second time. Not a single word.
The evening was rounded out with newcomers Tulip Kiss and Blu Reine, both very entertaining. Tulip performed a feisty routine to the tune of "The Grinch" followed by a cheeky dance to "Mele Kalikimaka," and Blu was lovely in her snow-white outfit dancing to "Let it Snow".  These ladies may be burlesque "babies," but you can tell by the twinkle in their eyes they're just getting started.  I'm very much looking forward to seeing how they evolve!
Overall, my first show was a great experience, with the Burlesque Ballroom the perfect way to get your feet wet in the world of burlesque. The blend of old and new in a very classy venue should thrill anyone who has not been to a show before.
Now it is time for me to graduate to something a bit larger. I need a new vice for 2012, and burlesque just might fit the bill!
New to the burlesque scene, Sean K. Young is the managing partner of a New Orleans-based I.T. firm. His creative pursuits are usually in the kitchen or behind the bar, but he is thankful to the New Orleans burlesque scene for a newfound passion.  
All photos ©Tonya Armbruster and used with express permission by Burlesque Beat.Performers may use shots for promotional purposes, but please credit properly with photographer's full name and a link to this piece in all instances. Performers who would like hi-rez images, get in touch.