(ED: This is the first post from writer and burlesque-performer-to-be Firefly.)
If you follow Wasabassco Burlesque's tumblr, you already know me. I'm sort of Doc's official cheerleader. I run the tumblr as well as occasionally working the door at events. I've stage kittened and even co-hosted, but been very hesitant about taking the plunge into dancing.
My first excuse was "I don't like my body enough, and I'm worried that will be evident in my performance." Then it was "I just need to slim my waist and get rid of my tummy." Then, "I'm not good at choreography." "What if my bra clasp gets stuck? I can barely undo my own bra alone in my room." "I'm too broke to buy costumes." "I should take dance classes first."
When you get bored of your own excuses, what do you do then? How do you announce yourself as a dancer? I don't know yet. I probably won't know until after I've already done my first show.
I will be debuting in Doc Wasabassco's Way Station show in February. Before then, I have to learn to sew, to take my clothes off without falling over, to choreograph a tease, to costume a number, to book and promote myself, and 100 other things that haven't even occurred to me yet.
It just so happened that the first thing I've done as an aspiring dancer was a burlesque photoshoot.
On Sunday I met my friend Lauren Goldberg to take some photos as part of a series she is doing on burlesque dancers. I had previously done some photoshoots before, most notably this one time I was naked in the backyard of my college president's house (above).  Probably not as dirty as you had hoped. Photo and makeup by GabrielAronson.
I dont have a burlesque costume at all yet, so I gathered some sparkly and/or lacy crap that I have lying around and hoped that it would work. I don't even have stockings yet!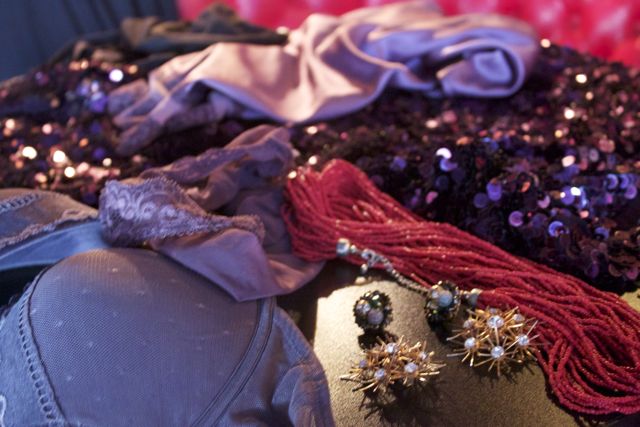 Sparkly and/or lacy crap. Photo by me.
I met Lauren when I was working NY Comic Con and we teamed up pretty much immediately. I was dressed as Luke Skywalker and she was dressed as the 11th Doctor's Sonic Screwdriver. Perfect, right? In her non-nerdy life she is an intern to the illustrious EllenStagg working closely on all kinds of sexy photoshoots. I suggest you check out Lauren's photo blog here.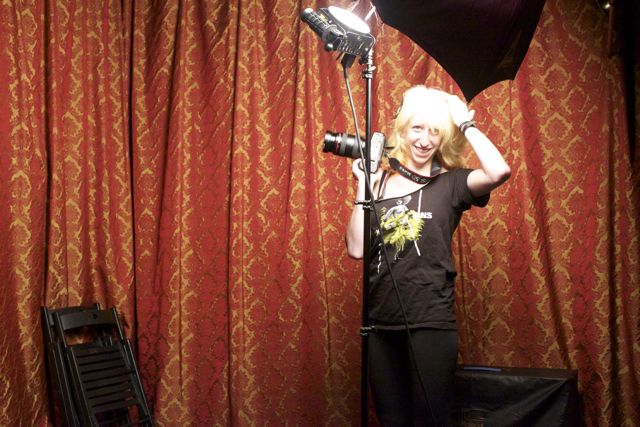 Lovely Lauren. Photo by me.
Doc Wasabassco is the manager of my favourite bar, The Way Station (or, The Bar With The TARDIS), and kindly let us have the run of the place for two hours before opening. The Way Station is like a second home to me and it absolutely helped to be in familiar territory. It was a lot more like being undressed in my living room rather than in a bar on a busy Brooklyn street soon to be filled with strangers.
I also wanted to join Nasty Canasta in the exclusive club of PeopleWhoHaveNakedPicturesWithTimeMachineReplicasBuiltInBars.
I'm actually a bit embarrassed to say I was really shocked to see what I looked like in the pictures. I'm not sure what it was, but it was definitely hard to keep from judging my image harshly. When I kitten and host I don't feel the impulse to criticize myself despite the increased risk of standing live on stage. Whatever it was, it made me feel most unsexy and threw my concentration. I haven't seen the final images but I hope it wasn't apparent. That would be even more embarrassing.
The difference between the image of me in my head and what I really look like surprises me every time I see a mirror. I don't mean this in a vain way. It's discouraging on the best days, debilitating on bad days. Compared with the idea of a more perfect me, my reflection is a collection of flaws. I don't suppose I've ever seen what I actually look like… just the two extremes of beautiful and ugly.
Arranging my costumes helped to refocus my brain and distract it from self criticism. I have a vintage petticoat, probably from the 1950's, which is beautiful and lacy and just a little too small on me now. So instead of putting it on I just wrapped it around me and floofed up the lace layers as much as possible. That was a last minute thing I packed and it resulted in a few brilliant shots!
I also got to use my brand new Boots. They aren't boots they're Boots. My friend Yissel has been very generous with supplying the burlesque performers she knows with gorgeous Doc Martens, most notable Doc's Docs for the Anniversary Extravaganza last month. I picked out knee-high stiletto Doc Martens specifically to have sturdy Boots on stage. They solved so many costuming idea issues I was having that when I get the photos with them I will have to do a whole post on the Boots alone.
We saved the totally naked bit for last, by which point there was a crowd of dudes outside waiting to get in. None of them even thought to look in the window!
When 4:00 struck, it was time for the magical dirty accessories to be packed away and the oblivious yet patient guys let in. So I ordered a pint and sat down to write this.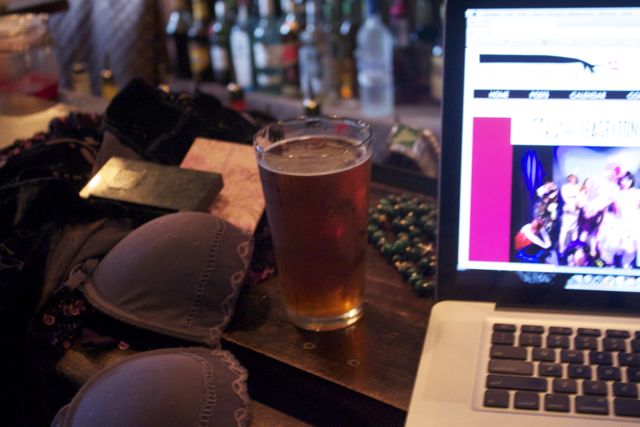 Mmmm. Photo by me.
Firefly is a Brooklyn-based performer who has recently been seduced by the burlesque scene. Photos not to be used without obtaining express permission.