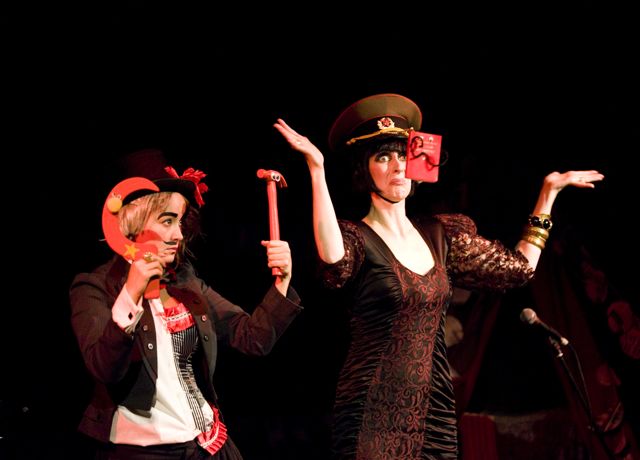 by Rubyyy Jones
Saturday November 26th, 2011
The Arcola Tent, Dalston, London
It was a chilly winter night in Dalston, East London, and I was bundled up extra warm as I headed to the EastEnd Cabaret show in the new Arcola Tent venue. The Arcola, founded in 2000, is a thriving and leading creative space in the off-West End* theater scene, hosting a mix of top and up-and-coming playwrights and performers, and known for it's varied mix of drama, music and comedy. Late in 2011 they launched a second venue, The Arcola Tent, a magical, three hundred seat, circus top venue which was perfect for this evening's show and has many cabaret and variety nights in their 2012 calendar. My date was performer Ben Is A Dark Horse and we both fell in love with the tent when we arrived, bench seats built in the round – just like the circus – with a few tables and chairs dotted around in the middle space; we grabbed a little table in the centre section at the back. Bare bulbs hung at different heights, throwing light around the space, keeping a low gritty glow around us, and a little stage was set up with the crimson colours of EastEnd Cabaret. On either side of the stage little tents were pitched, surrounded by bunting and filled with books and knick knacks which turned out to be where the EastEnd Cabaret characters would be living for the duration of their Arcola run.
So I don't know too much about the NYC Cabaret scene but over a few cocktails with Jonny Porkpie back in November, I gather it's more of an up-and-coming one. In London the scene is massive and is almost, or is equal to, the Burlesque scene and I rarely see shows that are entirely Burlesque—there is always an element of Cabaret, Variety and Circus; I'd seen the EastEnd ladies at several more Burly nights before I saw them in an exclusively Cabaret show. I saw a preview of their Edinburgh Fringe show, "The Revolution Will Be Sexual," at the members club Hospital, with special guest Cabaret Whore, Sarah-Louise Young—it was a fantastic peek at their show and they had a smashingly successful run at the Edinburgh Fringe–so I was very much looking forward to seeing their full length brouhaha. Boris, of Boris and Sergey's Puppet Cabaret, a friendly and faceless little man, was wandering around the audience, warming up the crowd and plugging their Flabbergast Theatre show. Ben Is A Dark Horse and I stocked up on cupcakes and mulled wine and snuggled in, waiting for the show to begin.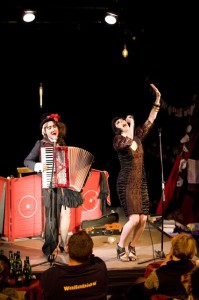 Lights up on the little stage and in strolls Victor Victoria and Bernadette Byrne. Victor Victoria is a delightful and multi-talented (and gendered!) musician who accompanies Bernadette on the keyboard, kazoo, accordion AND musical saw, and is the absolutely hilarious straight man of the duo, Bernadette being a glorious diva clown chanteuse. Dressed to impress with one half in a tuxedo and top hat and the other in a corset and tutu, Victor Victoria is a fashionable freak with a crush on Bernadette. Bernadette Byrne is sipping a teacup filled with her favorite tea: gin, and invites us all to partake and toast "The Sexual Revolution!" The first song of the evening is a cover of 'Let's Talk About Sex' and Bernadette, swathed head to toe in black with accents of deep red and gold, is a striking, silly and sensual lady. The next song is one of their gigglerific originals, 'Ping Pong', all about a trip to Thailand and the muscular vaginas found therein, which of course inspired a little bit of ping ponging of their own. Both these ladies are uber musical and their cover of 'Like A Virgin' has Bernadette on the ukulele and Victor on the saw as Bernie sings an ode to her favorite yogi, who happens to be in the audience that night and, to my delight, also happens to be my date, Ben Is A Dark Horse! We got the magic seat, lucky us, I got to see the girls super up close and personal as Bernadette took a seat and strummed away on his lap and Victor, fueled by jealous rage, belted out over my shoulder. So much fun!
For the next little ditty, a raunchy version of "Let's Get Physical," about Bernadette's date with a dude named Kevin, that turns into a song about his everlasting erection and then slowly, and to many guffaws, a song about accidental necrophilia. Rigor mortis has never been so saucy! With most songs expertly wailed by Bernadette it was wonderful to have Victor do a number all on his, her, own as next was "Jealous Guy," complete with a hilarious and heartbreaking kazoo solo. Then the EastEnd Cabaret queens pulled an unsuspecting audience member onstage where they improvised a country song about this dude and his job as an accountant or something; going slightly awry, Bernadette has us in stitches as she gently berated the poor boy to the audience's sick delight.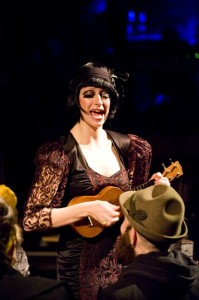 Next up was a snip of their funny skit series (luckily, also in video form on youtube), Little Mr Red Book's Guide To Good Sex, featuring a small copy of "Quotations from Chairman Mao Tsetung" avec googly eyes and a curly black mustache; he gives sex advice. Demonstrating his top tips are Miss Sickle and Mr Hammer, whom this evening are miming 'The Tory Titwank' (also available is the "Trotsky Tickle" tutorial!) which ends with some disastrous aim and the punch line, "Always wear knickers because you never know when the Tories are going to fuck you". I hope they demonstrate the "Triple Trotsky Turbo" live some day…
Then came a cover of "My Sex Is On Fire" with an intro about Bernie and Vicky's romp with a dominatrix when things got just a little too hot. They closed the show with their irreverent original "Danger Wank," and with lyrics like "Bus is stuck in traffic and you can't off—Well, yes you can…", and, "Spanking the monkey—In front of monkeys"; the whole audience was in stitches and probably half of them were blushing. They got a massive round of applause and treated us with an encore with raucous song, "Let's Keep Drinking", which was apparently written in a gin and bagel hangover cloud. They got another massive round of applause and it was so well deserved. I met the ladies briefly after as I bought their CD and wanted their autograph; I was happy to see some tracks I didn't know, including "Don't Get Raped" and "Stand Up And Touch Yourself"—practically my new anthem. As we dashed out into the night to catch the train we left Bernadette Byrne and Victor Victoria chatting with adoring fans. So, remember: if you're coming London way, don't miss EastEnd Cabaret.
*Yankees:  The "West End" is London's equivalent to New York's "Broadway," so read, "Off-Broadway." You should know this. —ED
Rubyyy Jones is a performer, writer and muse specializing in love lust and light.
All photos ©Hannah Lucy Jones, and used with express permission by Burlesque Beat. Photos may not be used without obtaining explicit permission.