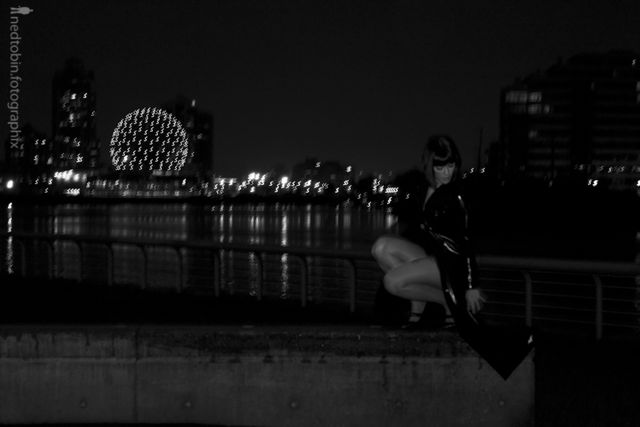 We do what we can to track down great show coverage from around the globe, which is harder than it sounds. We need to know when a show is happening, who's going to be there with a camera or a notepad, and get to those people early enough—and hound them long enough—to get their goods on these pages so that you can delight in what you missed. But we're so preoccupied with this endeavor that we don't notice when wicked goodies show up on ze interweb—even if they're not from a show. What makes me gooey about these pictures is they ooze with performance, spontaneity and a love of location. Photographer Ned Tobin and performer Lola Frost have run out into their home cityscape in the dead of winter, and made a performance out of nothing but a single model and a single blinking iris. No audience was invited to this show, but wouldn't you have loved to randomly walk by? Enjoy. —JDX
Enjoy the complete set of photos from their shoot here. Also check out The Vancouver Burlesque Center (Lola Frost, Instructor) & dig Lola Frost on Facebook and Twitter.
All photos ©Ned Tobin, and used with express permission by Burlesque Beat. Photos may not be used without obtaining explicit permission.