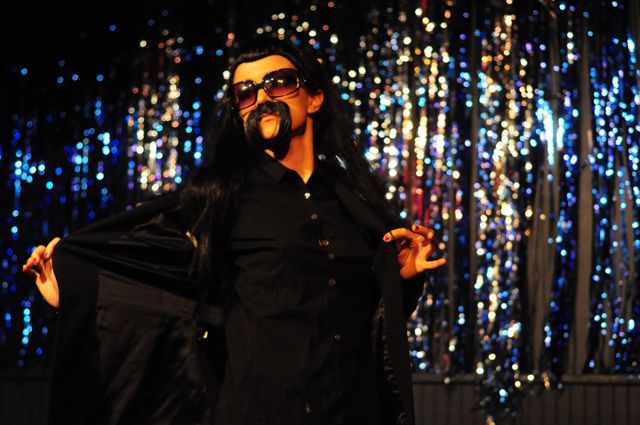 [This piece is WAY overdue… and excuses, like regrets, are for amateurs. This being Mardi Gras Day, and we being so far away from Lee Circle, how better to celebrate than with a little big city surrealism? Tonight marks the first anniversary of the Pink Room, so get on out and getcher freak on with Bastard Keith, Madame Rosebud, DJD, Francine and the gang. Meanwhile here's November's "Best of." More pix to come. —JDX]
By J.D. Oxblood
Tuesday, November 29, 2011
Parkside Lounge, LES, New York City
It is, admittedly, slightly ridiculous for a themed burlesque show to have a "best of" night, unless, of course, we're talking about Franny Fluffer's "The Pink Room."  It's hard to say exactly why this night has been so successful; it can't be just the geek factor, because half the room doesn't seem to get any of the Lynch references, especially when the host is Bastard Keith, who let's his movie-manic mind skip across obscure topical lilypads like a nimble gazelle searching for water in a draught.  No, there's something more club-house-y happening at the Pink Room, where people feel like they're being taken care of by the fact that they're kind of not.  You either get it or you don't, and even if you don't, everyone's having such a good time that you're swept up in the excitement of it like a musical number in an 80s TV show about a high school for the performing arts.  Even if it's not your thing, everyone's just having so much FUN.
Bastard Keith kicks it off by singing Elvis' "Love Me," which is slightly upstaged by Nasty Canasta, the stage kitten—ah, that Nasty, never too big to bend—screaming offstage.  DARling.
And setting the stage for hot weirdness, Gemini Rising comes on as Audrey Horne.  Now, those damn skirts that Ms. Fenn wore in Twin Peaks would make a priest choke, and I'd be lying if I didn't cop to being hardwired to turgidity when exposed to such skirts—high school leaves some serious scars—but that ain't to say that it don't matter what's in said skirt.  It matters, and Gemini fills it out terrifically.  Gemini had a great year in 2011—her confidence is way up, her manner is graceful, and she's developing a personal style that's delicious to watch.  In a tight orange sweater and windowpane skirt, she smokes a Capri (the official cigarrette of the Pink Room, for some reason) and stamps it out, stepping behind a screen for a costume change.  The music shifts to "Teenager in Love," and she's now ready for action at One-Eyed Jacks, slinking sexually in a negligee and cat mask.  With a winking look, she eats a cherry, and quickly ties the stem in a knot.  I'll vouch for it: the knotted stem ended up on my table.
Bastard Keith commented: "Sherilyn Fenn, the ship that launched a thousand boners"—which is actually pretty highbrow.  That's Marlowe, people—"Face that launched a thousand—" ah, nevermind.  Keith was ON tonight.  On "Blue Velvet," he waxed that seeing Isabella Rosselini would always elicit a "yes, please."  But "Isabella rosselini naked, crying on someone's lawn… not as immediately bonerating."  But Keith, what if she's naked and crying on MY lawn?  Schwing!
Iris Explosion—who, we're learning, specializes in the intensely disturbing—did Sandy's dream from "Blue Velvet," stunningly creepy, lip synching the dialogue.  Blond wigged, in a 50s sweater, her dark brows heavy over her white teeth, her face is crazy expressive—and expressively crazy—telling us how "robins come."  I haven't seen "Blue Velvet" in a few years but this brought the creepy right into the room with us.  And then, a strip:  Iris had a robin on each hand, and the robins undressed her, unzipping the dress, and then holding it up like in a Disney cartoon.  A perverted, twisted Disney cartoon.  And yes, she had cockroaches on her panties.  It's that kind of night.
So enter Franny Fluffer in a Fu Manchu mustache.  I don't know what the reference is.  Honestly, I spent a little time on the Google and then decided I didn't give a shit.  This isn't like a cutaway on "Family Guy," where if you don't get the allusion you don't get to laugh—even if you don't get it here, you still get to see Franny nekkid, and that's never bad.  Again, Franny in a Fu Manchu, big black hair with a topknot, and big glasses, and the music is a jazzy version of "I Wear My Sunglasses at Night."  A little light dancing, some chair work, and she puts her foot in some dude's mouth in the front row.  Yep, it's that kind of show.  The music shifts to a weirder hip hop version of "Sunglasses," and she crunks out of her pants and shakes that ass, losing the shirt and peeling off the stache (finally), pulling on her top knot to lose the wig and let us take in a gorgeous woman, back bending and twirling her tassels to beat the band.
Gemini Rising came back as Krispin Glover in "Wild at Heart," giving us the thrill of watching her drop a cockroach into her panties, Apathy Angel gave us a song from "Lost Highway," and Satanica even turned in an act from "The Elephant Man."  Franny came back to give us Bobby Peru—Willem Dafoe—from "Wild at Heart," all cowgirled up to Chris Isaak's "Wicked Game" (the "I wanna fall in love" song), lighting Capris in a showgirl strut and handing them off to Satanica and Gemini, kissing both girls and turning upstage… to turn back around with seriously fucked up teeth and a stocking on her head.  Come on—you remember Dafoe in that flick, right?  His teeth all fucked up, grabbing Laura Dern and telling her to say, "Fuck me"?  Getting her all hot under the whiskers?  Shit—remember when Laura Dern was hot?  ANYhoo, this was a fun act.
…which almost prepared us for Nasty Canasta's encore presentation of "No Hay Banda," so deliriously weird it's almost ineffable.  But I talked about it anyway, first in these pages, and also in a forthcoming piece for 21st Century Burlesque.  You'll have to wait.
Coming up, another fucked-up year of twisted burlesque from the mind of Francine and anyone else she can infect with her obsession.
Kiss kiss,
JDX
All photos ©2011 Melody Mudd. Please respect copyrights and contact melodymudd@gmail.com for permissions. Performers may use shots for promotional purposes, but please credit properly with photographer's full name and a link to this piece in all instances. Performers who would like hi-rez images, get in touch.