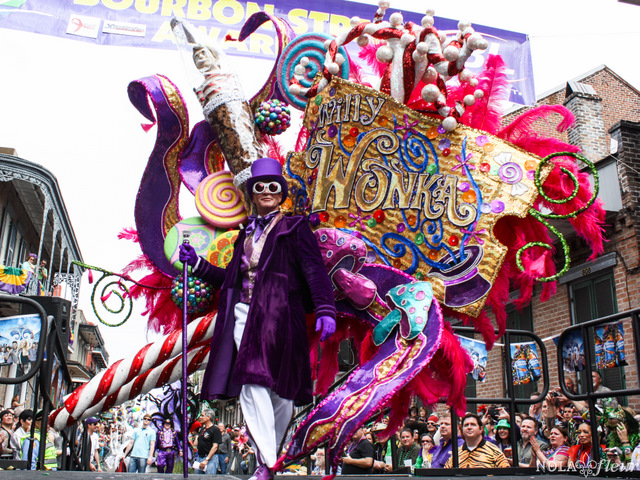 By Sean K. Young
Tuesday, February 20, 2012
New Orleans – Bourbon Street Awards
New Orleans and Mardi Gras. Those two words go together like red beans and rice, or maybe like peanut butter and jelly for you folks outside of the Big Easy. Mardi Gras has been called the Greatest Free Show on Earth, and man, does it live up to that title. There are several experiences available to revelers, and Mardi Gras is what you make of it. The often-perceived drunken college adventure is but one way to enjoy the show. Unfortunately, this is the way most people outside of our city think about Mardi Gras. In fact, this year, a rather unsavory group of partiers broke a lot of hearts in our town, but the outpouring of generosity in the aftermath confirmed why New Orleans is one of the greatest places on the planet. But I digress.
Mardi Gras is also a family experience. I know that sounds crazy to most tourists that have not been before, but I grew up watching parades from our little spot staked out on the neutral ground—my brother and I waiting with unbridled anticipation for the floats to come. There are still sections of the parade route that are dominated by kids and families. These days my perspective has changed, and there is something so magical about a child's face when they catch those random, coveted plastic trinkets.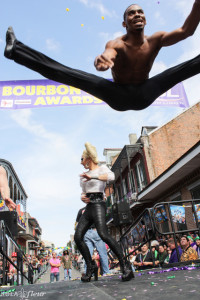 Before you think I am going all sentimental, I will tell you I like to get my drink on as much as the next guy (maybe more,) and there is ample adult fun to be had at Mardi Gras. I just think it can be done without being a complete jack-ass. If you feel the need to show off your wares, hang in the French Quarter. If you can't be respectful to the folks around you, stay home. If you want to have fun, hang out with some of the friendliest people in the country, and see all that Mardi Gras has to offer, grab a cold one and watch the wonder that is our parades.
We have our super Krewes: Bacchus, Endymion, the new(ish)comer Orpheus with their ginormous floats. There are the fantastic satirical Krewe du Vieux and the dictator-run Krewe D'Etat. There are all-women krewes like newcomer Nyx and Muses. Sweet, sweet Muses. This krewe has become one of the premier parades in the city, and always has the best throws. It is a must see.
Along with the wild floats, marching bands and flambeux carriers, we also have our dancing and walking troupes. We have guys handing out flowers and beads for kisses like the Jefferson Buzzards, the scooter driving, sideburn and pompadour-bearing Rolling Elvi, the Jailhouse Rockers, and the 610 Stompers, who have gained national notoriety by walking in last year's Macy's Thanksgiving parade.  Not to be outdone by the men, we have the Camel Toe Lady Steppers, the Muff-a-lottas, the Pussyfooters Marching Krewe and the newly formed Sirens of New Orleans. Imagine dancing and marching seven miles while wearing a corset… ouch.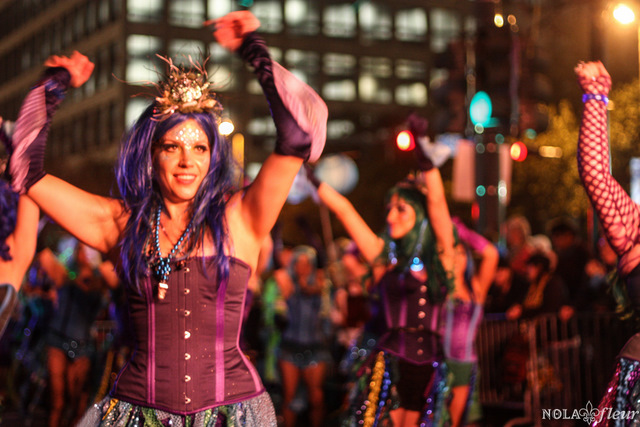 All of that said, Mardi Gras Day can be an entirely different experience. As a kid, and even in my misspent youth, I was all about the parades but now I know there is another party going on. On Mardi Gras Day, the French Quarter is alive with the carnival spirit sans parades. The streets are filled with revelers and everyone is in costume. Sure there are the folks showing their goods for beads, but there is so much more to take in as you walk the streets.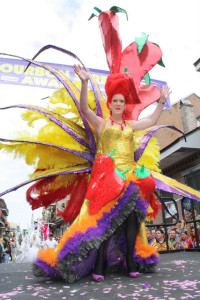 A not-to-miss event is the annual Bourbon Street awards. At high noon on Fat Tuesday, the costume contest to end all costume contests unofficially kicks off the day's party. It has been called "the most famous drag-queen contest in America" and this year it celebrated its 48th. It started out as a one-time event to sell burgers at the Clover Grill and now has become one of the major events of Mardi Gras. The costumes, many of which have taken months to complete, have to be seen to be believed.
You could not have asked for more beautiful weather as we approached the stage in front of Oz. The music was pounding and the crowd was ass-to-elbow. A quick glance at my watch determined that we had plenty of time for a quick Bloody Mary and maybe a shot or two. After getting our head in the game, it was time for the show.
This year's event was hosted (for the tenth time) by New Orleans' own Blanche Debris and the fabulous Bianca Del Rio. Blanche started us off with some cursory introductions including the Bud Light Girls … what?! Ok, so Bud Light is the event's sponsor, but the hotties in the cheerleader outfits were wasted on this crowd. Well, other than me, but still.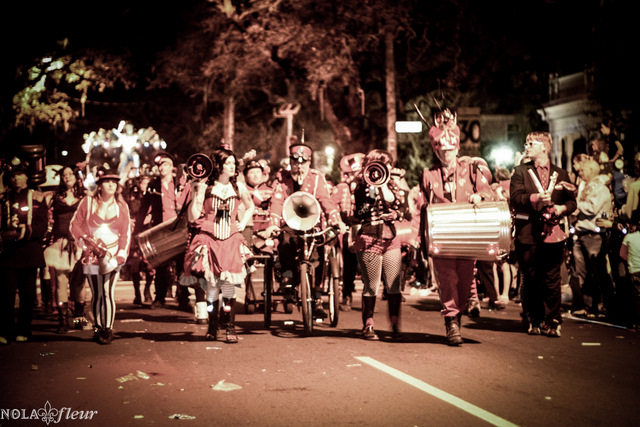 After a touching tribute to the recently departed Whitney Houston, Blanche introduced Bianca. As she climbed the stage in her six-inch platform heels and flawless make-up, Bianca was the perfect glam drag diva. And then she opened her mouth. Holy crap, sailors aren't this filthy. With insults flying like daggers, the banter between the "ladies" was hilarious, and only got better as the contestants took the stage.
What followed was a parade of leather, glam, glitter, and sequins, and a couple of what the fucks. Vying for awards in Best Drag, Best Leather, Best Group, and Best of Show, masked participants made their way down the Bourbon Street runway to show us their stuff, and what stuff it was. This is not a costume contest for amateurs, at least not if you want to be a contender. The sequins alone for one of these costumes can make a Hobby Lobby manager's month. If you dare to show up in a bullshit store-bought Party City crap costume, you can be sure that Blanche and Bianca are quick to call you out. You know who you are, Disco Balls and Angry Birds.
There were too many to give you a blow by blow, but there were some that were clearly head and shoulders above the rest. In the best group category, there was the Pink Pride group from Monroe Louisiana, who were so over the top they made Bianca look butch. There was my personal favorite, the Toddlers and Terrors, complete with the adult version of go-go juice. But the best group of the day was the Creole Tomatoes. Their magnificent costumes included 8-foot tomato vines.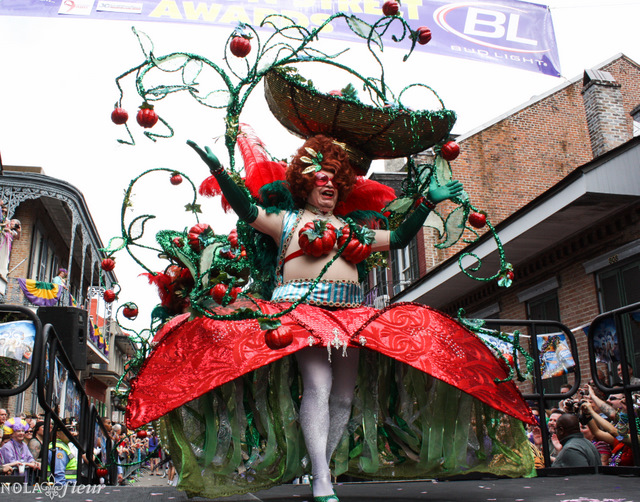 There were only two participants in the Best Drag category. The winner, Ronda Roche, was beautiful and was costumed as diva-riffic as Ms. Bianca herself. The other contestant's outfit was an elaborate tribute to Tabasco and chili peppers that took 6 months to make.
Best Leather was well represented and the winner, Robert Cook had worked leather and feathers into a frilly yet masculine ensemble, and the second place "War of the Worlds" was a sci-fi lovers dream.
There were so many good costumes in the Best of Show that even the judges had a hard time picking winners. There was a tie for third place between a magnificent silver and white number entitled "Rock Salt" and a black and blue feather-covered King of the Krewe of Amon Ra. I am sure that at least 5 ostriches died to make the second place costume that rivaled the Mardi Gras Indians.
Even with all of this, nothing, and I mean NOTHING compared to the winner of the day. Dressed as Willy Wonka with a giant shimmering Wonka wrapper, swirls of fabric and feathers, and large candies attached to his back, Joel Hass created a costume to die for. It was so large I am not quite sure how he managed to walk. It received a perfect score from the judges and not only took Best in Show, but Best of the Day as well.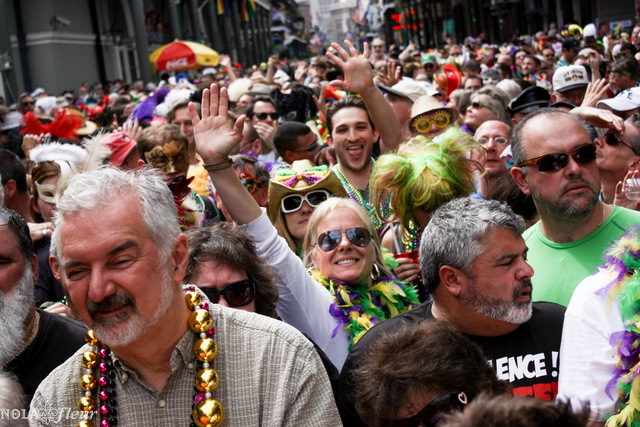 There were other memorable moments including a full monty from the Mount Zion Auxiliary Club, a musical number from the Book of Morons, and tributes to Liza and Gaga. I mean seriously, what drag show would be complete without tributes to Liza and Gaga?
All in all, a great way to start Mardi Gras day in the French Quarter.
If and when you come to New Orleans for Mardi Gras, you can pick the experience that works for you, but a Fat Tuesday without parades is ok in my book. That is, as long as I have caught Muses, Endymion, Bacchus, Krewe du Vieux, Krewe d'etat, etc. etc….
New to the burlesque scene, Sean K. Young is the managing partner of a New Orleans-based I.T. firm. His creative pursuits are usually in the kitchen or behind the bar, but he is thankful to the New Orleans burlesque scene for a newfound passion.  
All photos ©Tonya Armbruster and used with express permission by Burlesque Beat.Performers may use shots for promotional purposes, but please credit properly with photographer's full name and a link to this piece in all instances. Performers who would like hi-rez images, get in touch.